Sunil Chhetri emphasizes playing with top Asian sides ahead of 2019 AFC Asian Cup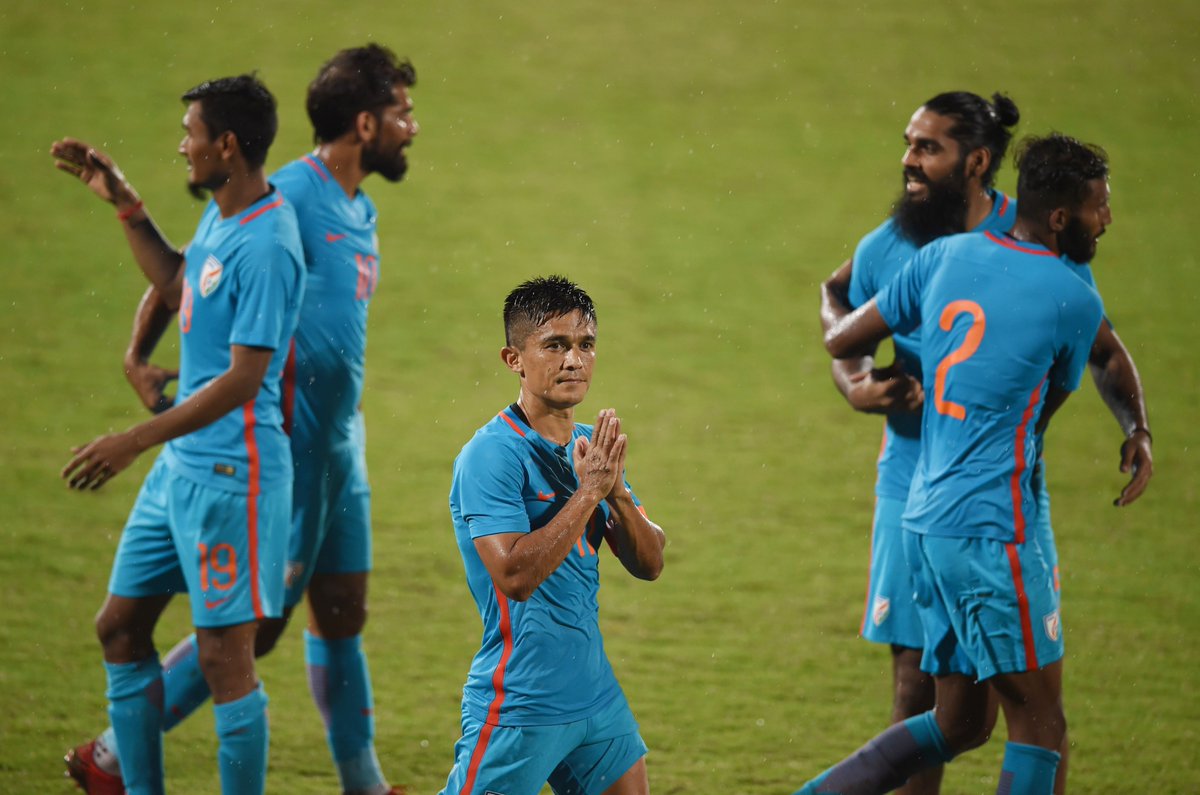 While football in India is just starting to gather some momentum, the frontrunner of Indian football, Sunil Chhetri still feels there's a long way to go. Still going strong even at 34 years of age, Chhetri is a man on a mission. A mission to make a mark on the world with the Indian football team. And his perfect opportunity; the upcoming AFC Asian Cup in the United Arab Emirates.
In an interview with FIFA.com, Sunil Chhetri explained his aims ahead of the 2019 AFC Asian Cup and also talked about his part in India's 2011 run in the championship.
"Where we want to reach is a faraway, distant place right now. I was really dejected when we missed out on the last edition. I think it's very, very important for a country like us to keep qualifying for this big tournament because that tells you where you are and if you're doing well. It also gives you a chance to rub shoulders with the biggest teams in Asia. If you do well, other teams take notice of you" Chhetri said.
"Where we want to reach is a faraway, distant place right now."

We speak exclusively to @IndianFootball icon Sunil Chhetri 🇮🇳 about the nation's football future ahead of the @afcasiancup

Read more 👉 https://t.co/U94xs0iw7X pic.twitter.com/BgwTUYqmgn

— #ClubWC 🏆 (@FIFAcom) December 12, 2018
India topped the third round Group A to book their place in UAE battling out Kyrgyzstan, Myanmar and Macau after Asian Football Confederation (AFC) decided to increase the number of finalists from 16 to 24. In his 13 years with the Blue Tigers, Sunil Chhetri holds a record 65 goals and 103 caps, not to mention the immense pressure of leading a nation. Chhetri insisted that playing with neighbors is good, but the actual test comes when facing the big guns of Asia.
"It's very, very important for us to keep playing against the big giants – the UAEs, the Australias, the Korea Republics. It's one thing to do well against your neighbors, and without demeaning any one of them, it's a different thing when you go out and play the giants of Asia."
With just the first anniversary of an unforgettable event in Indian history, Chhetri also pointed the importance of hosting the 2017 FIFA U-17 World Cup.
"When kids from the community, the state, and the country do well, kids look up to that. It also creates a lovely pressure, a sweet pressure for everyone to work really, really hard. Making sure the league does well, that all the youth development programmes do well. I think just all-round pressure is needed in our country because for sure we have the talent."
Under the guidance of coach Stephen Constantine, India are pitted against hosts United Arab Emirates, Bahrain, and Thailand in Group A of the competition. 2019 AFC Asian Cup goes on from January 5 to February 1, 2019.