"Simons & Openda: Leipzig's Dynamic Duo"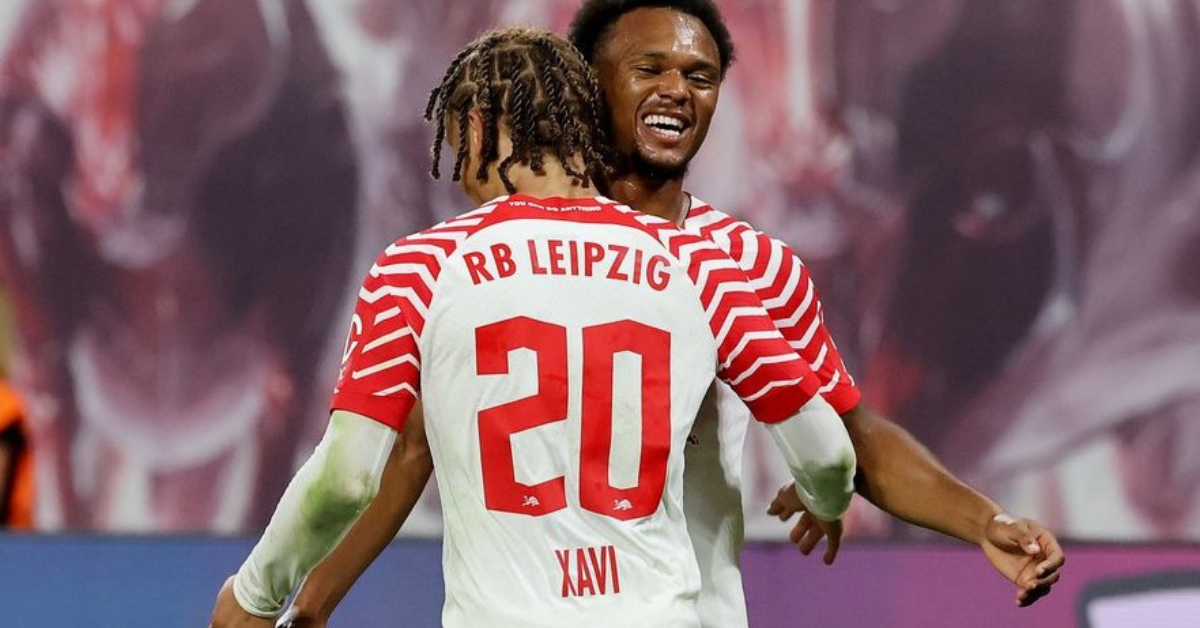 Xavi Simons and Lois Openda: Rising Stars Illuminating Leipzig's Future Post-Szoboszlai and Nkunku Era.
As the summer sun casts its glow over the world of football, RB Leipzig finds itself in the midst of a transformative phase, and two emerging talents, Xavi Simons and Lois Openda, are quickly becoming the focal points of a new era. Their impressive performances have ignited a sense of hope among the Leipzig faithful that the absence of Dominik Szoboszlai and Christopher Nkunku will be filled sooner than expected.
In the bustling corridors of the Red Bull Arena, the transfer activity has been a whirlwind. One of the most notable departures has been Josko Gvardiol, making a notable move to Manchester City. However, it's the exits of Dominik Szoboszlai and Christopher Nkunku that have left an unmistakable void. Together, they contributed a formidable 34 goals in the previous season. Szoboszlai's incisive play from the right flank and Nkunku's versatility in leading the attacking line have been central to Leipzig's strategy.
Watch:https://www.sportsmonks.com/football-news/rivalry-alert-mgladbach-vs-bayern-in-bundesliga/
Filling the shoes of such impactful players is a formidable task, but Xavi Simons and Lois Openda have wasted no time in showcasing their abilities. Simons, on loan from Paris Saint-Germain, and Openda, signed permanently from Lens after an astonishing 21-goal display in Ligue 1, have stepped onto the pitch with determination and flair.
The impact of Simons and Openda has been immediate and resounding. Simons orchestrated a goal and two assists, propelling Leipzig to a resounding 5-1 victory over VfB Stuttgart. Openda continued his scoring streak, netting his second Bundesliga goal in consecutive games. In his inaugural interview with Leipzig's official website, Simons expressed his unwavering commitment to giving his all and contributing to the team's objectives.
At just 20 years old, Simons has already left an indelible mark, averaging a goal contribution every 73 minutes played for Leipzig. Openda, no stranger to the spotlight, maintains a commendable rate of one contribution every 109 minutes.
While it's important to acknowledge that these early-season statistics can encounter fluctuations, Openda's commendable goal tally in Ligue 1 and Simons' exceptional Eredivisie performance—scoring 19 goals and assisting nine during his loan spell with PSV Eindhoven—underscore their potential.
Leipzig's captain, Willi Orban, candidly acknowledged the team's occasional vulnerability to conceding early goals, calling for defensive improvements. Despite this, the partnership of Simons and Openda seems poised to outscore their adversaries and, intriguingly, potentially surpass the achievements of their esteemed predecessors. Their electrifying performances have not only instilled confidence among devoted fans but have also captured the imagination of neutral observers, setting the stage for an exhilarating chapter in Leipzig's journey.
For more related updates, visit our official website!
By- Sahiba Suri