September Player of the Month Nominees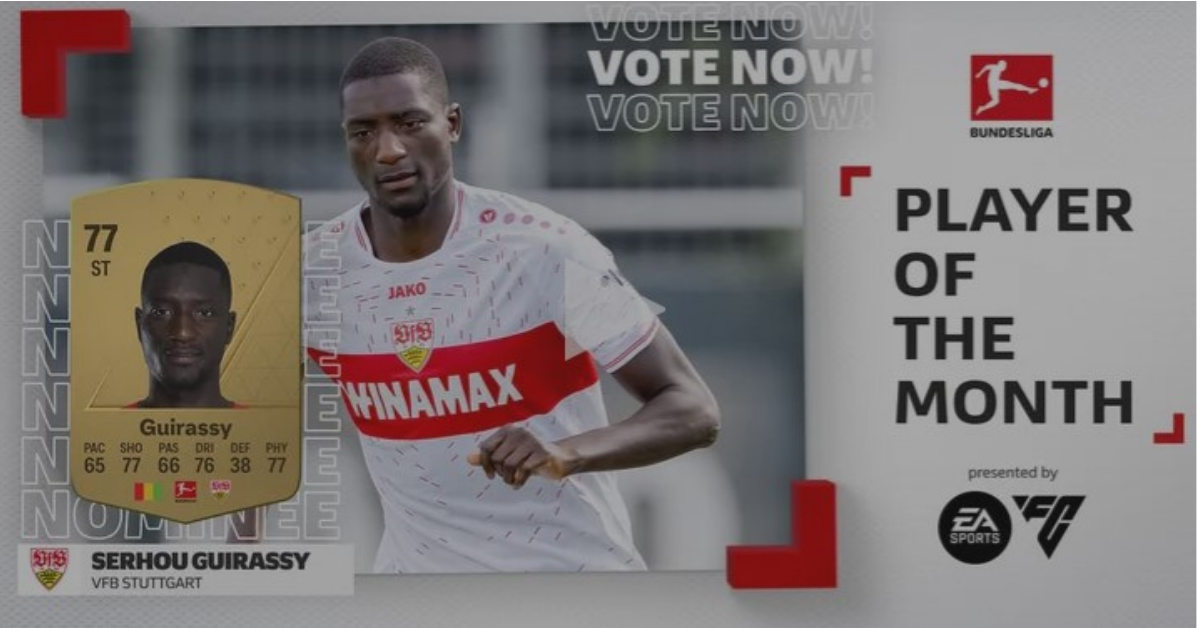 Vote Now for September's Bundesliga Player of the Month!
One day ago, the Bundesliga announced the nominees for the Player of the Month for September. The award, established by the DFL Deutsche Fußball Liga in collaboration with EA Sports, follows a two-stage selection process, combining player performance data with fan and expert votes. The September accolade is based on performances from Matchdays 3 to 6.
Serhou Guirassy (VfB Stuttgart)
Serhou Guirassy ended September as the Bundesliga's top scorer with 10 goals, making him a key figure in Stuttgart's sensational attack. He also led in goal involvements, with seven goals and one assist. Guirassy's impact was felt across the pitch, with his high number of shots and impressive xGoals value.
Victor Boniface (Bayer 04 Leverkusen)
Bayer Leverkusen's Victor Boniface contributed significantly to their remarkable start with four goals and one assist in September. He topped the charts for shots on goal, but his shooting efficiency was the only aspect that held him back from more goals.
Alejandro Grimaldo (Bayer 04 Leverkusen)
Summer signing Alejandro Grimaldo showcased his prowess with two beautifully executed free-kick goals, making him responsible for half of the direct free-kick goals in the Bundesliga season.
Harry Kane (FC Bayern München)
Kane's arrival in the Bundesliga was marked by five goals, making him one of the league's top strikers. His prolific scoring included two penalties, the second-most big chances, and a high xGoals score.
Chris Führich (VfB Stuttgart)
Chris Führich emerged as a creative force for VfB Stuttgart in September, contributing with two goals and two assists. His progress from the previous season has been evident, with an increased goal involvement.
Leroy Sané (FC Bayern München)
Leroy Sané impressed with three goals in September, cementing his status as one of Bayern's sharpest shooters. His strong start to the season puts him on track to surpass his personal best for Bundesliga goals in a season.
Vote for your favorite Player of the Month and watch these standout players compete for the prestigious award.
For More Related News Please Visit Our Official Website
By- Saiba Suri