QNB Stars League Week 18 – Qatar SC 1 Al Rayyan 2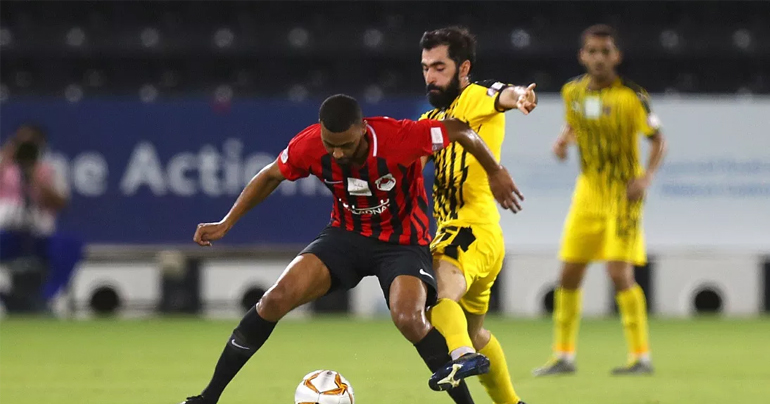 Qatar SC went down fighting 1-2 to Al Rayyan in a 2019-20 season QNB Stars League Week 18 match at the Al Sadd Stadium on Friday.
Al Rayyan moved on to 41 points (12 wins, five draws and one defeat), whereas Qatar SC remained on 17 points (four victories, five draws and nine defeats).
Yacine Brahimi (40th-minute penalty) and Yohan Boli (83rd minute) scored for Al Rayyan as they stood in contention for the title with just a point less than leaders Al Duhail, who will play Umm Salal in Saturday's first fixture.
Kayke Rodriguez had put Qatar SC ahead in the 10th minute.
Qatar SC are not completely safe from the relegation threat. However, they have put up better displays ever since ex-Qatar international midfielder Wesam Rizik took charge of the squad, replacing Spanish coach Carlos Alos Ferrer, under whom they dropped many points.
This time, it was a much-improved performance by Qatar SC, who had lost to Al Rayyan by a 0-5 margin in the first leg.
Al Rayyan dominated the exchanges with 68 per cent of the ball at the end. Brahimi, Boli & Co more than made up for the absence of The Lions' influential midfielder Rodrigo Tabata, whose contract with the club ended.
Kayke found the target as he beat off the offside trap and challenge from Al Rayyan defender Gabriel Mercado after controlling with his chest a long lob from the right by Sardor Rashidov. And goalkeeper Fahd Younis could not do much either.
Kayke was soon at it, but this time, he hit the side-netting.
Al Rayyan equalised as Brahimi converted a penalty awarded after Abdulaziz Hatem was fouled inside the box by Omar Al Emadi when Hatem was chasing a pass given by Khaled Muftah on the left.
Mercado compensated towards the end of first half by effecting a goalline clearance off a chip shot by Rashidov.
After the second half started, Al Hail had to produce an acrobatic save to parry a stunning long-ranger from Abdulaziz Hatem.
Al Rayyan's winner came off Boli, who volleyed home from close after Abdulaziz Hatem provided him with a pass from the left. The ball had rebounded off the left post and off the leg of Al Hail after Brahimi first unleashed a grounder.Adding to Qatar SC's woes, Khaled Mahmoudi was sent off in the 87th minute.