QFA president meets ambassadors of Paraguay Mexico and Costa Rica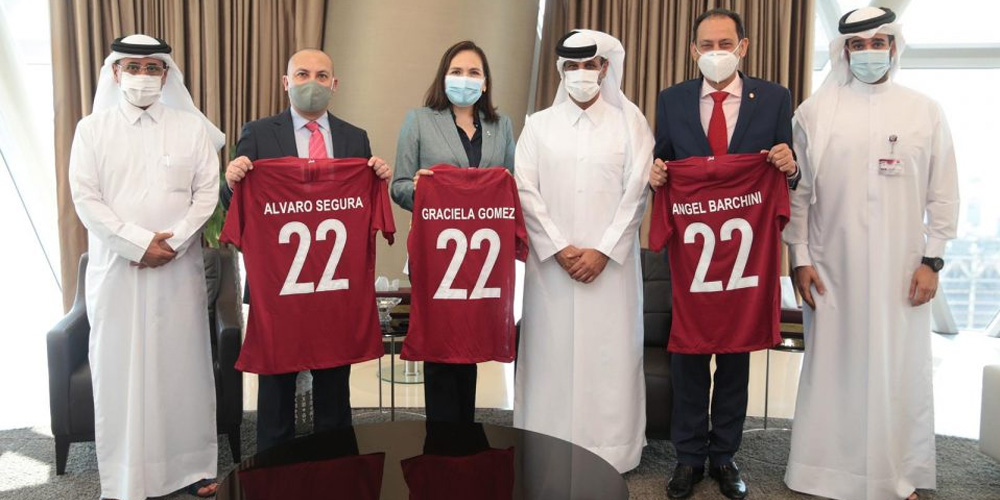 DOHA: Sheikh Hamad bin Khalifa bin Ahmed Al Thani, President of the Qatar Football Association (QFA), on Tuesday held fruitful discussions with the ambassadors of Paraguay, Mexico and Costa Rica in Al Bidda Tower.
H E Angel Ramon Barchini, the Paraguayan ambassador, H E Mrs Graciela Gómez Garcia, Ambassador of Mexico, and H E Alvaro Mariano Segura Avila, Ambassador of Costa Rica met with the QFA President. Diego Estigarribia, Deputy Head of the Diplomatic Mission at the Embassy of Paraguay, was also present.
The meeting was also attended by Saud Abdulaziz Al Mohannadi, Vice President QFA, Mansour Al Ansari, Secretary General QFA, Ali Daoud, Executive Director of the Office of the QFA President, and Mushtaq Al Waili, Executive Director of the Strategic and Institutional Planning Office QFA.
During the meeting, the QFA President and the ambassadors discussed issues of common interest especially those related to football. They also discussed ways and means to strengthen the bonds of friendship between QFA and the football federations in Paraguay, Mexico and Costa Rica.
The QFA President affirmed to the ambassadors Qatar's keenness further develop the football relations with Paraguay, Mexico and Costa Rican Football Associations, saying sports can bring nations and peoples together.
The three ambassadors thanked QFA President for the meeting, collectively underlining Qatar's rapid development in sports in general and football in particular.
Tuesday's discussions also centered around Qatar's maiden participation in the Golf Cup to be organized by the CONCACAF in the United States of America from July 10 until August 1, 2021.
Qatar's participation Copa America in Colombia and Argentina (June 12 to July 12, 2020) was also discussed.
The meeting also included talks about the friendly match that will bring together Qatar and Costa Rica teams on the 13th of this month in Austria.
At the end of the meeting, commemorative shields were exchanged and the QFA President presented the official jersey of the first national team to the three Ambassadors adorned with their names and the number 22 in reference to the 2022 FIFA World Cup to be held in Qatar.
It is worth noting that the QFA and the Supreme Committee for Delivery & Legacy are linked with a strategic partnership with the Confederation of North, Central America and Caribbean Association Football (CONCACAF) to boost football relations in general while aiming for long-term development of the sport.
QFA also enjoys similar understanding with the South American Football Confederation (CONMEBOL).