Qatar 2022 organisers discuss green hospitality during inaugural Focus Day event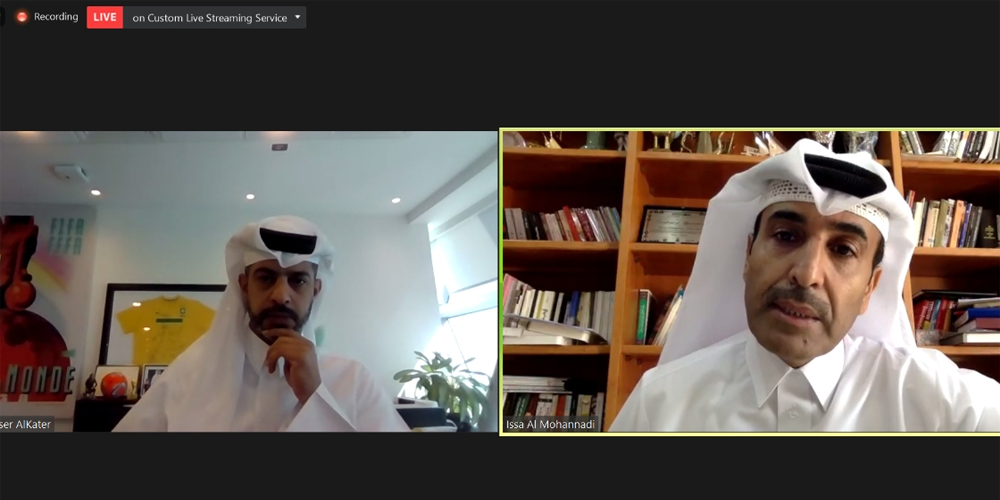 The Supreme Committee for Delivery & Legacy (SC) participated in the first Focus Day held in collaboration with the FIFA World Cup Qatar 2022 LLC (Q22) and Qatar Green Building Council (QGBC) as part of the 2020 Qatar Sustainability Week.
Entitled 'Green Hospitality for FIFA World Cup Qatar 2022™', the virtual event aimed to encourage sustainable operation practices in tournament-related hospitality sectors and highlight ongoing best practices in Qatar. Speakers discussed the FIFA World Cup™ as a legacy driver in implementing sustainable operation practices within the hospitality sector.
Delivering the welcome address, Nasser Al Khater, CEO, Q22, said: "Sustainability was central to Qatar's successful bid in 2010 and has remained at the heart of our planning and preparations over the last ten years. As the country's attention shifts from infrastructure delivery to operations and fan experience, delivering sustainable hospitality solutions to the 1.5 million traveling fans will be one of our major focusses over the next two years."
Al Khater added: "This year's event focus with QCBG is more important than ever as we aim to collectively deliver on our promise of hosting a sustainable FIFA World Cup. Thanks to our partners at QGBC for delivering another successful event."
Engineer Issa Al Mohannadi, Chairman of QGBC, said: "Qatar is committed to hosting a carbon neutral FIFA World Cup. This momentous event presents an excellent opportunity to accelerate and effectively drive the implementation of sustainable practices in Qatar and produce a tangible and lasting impact, particularly in the hospitality sector."
Speaking during the Executive Opening Panel, Engineer Bodour Al Meer, the SC's Environmental & Sustainability Senior Manager, urged sustainable action from individuals and corporations.
"The actions can be small personal actions such as using reusable water bottles instead of single-use plastic or buying local vegetables and dairy products or taking the metro. They can also be larger projects such as constructing green buildings, eliminating plastic packaging or implementing a green cleaning policy. All these actions are important and contribute to hosting a sustainable World Cup," she said.
Al Meer also showcased the FIFA World Cup™ Sustainability Strategy – which was delivered jointly by FIFA, the SC and Q22 earlier this year, as well as plans and preparations to host the first carbon-neutral edition of the tournament.
She added: "The hospitality sector plays a key role in the successful delivery of the tournament. We are proud to be partnering with QGBC on this project to encourage green practice in this sector. Fans, officials and teams using their accommodation during the World Cup are one of the main contributors to the tournament's carbon inventory and we can reduce that together. Hotels will continue to welcome guests long after the tournament's final whistle. It is an opportunity to leave a green legacy for the World Cup."
A workshop titled 'Green Key Best Practices in Qatar' showcased case studies from Qatar, strategies and policy to encourage sustainable action, as well as guidelines to obtain a Green Key certification – a leading standard of excellence in the field of environmental responsibility and sustainable operation within the tourism industry.
During the workshop, Orjan Lundberg, Sustainability Expert at the SC, said: "At the SC, we want to learn more about efforts being made in the sector to date, the challenges to implement these practices and how we, as World Cup organisers, can help. That would be a way for us to leverage the tournament to drive green practices in the hospitality sector."
Other attendees included Berthold Trenkel, Chief Operating Officer, Qatar National Tourism Council, Dr. Khalid Hassan Al Neama from Katara Hospitality, Meshal Al Shamari, Director at QGBC, Finn Bolding Thomsen, Director at International Green Key, and representatives from the hotel industry in Qatar.
The fifth edition of Qatar Sustainability Week comes as part of the annual QGBC national campaign to promote and implement Qatar's sustainability vision by increasing collaboration with key players in the country, creating an understanding of carbon neutrality, as well as highlighting the importance of hosting world-class events like the FIFA World Cup 2022™.