PVR Cinemas to continue as Chennaiyin FC's Official Multiplex Partner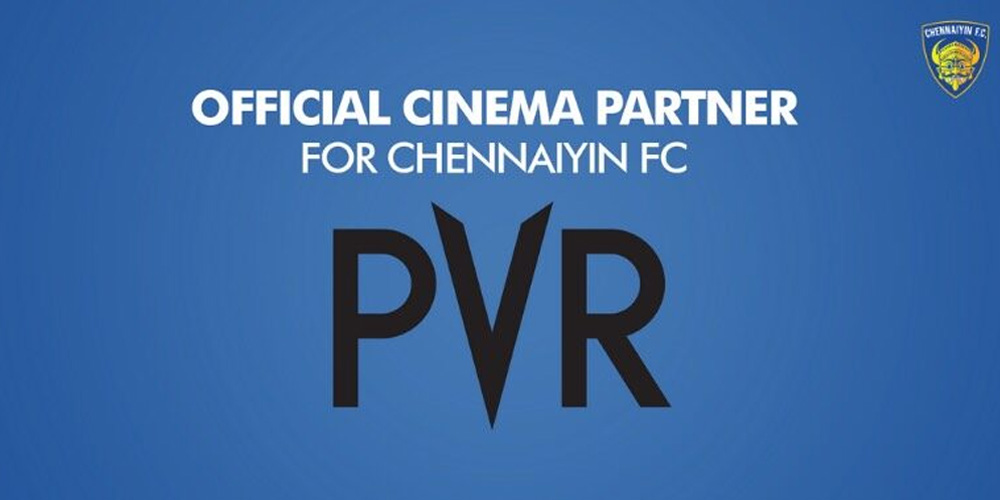 Chennaiyin FC is elated to announce that India's leading multiplex chain, PVR Cinemas, is set to continue as the club's Official Multiplex Partner for the 2020-21 season. The announcement comes at the most opportune time as movie theatres re-open across Tamil Nadu from November 10 onwards.

Being the movie exhibition industry leaders in the country and especially Tamil Nadu, PVR Cinemas is renowned for providing a premium experience for movie-goers. And being one of the most successful ISL teams with two titles to their name, Chennaiyin FC's ethos found the perfect match in PVR Cinemas last season with cinema aficionados and football lovers benefitting richly from the association.

CFC's ISL 2019-20 journey had all the ups and downs of a movie thriller – from the penultimate spot in the points table to putting together a formidable run and making the play-offs – with eventual heartbreak in the final, it was a near-fairytale finish.

Reconvening in Goa ahead of the new season, Chennaiyin will be hoping it is a photo-finish this time around. However, it will be a season played behind closed doors, without fans.

Hence it will be the club's endeavour to provide its ardent supporters with an experience to remember through this partnership with PVR Cinemas, by bringing out innovative fan engagement initiatives through the same.

"We enjoyed a fruitful relationship with PVR Cinemas off the pitch as the boys put up a stunning show to reach the final on it. There is real synergy between our brands and huge potential to reach the masses in Chennai and Tamil Nadu through the same. In this unique season, together we hope to give our fans as well as those going to the movies a fitting return in a safe and responsible manner," said CFC co-owner Vita Dani.

"In this celebratory festive season, we have two big announcements to make to add to the festivities in Chennai. We are delighted to announce that we have finally reopened our theatres in Tamil Nadu, and we are extremely happy to bring your favourite entertainment back – Cinema. It is also with great pleasure that we announce our collaboration with Chennaiyin FC for the second consecutive year. We are very proud of our association with CFC because of the enormous support they enjoy from the people of Chennai. We would also like to take this opportunity to wish Chennaiyin FC the very best for the upcoming ISL season. It is our sincere hope that they bring much happiness during this holiday season!" said Gautam Dutta, CEO of PVR Cinemas.    
About Enakshi
Tags
[wbcr_php_snippet id="21419"]