Ooredoo Cup Semifinal 1 – Al Rayyan vs Al Arabi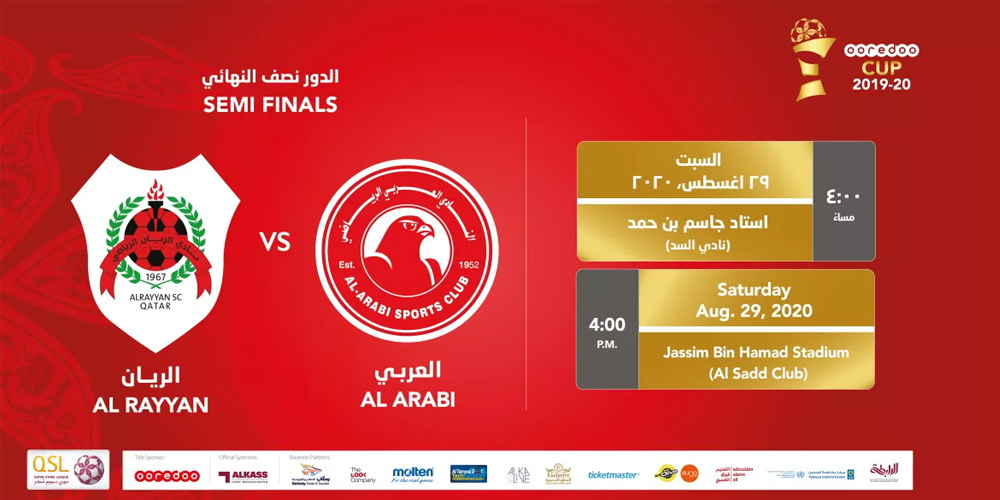 Saturday, 29th August, 2020
16:00 kick-off at Al Sadd Stadium
Al Rayyan face Al Arabi in the first semifinal of 2019-20 Ooredoo Cup at the Al Sadd Stadium on Saturday. The kick-off is at 16:00.
Al Rayyan will surely leave no stone unturned in their bid to clinch a silverware this season as they had exited in the quarterfinals of Amir Cup (beaten 1-0 by Al Markhiya) and finished as runners-up, behind Al Duhail, in the just-concluded QNB Stars League.
The Lions lost out to The Red Knights by one point in the fiercely-competed league championship that went down to the wire and where champions were decided after the last round.
Al Arabi too will be eager to win and made it to the final, having ended up outside the top-four bracket in the QNB Stars League.
The Dream Team could bag only the seventh place in the league.
Al Rayyan and Al Arabi are the clubs with the most traditional fan base in Qatar, so the contest will evoke keen interest among them.
Al Rayyan made it to the semifinals by defeating Al Khor 7-6 in the quarterfinals. The match was decided in sudden death after the score was tied 1-1 in regular time and 5-5 in tie-breaker.
Al Arabi qualified for the last-four stage by defeating Al Wakrah 1-0.
Al Rayyan had progressed to the knockout quarterfinals as the fourth team from Group A with seven points, after Al Ahli (12 points), Al Wakrah (eight points) and Al Sadd (seven points).
Al Arabi had finished third in Group B with seven points, after Al Khor (13 points) and Qatar SC (10 points).