Ooredoo Cup : In a day of drawn matches Al Gharafa win while four teams share points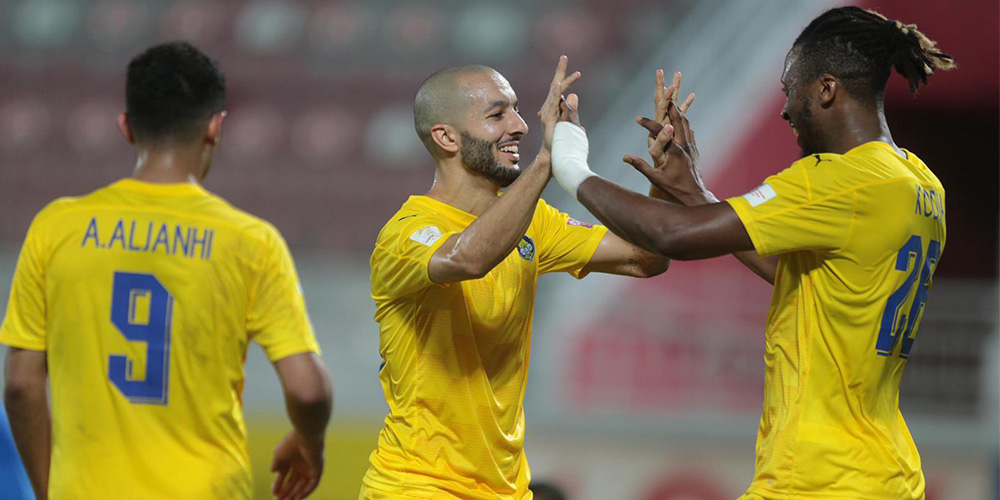 Al Gharafa picked up full points while Al Arabi, Al Rayyan, Al Ahli and Umm Salal picked up a point each in 2020-21 season Ooredoo Cup on Wednesday.
At the Al Duhail Stadium, Al Gharafa beat Al Kharaitiyat 3-1 in Round 3 (Group B).
Al Kharaitiyat took the lead through Hassan Ali in the 30th minute, but Al Gharafa struck back through Ahmed Al Janahi (34th minute), Sofiane Hanni (45+2) and Almahdi Ali (90th minute).
The result saw Al Gharafa move to nine points with an all-win record and Al Kharaitiyat remain on six points.
Al Gharafa started strongly. But it was Al Kharaitiyat who surged ahead when Hassan Ali capitalised on a quick counter-attack and beat goalkeeper Salah Zakaria before placing the ball home.
Al Gharafa did not have to wait for long to equalise and Ahmed Al Janahi was spot-on with an excellent assist from Jonathan Kodjia, who had a good game out there.
Kodjia again gave the pass as Hanni put Al Gharafa ahead in first-half injury time.
Al Gharafa kept pressing hard in the second half even as Al Kharaitiyat sought to equalise.
The Cheetahs rounded off the score in the last minute of the game when Almahdi headed in a corner kick taken by Muad Hassan. At the Al Arabi Stadium, Al Arabi and Al Rayyan played out an entertaining 1-1 draw in Round 3 (Group B).
Naif Abdulraheem Al Hadhrami (fifth minute) gave Al Rayyan an early advantage. Khalid Mubarak Al Naimi equalised for Al Arabi in the 36th minute.
Both teams showed purpose and the match witnessed dramatic moments throughout.
Naif was quick enough to take full advantage of Yohan Boli's defence-splitting pass and beat a charged-out goalkeeper Sataa Al Abbasi even as Al Arabi were settling down.
Al Arabi's spearhead Hamdi Harbaoui free-kick in the 20th minute saw Al Rayyan goalkeeper Fahad Younis come up with an equally-brilliant save.
Fahad thwarted Hamdi in the 28th minute as well.
Parity was restored when Khalid applied an opportunistic finish to a loose ball which Al Rayyan's Gabriel Mercado, who mostly stands reliable at the rear, failed to clear.
Al Arabi took the field after resumption with a spate of substitutions, which saw Sebastian Soria, Mohammed Salah El Neel and Abdulla Al Marafi come in, as they sharpened their attack.
El Neel was unfortunate not to have scored around an hour into the game as his placing shot went narrowly wide after Yasir Abubaker did the hard work from the left flank.
Al Arabi too made a few replacements, with Mowafak Awad, Abdulaziz Hazaa and Ali Ferydoon taking the field.
The stalemate continued and the teams shared points. Al Arabi are on seven points with an unbeaten record, while Al Rayyan collected their first point.
Al Arabi earlier beat Al Ahli 5-1 and Umm Salal 3-0, whereas Al Rayyan previously lost 1-4 to Al Kharaitiyat and 0-2 to Al Gharafa.
Also at the at the Al Arabi Stadium, Al Ahli and Umm Salal were locked in a 1-1 draw in Round 3 (Group B) of the 2020-21 season.
New recruit Abdennour Belhocini scored for Umm Salal in the sixth minute by converting a penalty, awarded when Ibrahim Majed tripped Ismail Mahmoud in the area.
Al Ahli took a share of points through an own goal by Umm Salal's Saoud Riaz in the 86th minute.
It was the first point for both Al Ahli and Umm Salal.
Al Ahli had slightly more of the ball and created more chances in the first half, but were unlucky not to have scored a goal.
Ali Qaderi's corner kick early into the game was just about saved by Umm Salal goalkeeper Baba Malick. The midfielder then had the ignominy of watching his long-range shot come back into play after hitting the right upright.
Ismail Mahmoud had an opportunity to double Umm Salal's lead, but for his narrow miss in front of the goal.
Without any worthwhile attempt at the goal, neither team could succeed and Umm Salal effected three substitutions in the 77th minute as Saoud Riaz, Mohammed Ramadan and Rami Fayez came off the bench. Ibrahim Elsadig and Adnan Mustafa also took the field before long.
One such replacement proved Umm Salal costly as Saoud Riaz headed a corner kick taken by Ali Qaderi into his own net in bid to avert danger even as Al Ahli defender Shane Lowri was chasing the aerial ball.
Al Ahli had earlier lost to Al Arabi (1-5) and Al Kharaitiyat (0-2), while Umm Salal suffered defeat at the hands of Al Gharafa (0-2) and Al Arabi (0-3).