Ooredoo Cup: Al Duhail beat Qatar SC 1-0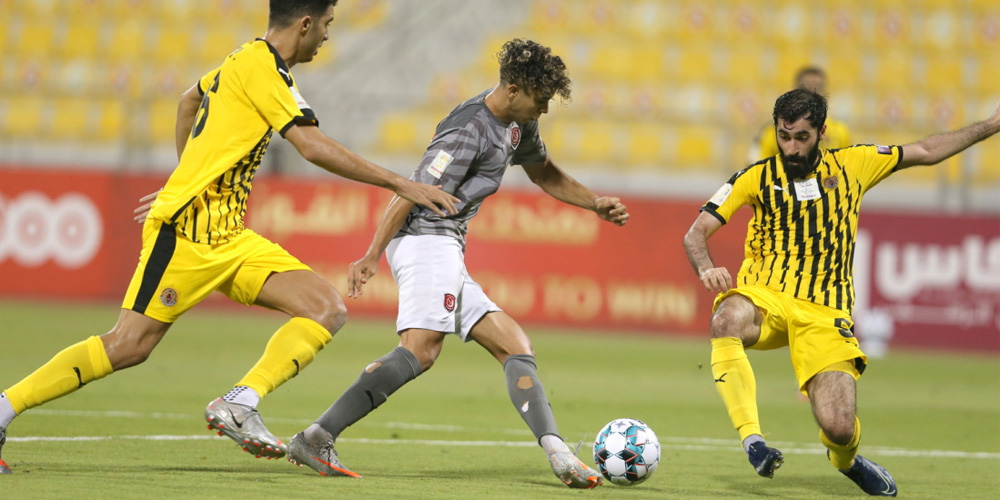 Al Duhail beat Qatar SC 1-0 in Round 4 (Group A) of the 2020-21 season Ooredoo Cup at the Qatar SC Stadium on Wednesday.
The only goal of the match was scored by Yasen Abdallah in the 43rd minute.
Al Duhail thus opened their account with their first victory, while Qatar SC stayed on four points.
Al Duhai's Under-23 player Walid Othman, after finding a little open space near the Qatar SC box, fired a powerful shot that was palmed away by keeper Motasem Majed in the seventh minute.
In the 16th minute, Qatar SC's Yusuf Ayman Farhat unleashed a stunning long-range shot that beat Al Duhail goalkeeper Ahmed Sofyan, but the ball narrowly missed the crossbar in first real threat from the men in yellow.
Five minutes later, Qatar SC skipper Mohammed Salem produced a similar shot from more or less the same distance. But this time, Sofyan was up to the mark and collected the ball with a short jump.
At the half-hour mark, Qatar SC's Anthony Okpotu outpaced Al Duhail defender Mohammed Moosa, but Sofyan stepped out of his position to block the chip shot and kill the threatening move.
Seven minutes later, the Qatar SC captain could not head home from two meters on a free-kick taken from outside the Al Duhail box.
As the half neared its end, Yasen swivelled past two defenders inside the Qatar SC box and quickly rifled a shot into the top of the net with keeper Motasem completely beaten by the pace of the shot.
Yusuf Aymen of Qatar SC was then given the marching orders for picking up two yellow cards, in a space of seven minutes.
In the 49th minute, Al Duhail's Mohammed Emad brought down Okpotu inside his own box resulting in a penalty. But Okpotu missed the target from his spot kick, sending it beyond the goalpost to the right of the keeper.
In the 63rd minute, Qatar SC's Nasser Ibrahim rifled a low shot past keeper Sufyan, but Al Duhail's Emad standing on the goalline stuck his right leg out to deflect the ball.