Odisha FC physios work hard to maintain player fitness in tough times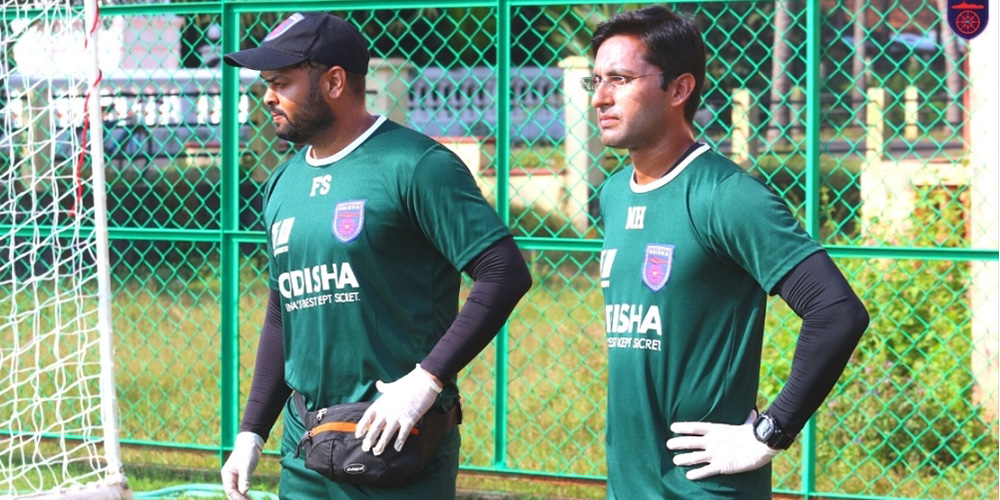 Bhubaneswar; 8th November 2020: Indian football is finally back. After the successful completion of the I-League Qualifiers in Kolkata, now the coastal state of Goa is getting ready to host the seventh season of the Hero Indian Super League (ISL) from November 20. Not only the footballers but also Odisha FC staff are giving their best to ensure that the club has a great tournament ahead.
Odisha FC's head physiotherapist Dr. Firoz Shaikh and assistant physiotherapist Dr. Naved Hameed are working day in and day out to ensure that the players stay fit and fine during the long ISL season which is coming up. The Odisha FC Media Team caught up with them to discuss more about rehabilitation and treatment of the players in a bubble during this tough time of Coronavirus pandemic.
"There will be a lot of challenges which we as a medical team will be facing. We have to be in the bio bubble throughout the season and follow the SOP which is set by the ISL management. Duration of lockdown was tough for players' fitness as they had limited access to fitness equipment, gym, grounds etc," expressed Dr. Firoz.
"We had given them specific plans of workout which they were following for eight weeks before they joined us in Goa," he further added.
Commenting on the same, assistant physio Dr. Naved said, "First of all, I would like to thank the Almighty that we are having this season of ISL. With so much going because of Covid, things have been very challenging not only in day to day life but also in the professional front as well. I would like to appreciate the efforts and SOPs which ISL organising committee have put up in place for the safety of players and support staff and we are lucky enough not to have anyone COVID positive in our whole squad till date."
"This season ISL will also be challenging because as a physiotherapist working with players, we need to be extra cautious. While working with players we need to take proper precautions and follow the guidelines which the ISL management has advised. As physiotherapists we need to take care of proper sanitisation not only of ourselves but also the equipment we use on the training pitch and in physio room as well," the former Head Physio of the OFC Youth Teams further explained.
The medical department has to follow proper safety measures, precautions, sanitization & disinfection procedures. Emphasizing on the same, the Head Physio said, "We have to monitor Thermal screening at the entry point and Oxygen saturation using a pulse oximeter. We have to use hand gloves and PPE kit while treatment and ensure eye protection with face shield or glasses. Sanitization of training equipment before and after training is also very necessary."
"During this pandemic time, training and rehabilitation of players will decide their performance on the field. In OFC, we will be testing players using different software platforms and app to monitor their fitness level. Everyone at the club is contributing more time and dedication and we are certain about good performance by our players this season," asserted Dr. Firoz.