Nice Vs Marseille Abandoned after fans storm pitch as Payet is hit by bottle and throws it back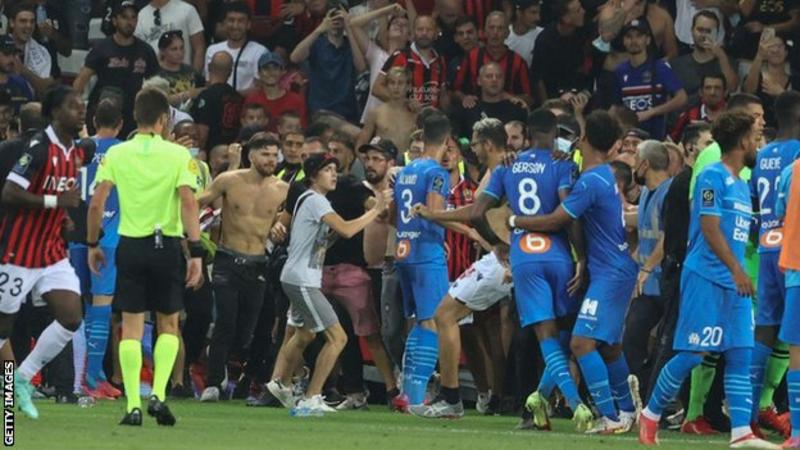 Getty Images
Dimitri Payet was hit by a bottle and threw it back into the crowd before fans stormed the pitch causing Nice v Marseille to be abandoned.
Marseille's Payet was struck in the back by a bottle thrown from the home supporters as he went to take a corner.
He launched it back, leading to fans pouring on to the pitch as stewards and players struggled to restrain them.
After a long delay, Nice's players came out to finish the game – but Marseille's players refused to.
The game was abandoned as a result. Nice were leading 1-0 through Kasper Dolberg's first-half goal.
Some of the Marseille players were reportedly injured in the trouble.
"Our players were attacked," said Marseille president Pablo Longoria.
"We decided for the safety of our players, who were attacked during the pitch invasion, not to resume the match because the safety of our players was not guaranteed."
The chaos continued as the players tried to leave the pitch, with scuffles breaking out and Marseille coach Jorge Sampaoli having to be held back by his staff.
Marseille players had been targeted by plastic water bottles from that section of the crowd throughout the match, before one hit Payet and saw the midfielder fall to the ground.
Source : BBC Sport