Mourinho travelled to Belgium to gain insight on his out of form striker Romelu Lukaku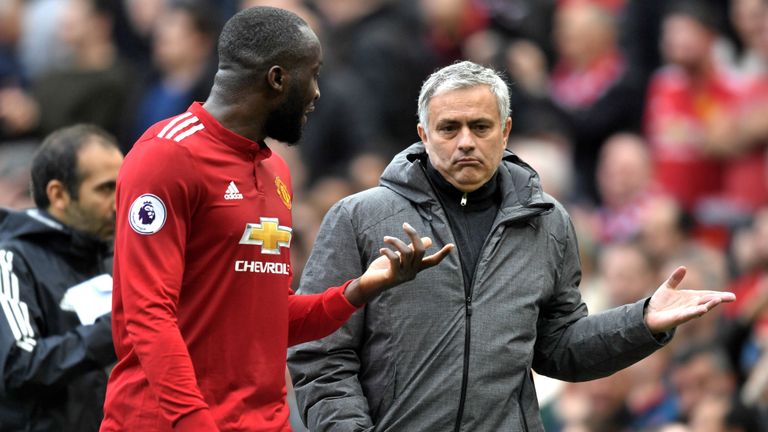 Manchester United manager, Jose Mourinho traveled to Belgium during the international break in search of answers of his striker's goal drought. Mourinho attended Belgium's 2-0 win against Iceland in Brussels as neither Felliani nor Lukaku played for the hosts. Felliani who recently came out of injury was seen working on his fitness in United's training ground. Lukaku sat the game out after his hamstring problem as he did not travel with the squad for Sunday's clash with Switzerland.
Lukaku came off the bench in a 3-1 loss to rivals Manchester City. He has five times for Belgium and four times for United this season but he hasn't netted in the last 10 appearances for his club. When asked about this travel, Jose Mourinho joked off that he traveled because of the weather but afterwards he said, "I went…mentally to be with Lukaku, to feel him, to see his situation, his injury."
On his team, Mourinho have previously criticized the 'commitment and character' of several players of his squad including Jesse Lingard, Anthony Martial, Martial Rashford and Luke Shaw. But The United boss has hinted about playing Eric Baily who hasn't played since United's 3-2 win over Newcastle. "I can tell you, because he already knows, that Eric tomorrow is not playing and is not even on the bench. But don't be surprised that next Tuesday he plays."
Mourinho have also rejected the possibility of Chilean winger, Alexis Sanchez leaving the club in January after his growing distrust about not getting enough play time in Old Trafford club but reiterated that he would not stand in the way of any disgruntled player who wished to leave amid continuing doubts about the Chilean's future.