Maurizio Sarri believes that he has reached the very top by joining Chelsea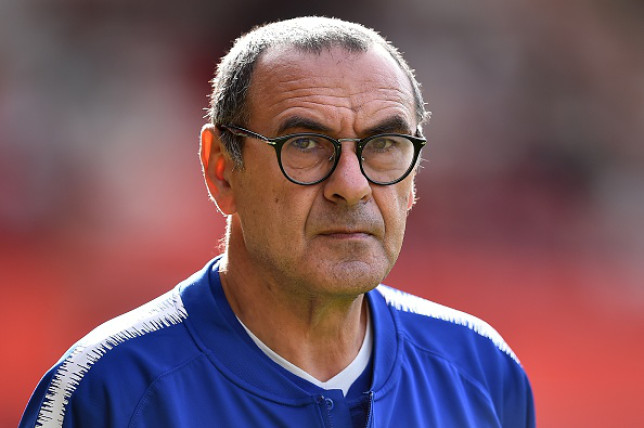 Chelsea head coach Maurizio Sarri remarked that a conversation with Liverpool boss Jurgen Klopp helped him realize that he has reached the very top, that is, the Premier League. The Italian also heaped praise on rival managers such as Jose Mourinho, Unai Emery and of course, Klopp.
Since making the switch from Napoli to Chelsea, Sarri has injected his eye-catching, high-intensity style of football into the squad. From the change of formation, structure, and shape to the quick build-up, high line, and tactics, the 59-year-old has proved why he was on Roman Abramovich's radar for a significant amount of time.
He has gone 12 matches unbeaten in the league, with eight wins and four draws. Due to their free-flowing football and character, Cesar Azpilicueta and co. are four points adrift of Manchester City and two behind the Reds. The Blues have already qualified for the knockout stage of the Europa League on the back of four straight wins and are also in the League Cup quarter-finals.
The 1-1 draw against Liverpool earlier in the league was a clear highlight of the fearsome attacking outlet Chelsea possess. The match was full of action, drama, and energy. While speaking to Gazzetta dello Sport, he recalled his conversation with Klopp during the dying stages of the encounter and said:
"At one point I turned to him [Klopp] and saw that he was smiling. I approached and asked him why. He told me 'I'm having a good time, you?' 'Me too,' I replied. Here, when you live these situations, you realize that you have reached the top."
Europe's goalscoring machines 🙌 pic.twitter.com/lKSO6k0Xe5

— B/R Football (@brfootball) November 13, 2018
In terms of approach, Sarri named Klopp as the manager closest to him. However, he did not say too bad about Jose Mourinho and Unai Emery either.
"I feel closer to Klopp from a philosophical point of view. The exchange of words between us seems to me to be exemplary," he mentioned.
Sarri added:
"Mourinho is a man of extraordinary human qualities. He made an excellent impression on the day of the Stamford Bridge match when the incident involving one of my assistants occurred. On a professional level, there is little to say: he has won everything and everywhere.
Emery is a scholar and an excellent professional. The offensive organization of his football is of the highest level."