Liverpool Legend Steven Gerrard claims Rafa Benitez wanted to sell him off to Chelsea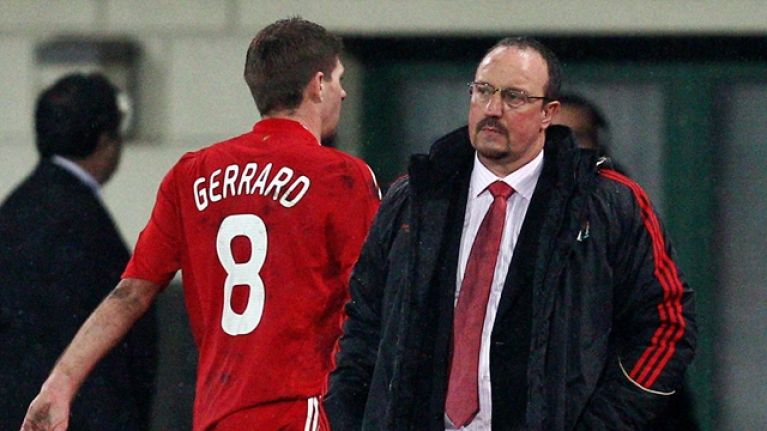 Rangers Boss, Steven Gerard in the making of his documentary Make Us Dream recently claimed former Liverpool manager, Rafa Benitez wanted to see him off at Chelsea. Gerrard's relationship with the Spaniard coach was never as sweet as he mentioned earlier about his ex-coach Benitez in his autobiography in 2015.
"I don't think Rafa Benitez liked me as a person," Gerrard wrote."I'm not sure why, but that's the feeling I got from him. It probably started even before he spoke to me when he met my mum." Gerrard once previously said when Gerrard introduced Rafa to his mother, after greeting her, the first question he asked was, "Does Steven like money?"
Steven Gerrard handed a transfer request to Liverpool six weeks after winning the Champions League in Istanbul in 2005. Chelsea placed a £32 million bid for the 25-year-old at the start of the new season and all hell broke loose in Anfield. Previously, Gerrard rejected Liverpool's contract thrice in the last nine months after finishing 30 points behind leaders Arsenal. According to the midfielder, Liverpool were "stagnating" under Gérard Houllier while Chelsea had wealth, ambition and a new, proven leader in José Mourinho who wanted him.
Speaking on Make Us Dream, Gerrard said "For me at that time I was thinking about the speculation that Rafa would surely be in a different place with me. I felt like it was real. I felt like Rafa wanted to pressure me," Gerrard added. "I felt like I was getting pulled from pillar to pole, so much s*** going through my head." Gerrard regrets the decisions he took at that point of time in his life. As Gerrard admits, "temptation entered my life" as he contemplated letting head overrule heart in the pursuit of personal ambition.