Liverpool boss Jurgen Klopp reveals why he didn't want Firmino to take hat-trick penalty against Arsenal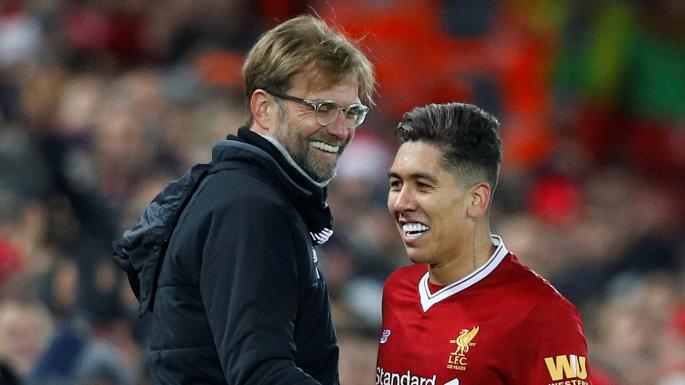 Liverpool manager Jurgen Klopp is on top of the world right now, and why shouldn't he be? Afterall his side are 9 points clear on top of the Premier League table and are on course to win their first league title in over two decades.
Liverpool were impressive on Saturday after they ran riot against Arsenal with a 5-1 victory at Anfield. Roberto Firmino's hat-trick and goals from Sadio Mane and Mohammed Salah sealed the victory for the Reds. However, Klopp has admitted he didn't want Salah to give Firmino the hat-trick penalty during the thumping victory.
Klopp claimed his he wasn't convinced that his central striker should have been granted the spot kick duties especially after Salah had earlier scored from the spot earlier in the match.
"He gives the ball to Bobby and he can score a hat-trick, so that's just nice. In the moment I was not too happy because in training Bobby doesn't finish penalties too often to be honest, but obviously today it was his day [and that's] absolutely OK" Klopp said.
"2018 ends with a Christmas present from Mo Salah. I love it, the gesture. He gives the ball to Bobby and he can score a hat-trick. That's just a nice thing. It worked so it was one of the nicest things I ever saw in my life. Really I don't know a lot of players who would do that" Klopp concluded.
Liverpool's closest title challengers defending champions Manchester City will face Southampton on Sunday and will try to bridge the gap, before taking on Liverpool in a fixture that is likely to decide the title on Thursday.