Jose Mourinho celebrates injury time winner by smashing bottles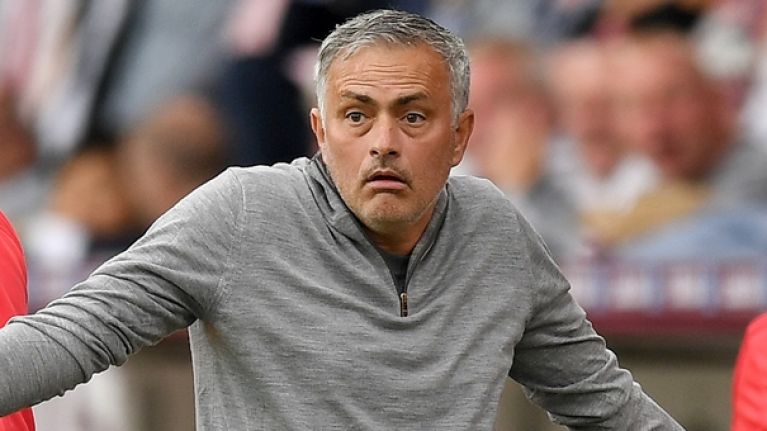 When Manchester United finally scored in a long and tedious night at Old Trafford, Jose Mourinho turned away to pick up his players' basket of water bottles and smash them into the ground. 90 minutes were up in the clock and United were looking for a consecutive second draw in 4 days at Old Trafford. United toiled at home to Swiss side Young Boys and looked set to be held to a goalless draw before Fellaini's brilliant turn and shot finally broke the deadlock in stoppage time.
This goal saw Mourinho's shocking celebration at the sideline. The Champions League has often brought out an iconic celebration from Mourinho, from his sprint down the Old Trafford touchline while manager of Porto, to the famous run across the pitch at the Nou Camp when knocking out Barcelona with Inter Milan.  This season Mourinho angered Juventus fans at Turin after United won it late with an own goal. Mourinho gave a cupped ear gesture, in response to the abuse he had been receiving from Juventus fans during the game.
Explaining what brought on the water bottles incident, the United boss said: "Relief. Frustration before that and relief with the goal. I think we didn't play for that; we didn't play for 0-0. We didn't play to be in trouble until the last minute, so frustration." Early in the first half, Mourinho gave a disastrous reaction to the crowd like "How could he miss that?" when Marcus Rashford's chip slightly few over the crossbar.
Speaking on De Gea's goal line save, The Portuguese said, "I have to reunite the goal we scored with David De Gea's save. I think without David's save, no winning goal." United were grateful for the right hand of goalkeeper David de Gea, who made a remarkable second-half save from a deflected Garcia strike, clawing the ball off the line at full stretch.
The victory ensures United will travel to Valencia for their final group game with their place in the knockout stages of the competition already secured. Valencia lost to Juventus in Turin on the other game of the group last night.