"Inside the PFA Awards: Bukayo Saka's Victory"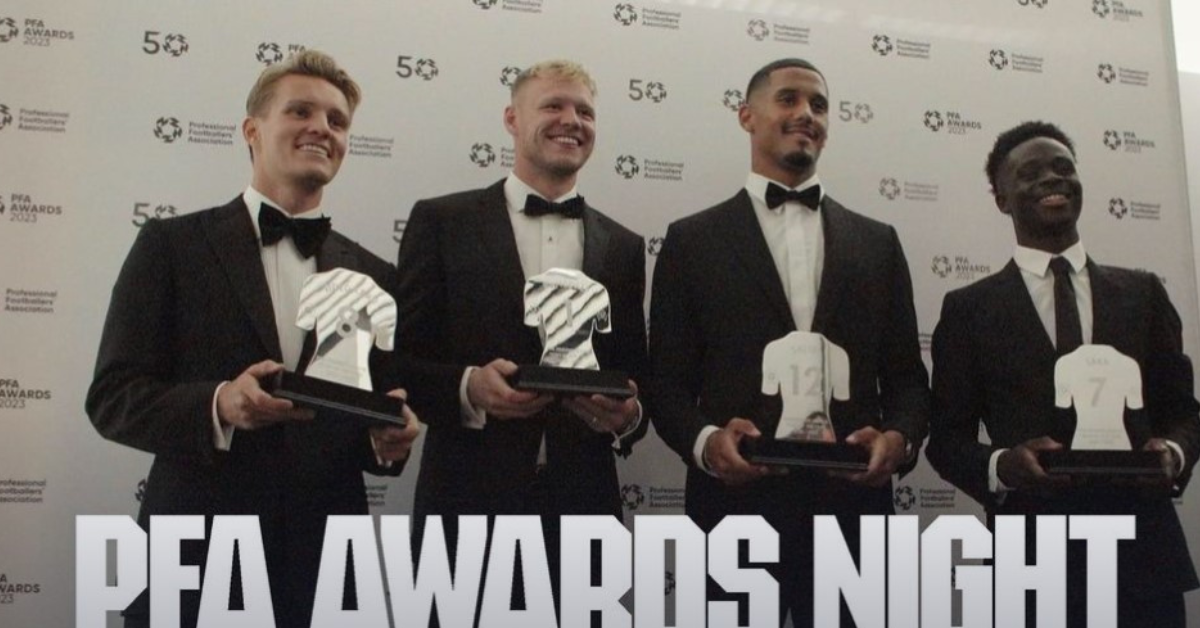 Step into the enchanting world of football excellence with an exclusive look behind the scenes at the prestigious PFA Awards night held on Tuesday. The evening was marked by a series of exhilarating moments, with one standout star stealing the spotlight – none other than the talented Bukayo Saka, who was crowned the PFA men's Young Player of the Year for the remarkable 2022/23 season. To add to the excitement, the award was presented by the illustrious Jack Wilshere, creating an unforgettable moment that showcased the essence of the footballing community.
Saka's triumph wasn't limited to the individual accolade; his remarkable performance earned him a well-deserved place in the highly esteemed PFA Premier League Team of the Year. Alongside outstanding players such as Martin Odegaard, Aaron Ramsdale, and William Saliba, Saka's inclusion in the team underlined his exceptional contribution to the sport.
However, the star-studded evening didn't stop at Saka's triumph. Frida Maanum also made waves by securing her spot in the PFA Women's Super League Team of the Season. The gathering of such phenomenal talents on the red carpet created an atmosphere of excitement, camaraderie, and celebration, reflecting the vibrant spirit of football.
Watch:https://www.sportsmonks.com/football-news/marco-reus-10-years-of-brilliance-at-borussia-dortmund/
The behind-the-scenes footage of the event offers an exclusive glimpse into the glamour, anticipation, and jubilation that marked the 50th edition of the PFA Awards. Held at the prestigious Lowry Theatre in Manchester, the ceremony was a true spectacle, embodying the grandeur and significance of the occasion. From the candid moments on the red carpet to the electrifying atmosphere on stage, the video captures the essence of the evening, showcasing the passion and dedication that define the world of football.
Follow our charismatic host, Frimmy, as she takes you on a captivating journey through the heart of the PFA Awards. Immerse yourself in the excitement, anticipation, and joy that resonated among the attendees as they celebrated the exceptional talents that make football a beloved global phenomenon.
Beyond the trophies and accolades, the PFA Awards night serves as a testament to the resilience, dedication, and talent that shape the footballing world. As the spotlight shines on these exceptional individuals who have left an indelible mark on the game, the video invites you to relive the magic of the evening and experience firsthand the moments that define the true spirit of football.
The video encapsulates not just the recognition of excellence but also the unity of a community that shares an unwavering passion for the beautiful game. Step into the world of football greatness, relive the captivating moments of the 50th PFA Awards, and join in the celebration of the remarkable individuals who continue to inspire and captivate the world with their talent and dedication.
For more related updates , visit our official website .
By- Sahiba Suri