Here's a breakdown of tips and player selections for Matchday 1 in the Bundesliga Fantasy Manager game: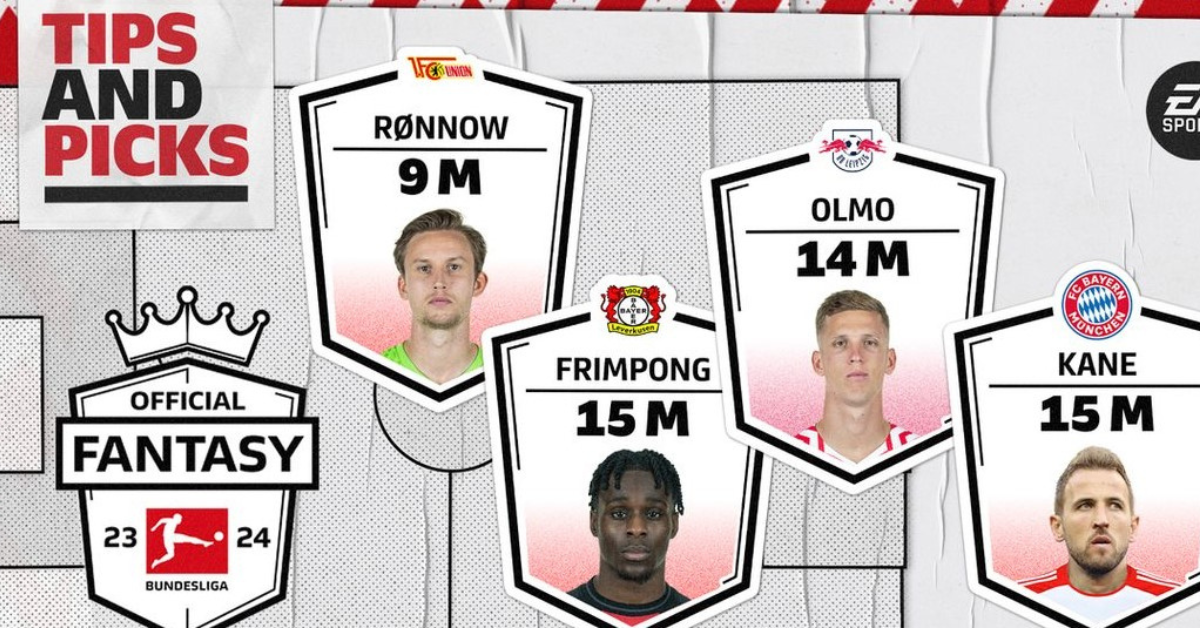 The Bundesliga is making a triumphant return this Friday, and along with it comes our newly revamped Fantasy game! In need of guidance on which players to select for an advantageous start? Look no further – bundesliga.com has you covered.
For every position within the game – goalkeepers, defenders, midfielders, and forwards – our scouting expert presents a must-have choice and a potential differential pick that's likely to give you an edge. With five transfers available per matchday this season, you have ample flexibility to strategize.
Goalkeeper
Must-Have
Frederik Rönnow (Union Berlin), 9M
Among active Bundesliga goalkeepers last season, only Wolfsburg's Koen Casteels garnered more points than Union Berlin's Frederik Rönnow (203 vs. 191). Astonishingly, Rönnow is priced as the seventh-most expensive goalkeeper this season at 9M. Even though he might face a busy match against Mainz on Sunday, Union Berlin's status as favorites makes his selection an unequivocal decision.
Differential
Marcel Schuhen (Darmstadt), 5M
Marcel Schuhen achieved an impressive 77.4% save percentage on his goal last season. However, unlike outfield players, goalkeepers' points aren't scaled with stars. Hence, splurging on goalkeepers isn't advisable. The most budget-friendly reliable starters are priced at 5M. Among these, Darmstadt's Marcel Schuhen stands out, boasting the highest save percentage in Bundesliga 2 last season. Anticipate an active performance against Eintracht Frankfurt – a promising avenue for Fantasy points.
Defender
Must-Have
Jeremie Frimpong (Bayer Leverkusen), 14M
Jeremie Frimpong was the highest-scoring defender in Fantasy last season with an impressive 305 points. Despite interest from clubs both domestically and abroad, he remains with Bayer Leverkusen this summer. While facing the challenge of RB Leipzig, Frimpong's eight goals and seven assists from last season suggest that his attacking contributions will offset any potential defensive drawbacks.
Differential
Pascal Stenzel (VfB Stuttgart), 4M
With Josha Vagnoman sidelined until mid-September due to a foot injury, Pascal Stenzel is poised to enjoy an uninterrupted stint as VfB Stuttgart's right-back. His flank position grants him more attacking opportunities compared to the popular budget option Ivan Ordets of Bochum. Stenzel comes at the same price tag of 4M. With a home fixture against Bochum, there's no reason to overlook this matchup.
Midfielder
Must-Have
Jamal Musiala (Bayern Munich), 15M
Jamal Musiala accumulated 293 points last season while being categorized as a forward – perhaps inaccurately. Now listed as a midfielder in Fantasy, every goal and assist he contributes will yield additional points. Additionally, he's a year older, and considering his 22 goal-involvements last season…
Differential
Dani Olmo (RB Leipzig), 14M
RB Leipzig's star Dani Olmo has taken a similar position-transition journey as Musiala: a forward last season and now a midfielder. Despite missing 18 games last season due to an ACL injury followed by muscular concerns, Olmo still managed 156 Fantasy points. A hat-trick against Bayern in the Supercup indicates Olmo's regained form and fitness at a crucial juncture. Furthermore, he boasts a mere seven percent ownership.
By – Sahiba Suri