Gokulam's new recruit Deepak Devrani aims a return to National Team fold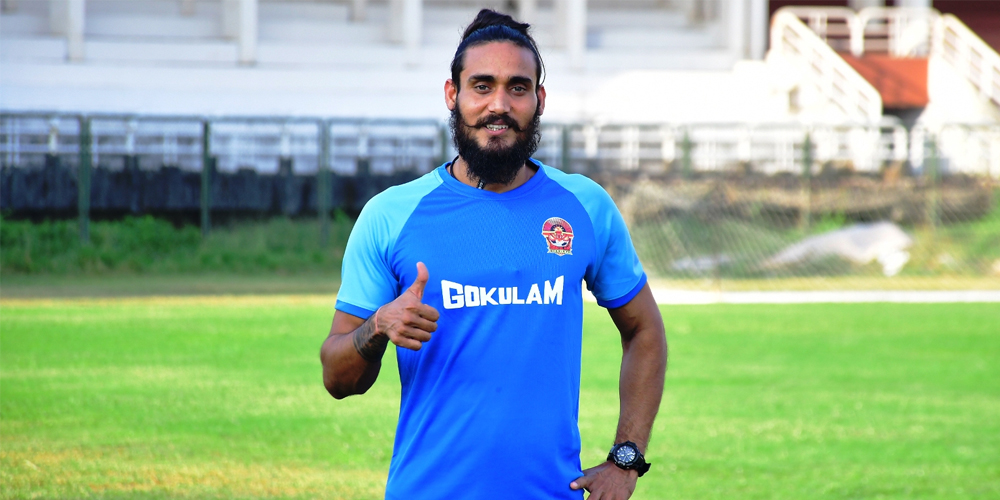 NEW DELHI: Veteran defender Deepak Devrani has been on the move ahead of the upcoming Hero I-League season, as he signed for southern heavyweights Gokulam Kerala FC. Having already won the league twice in the past, the former Arrows product is looking for a way back to the National Team fold with a good season for the Malabarians. In a candid chat with i-league.org, the 28-year-old opens up about his experience training under COVID-safety regulations, and the targets that he has set for himself this season. 
New season, new club. How are you adjusting to things here?
Let me state that I am so grateful to the team management, our sponsors, supporters, all officials and everyone in Kerala who has enabled us to come here and start our season. It has not been easy for anyone and but the support we have received so far has made our arrival and settling in has been outstanding.
You have won the Hero I-League twice already. How are you looking to use that experience to help Gokulam this time?
Winning the Hero I-League is always at the top of my mind every season. However, football is a team sport and you never win as an individual but as a team. So I hope to share my experiences and learning so far with my team, as well as learn from the experiences of my teammates and coaches.
What personal goals have you set for yourself this season?
My goals in the immediate term are to make sure I am season-ready and at the top of my fitness, get to know my teammates, coach, management, and to adapt to the new normal so that we all work together to make our way to the top match-by-match.
My personal goal is to make it back into the national team and to represent India.
How does it feel to be finally back on the training pitch after so many months of Lockdown?
When I saw the freshly cut grass in the stadium it was just amazing. I thought we are going to start football, finally. Everyone was so excited to see the stadium again. For me, staying away from the field never happened before, my whole life has always been around and next to the ground.
Every evening I would go to the ground. Even before any festival we would always go for training or even when I was in school every day I would go to the ground. So, it's amazing to be back on familiar terrain. After running on a rooftop or around a room for so many weeks, running on grass in the open is amazing. The whole lockdown we were thinking that when we would go for a run on the ground again.
How were you training at home during the lockdown?
During the lockdown, I tried to maintain a training routine as much as possible, at least in the variety and style of the training. I would do a mix of weights focusing on different areas, continue ball drills using a wall and try to do as much cardio as I could at home without going out.
Thankfully, I have a long rooftop and the building has three stories of stairs. So, I made a schedule. I divided two days in a week where I would run up and down the stairs for 20-30 minutes. I would get up early morning or in the evening.
I used to go to the roof so as not to disturb neighbours. Then I used to do strengthening for two days. Since I did not have a lot of gym equipment at home, I needed to get a bit creative in my workouts and also use simple things that l could find at home. I had heavy pot plants that I would carry like weights. I would use buckets and a chair. I would do agility work on the rooftop using my slippers as markers to do zigzag and other drills.
The other thing I did was to control my diet strictly. I could not do so much physical work so I tried to focus on my diet, even more, to make sure that when I return to on-ground training, I am not very far behind. This helped me ensure I didn't gain much fat during the period. Lockdown taught us many things though, including how to focus on mental health. It also taught us to struggle, how to deal with setbacks and the unexpected. It also taught us how to fight together. These are all good learnings that I can take to the field.
Tell us about your experience of training under the COVID-safety guidelines put in place by the AIFF?
The first couple of weeks were a bit tough because we were finally all together as a team in one building but since we were in precautionary quarantine, we could not meet physically, only on the screen when we did online training sessions together. So far, the on-the-ground training has been great but this is also because we have a team of people looking out for our health and wellbeing.
There have been some adjustments to our routine, for example maintaining physical distancing, wearing a mask, using our own designated bottles or bibs. There are some small but important things we have to follow, like before we go for training we have to put on our training clothes as we cannot use the dressing room. We also put on our mask.
Before we get on the bus, we will have our temperature checked. In the bus, there is a marker so we don't sit close to each other and not everyone goes on the bus at the same time, they have two trips.
Once we reach the stadium, we have to sit maintaining some distance between us while we lace up our boots. Balls are not allowed yet so we are maintaining distance while running. It is difficult but we are happy that we are allowed to train and play. We are ready to cooperate and do whatever we need to do to stay safe and keep others safe.
We also know that this is for our health and those around us. If anyone gets coronavirus, we know that it may be fatal so we will maintain distance, also because we don't want to miss another 14 days of training for being in isolation.
We are thankful that our federation is doing the tournament. The Hero I-League qualifier was run very well and I want to congratulate everyone for their efforts taking care of us, of everything and everyone around us. It is not an easy task to run a football tournament at this time and there is a lot of pressure.
We will maintain social distancing and will follow all the directives from the health department. We will do our best to make the Hero I-League a successful tournament.