Gary Neville gives insight on Peter Schmeichel's treatment at Manchester United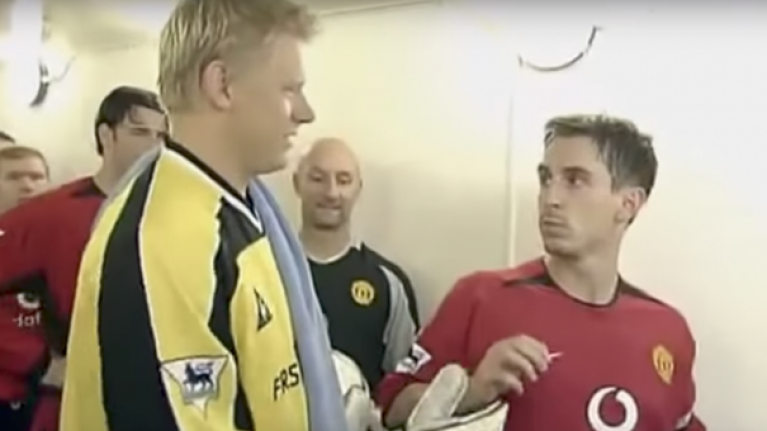 Manchester United legend Gary Neville has given an insight into the harsh treatment from his former teammate Peter Schmeichel when he first found his way into the English Premier League giants' first team.
Neville has spent his entire playing career with the Red Devils in a span of 19 years and went on to win several titles and trophies, including UEFA Champions League on two occasions.
The former right-back, who has now turned into a pundit, gave a gist of what the great Dane use to do to Neville while they were on the pitch and during training sessions.
"They were tough, yeah. When I first got into the first team at 18/19, Peter Schmeichel, I've said it before, quite often was brutal with me. Now, I speak to him and we laugh about it, but he was brutal," Neville told Quickly Kevin, Will He Score?
"He didn't fancy me as a player that much. Peter Schmeichel was the goalkeeper and that back four of Bruce, Pallister, Parker and Irwin was legendary.
"Paul Parker picked up an injury and I started getting in at right back, and obviously as a young player, you're not perfect, you make a couple of mistakes and he just absolutely battered me in training, daily, about my defending, my crossing.
"He used to do this crossing practice after the game and he used to stand on the penalty spot and catch it and say, 'That's s***'.
"He regularly just did that and he was actually just being really tough and horrible with me. It did affect me but to be honest, you have to just come through it and that's part of it because imagine if you crack when you go out on to the pitch with the fans booing you away from home."
If he now looks back, Neville would not be unhappy with the treatment he received from Schmeichel because has turned out to be one of the best fullbacks in the Premier League and is regarded highly by the Old Trafford faithful.