Five-star Qatar crush UAE to storm into semi-finals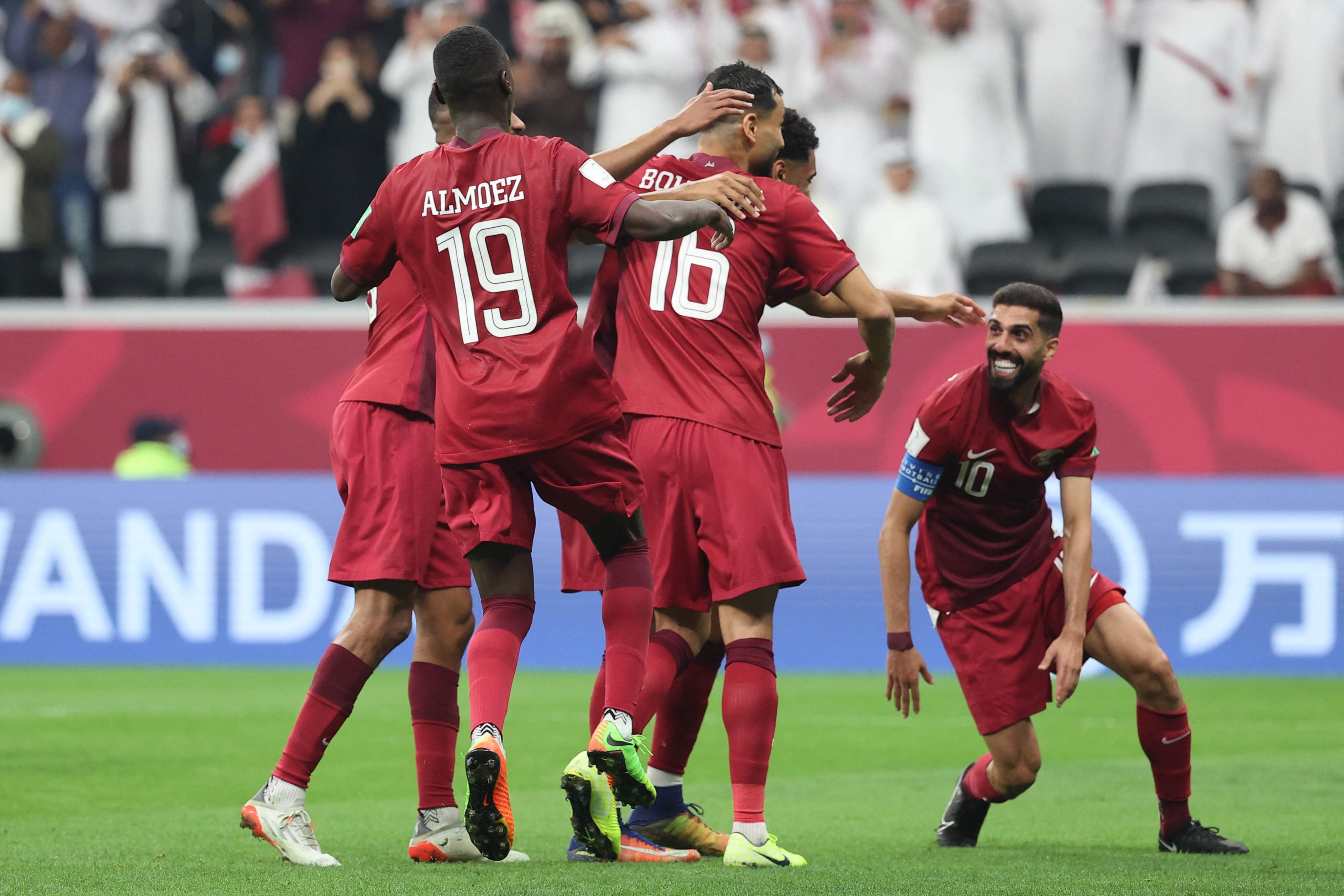 Asian champions Qatar thrashed the United Arab Emirates 5-0 to cruise into the semi-finals of the FIFA Arab Cup at the packed Al Bayt Stadium on Friday.
With almost 60,000 singing and chanting spectators creating an electric atmosphere at the FIFA World Cup venue, Al Annabi showed a ruthless performance against their Gulf rivals to storm into the semis, where they will meet Morocco or Algeria on December 15.
An own goal by Ali Salmeen took Qatar ahead in the sixth minute before feared striker Almoez Ali opened the floodgates with a penalty strike in the 28th minute.
Boualem Khoukhi tripled the lead with another spot kick in the 36th minute while Abdulaziz Hatim (44th minute) and Almoez (45+3) – his second goal of the match – sealed the crushing victory.
"We will celebrate this victory because it's a great result for us," Qatar head coach Felix Sanchez said after the win last night.
"The team is showing great improvement after every match of this tournament but now we need to focus on the semi-finals," he added.
Qatari playmaker Akram Afif was once again phenomenal for the home side, setting up most of Qatar's goals as Bert van Marwijk's UAE had no solution for the Asian champions, who started with a full-strength side barring an injured Pedro Miguel.
In the start, the UAE looked impressive before an own-goal led to their downfall in the match, although it was just the start.
Almoez taking advantage of a mistake by defender Mohnad Salem passed the ball to Afif, who deceived goalkeeper Ali Khaseif Housani and attempted to score from a close range. The striker's hit took midfielder Salmeen's touch and landed in the net to give hosts an early advantage.
Looking to fight back, the UAE took ball possession with Caio Canedo adding pressure to the Qatari defense before the hosts took complete control of the match.
Hassan Al Haydos intercepted a pass to launch his own attack but he failed to reach the UAE box in 18th minute. The hosts then thwarted an attack by the UAE, who looked for an equaliser off a free kick.
Afif set up Almoez with a superb through pass in the middle but the striker failed to double Qatar's lead when he only had Housani to beat in the 23rd minute.
Qatar were in excellent form but UAE must blame themselves for their sloppy defending that cost them dearly.
Van Marwijk's side handed Qatar a penalty kick, with Mahmoud Al Hammadi touching his hand on the ball while trying to block a cross by Ismaeel Mohammad on the right.
Almoez, who had earlier missed an opportunity, made no mistake this time and took a clean hit to beat the goalkeeper, much to the delight of home fans.
After Khoukhi saw his fiery free kick from a distance cleared by the UAE goalkeeper, Qatar won their second penalty of the match.
Almoez was racing alone after receiving a pass from Al Haydos but he was trapped by defender Mohnad Salem and the goalkeeper as they tried to block the striker. After consulting the video assistant referee, Uruguay's Andres Matias Matonte Cabrera immediately pointed his finger towards the penalty spot.
Khoukhi smashed a clinical hit on the left corner, leaving no chance for a diving Housani to avoid another goal as Qatar cruised to a 3-0 lead.
Two UAE players – Bandar Al Ahbabi and Ali Saleh –were booked for rash tackles soon after Qatar's third goal.
Afif then successfully assisted Hatim, who smashed a fiery shot to extend the home team's lead before Almeoz made it 5-0 in another Afif's assist, three minutes later.
Al Annabi were hungry for more goals and Afif sneaked into the box, four minutes into the second half but he was ruled off side.
The UAE could have got their opener in 54th minute after a defensive lapse by Qatar, but substitute Ali Mabkhout was not accurate in his attempt with only goalkeeper Saad Al Sheeb guarding the goal.
At one-hour mark, Sanchez called back Karim Boudiaf, Bassam Hisham and Homam Ahmed, with the trio being replaced by Abdullah Alahrak, Tarek Salman and Mohammed Waad.
Khoukhi could have scored his second goal of the match but he was unlucky as his rising header following a corner hit the crossbar in the 72nd minute.
The UAE goalkeeper made two brilliant saves after attempts from Abdelkarim Hassan and Khoukhi, who struck another excellent header off a corner, with 12 minutes left.
Khalil Ibrahim came close to scoring UAE's first goal but his fine effort was thwarted by Al Sheeb after the substitute managed to clear three Qatari defenders.
It was Qatar's third consecutive victory against the UAE in as many years following their wins in the Asian Cup semi-final (4-0) and in the Gulf Cup (4-2) in 2019.