FIFA World Cup Qatar 2022: Record-Breaking World Cup With 5.95 Billion Engagements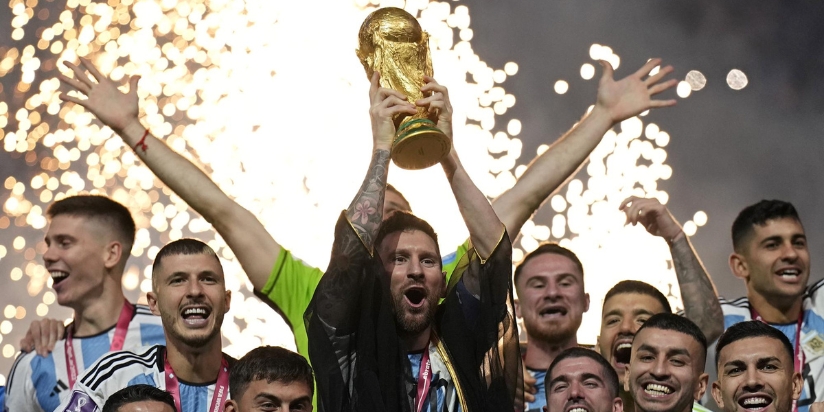 88,966 people filled Lusail Stadium on December 18, 2022, while nearly 1.5 billion people watched the thrilling Final between Argentina and France from around the world.
We take a look back at some statistics from on and off the field that illustrate the size of the biggest single sporting event in history, one month to the day after Lionel Messi, Lionel Scaloni, and La Albiceleste raised the cup.
According to preliminary estimates, 5 billion people have followed the FIFA World Cup Qatar 2022 on a variety of platforms and devices throughout the media landscape.
Nielsen reports that there have been 93.6 million postings on social media, with a total reach of 262 billion and 5.95 billion interactions.
3.4 million spectators, up from 3 million in 2018, watched the FIFA World Cup Qatar 2022 inside the stadiums and were treated to a historic event.
The Qatar 2022 FIFA World Cup set a new record for scoring with 172 goals, surpassing the previous mark of 171 set in both 1998 and 2014.
The Final was one of three matches at Lusail Stadium that drew the greatest crowd for a FIFA World Cup match since Brazil vs. Italy in 1994, when 94,194 spectators watched the game at Pasadena's Rose Bowl.
The FIFA World Cup Qatar 2022 by the numbers
It was a tournament too of notable contributions from some of football's heavyweights. Cristiano Ronaldo became the first man to score at five FIFA World Cups (2006, 2010, 2014, 2018 and 2022) while Lionel Messi became the first player to score in four successive knockout stage matches in a FIFA World Cup since the round of 16 was introduced into the modern era, at Mexico '86. Messi also passed another landmark when he made his 26th FIFA World Cup appearance in the final, overtaking the record previously held by Lothar Matthäus.
The fastest goal came after just 68 seconds when Canada's Alphonso Davies, 22, scored against Croatia. At just 18 years and 110 days, Spain's Gavi became the youngest goal scorer at a World Cup since Pelé in 1958, with a stunning strike during the 7-0 win against Costa Rica.