FIFA World Cup countdown clock unveiled at Corniche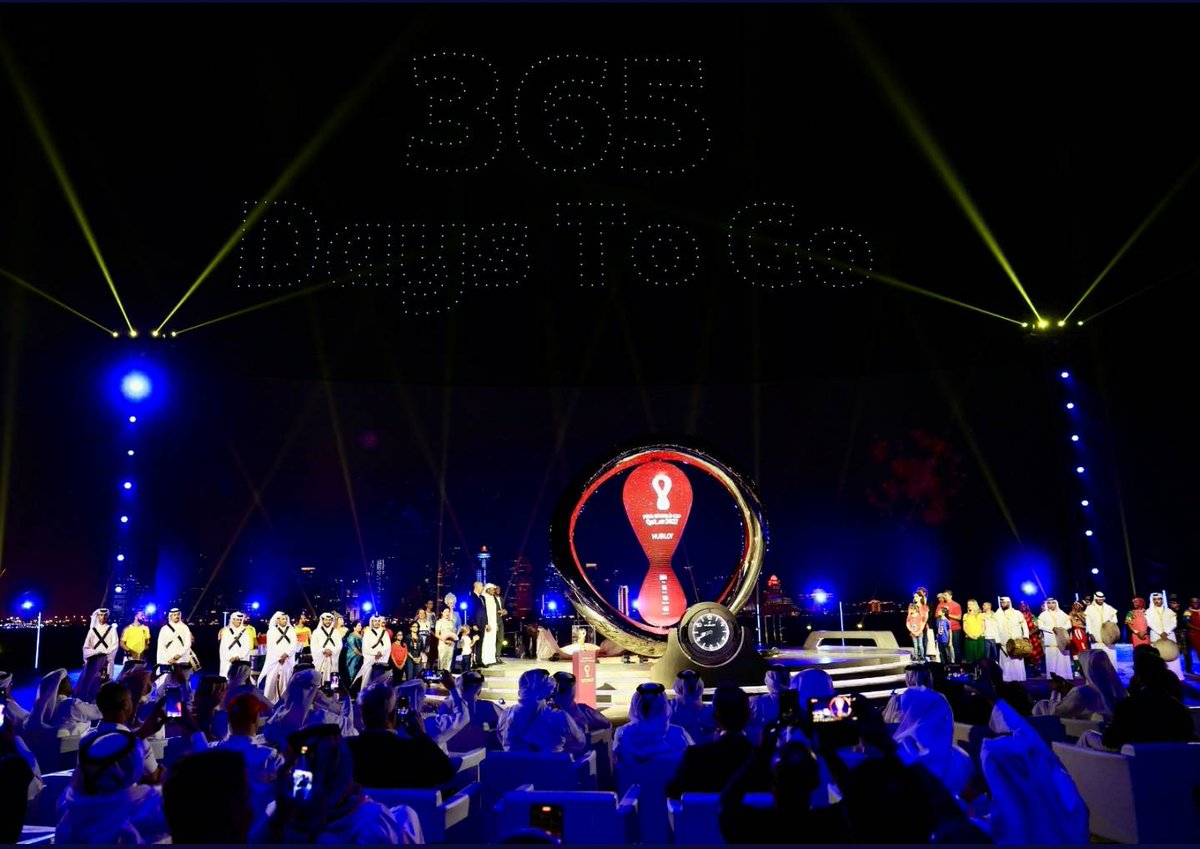 The Supreme Committee for Delivery & Legacy (SC) and FIFA yesterday celebrated the one-year to go milestone for the World Cup Qatar 2022 in a colourful ceremony at the picturesque Corniche Fishing Spot in Doha.
In an amazing evening, the Countdown Clock was unveiled in front of a gathered crowd of FIFA World Cup legends, invited guests and fans.
The launch ceremony also featured a drone show, special guests and other surprises, ramping up the anticipation as the first FIFA World Cup in the Middle East and the Arab World edges over the horizon.
The event was attended by Prime Minister and Minister of Interior, H E Sheikh Khalid bin Khalifa bin Abdulaziz Al Thani; President of the Qatar Olympic Committee (QOC), H E Sheikh Joaan bin Hamad Al Thani; Secretary-General of the Supreme Committee for Delivery and Legacy (SC), H E Hassan Al Thawadi; FIFA President, H E Gianni Infantino; CEO of Hublot, Ricardo Guadalupe; CEO of the FIFA World Cup Qatar 2022, Nasser Al Khater and other dignitaries.
Infantino said FIFA World Cup Qatar 2022 will be the best world cup ever and more than this it will be a unique world cup for many reasons. Speaking to the media, he said preparations for the mega sporting event are not only in advanced stages but everything is kind of ready.
"In football, for few decades, having contributed towards organising some of the biggest events of football tournament, I never saw something like here. Stadiums are very beautiful and they are ready, country is getting ready for the event."
FIFA President Gianni Infantino said of course there are some works to be done. "Since one year to go, we started feeling this. This will be a unique and such a compact World Cup. All stadiums are in 50 kilometers range. The fans from all over the world will come to Qatar to celebrate the tournament."
He said that this World Cup will be unique "because you have the fans from 32 countries which qualify and many from other countries who do not qualify. All will come together at same place to celebrate the football".
"I am very happy that there is one year to go for FIFA World Cup, (being held) for the first time in any Arab country. We often say that football unites people which is true. This time, the world will discover a country, Qatar and the whole region, Gulf region, Middle East and Arab World," said Infantino.
He said that after FIFA World Cup Qatar 2022, all prejudices will go away and the world will discover a welcoming place and countries where people enjoy and celebrate together, this is what the football is all about. "This is an opportunity for Qatar, Gulf region and for all over the world to get together," said Infantino.
Communications Executive Director at the Supreme Committee for Delivery & Legacy (SC) Fatma Al Nuaimi said that it is one year to go for FIFA World Cup Qatar 2022.
"Today we are revealing countdown clock in partnership with SC and FIFA at Corniche to make it visible for everyone. This is an opportunity for sharing our excitement with people – citizens and expatriates," said Al Nuaimi.
She said that the SC started its journey in 2010, now it is 2021, after 11 years it is really a big moment, getting closer day by day to the giant sporting event.
"We also announced today the accomplishment of all of our eight stadiums, the venues of FIFA World Cup Qatar 2022, first time for any hosting nation to have all of their infrastructure completed one year before the event," said Al Nuaimi.
Head of Operations Office, Deputy Head of Technical Office for Projects, Eng Yasser Abdullah and Head of Championship Experience, Khaled Ali Al Mawlawi also attended the ceremony, yesterday.