FIFA WC 2022: Doha to Host Preparation Course for Referees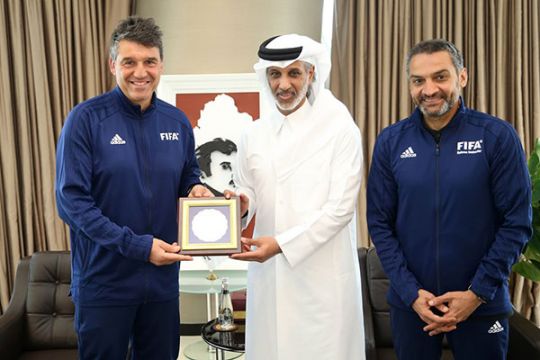 Qatar's preparations for the FIFA WC 2022 has been going on in full flow. Recently, FIFA President hailed Qatar's preparation process for the mega event which will be played from November 21 to December 2022. The event finishes exactly in a month. This is the first time that a FIFA World Cup will be finishing in a month. From renewing stadiums to tightening security concerns to keeping in mind the luxury of the players and the fans, Qatar is leaving no stone unturned in making sure the best possible hospitality.
Going forward with their preparations for FIFA WC 2022, Qatar is all set to host a preparation course for referees for the mega event. Doha in partnership with FIFA will hold the program from March 9 to 13. International referees from Asia, Africa and Oceania continents will participate in the course.
Also Read: Amir Cup Quarter-Finals: QFA Announce Dates, Venues, Schedule
The preparation course for the referees was started last year. Last year's event was attended by 40 referees from the three confederations – AFC, OFC and UEFA. Out of the 40 attendees, 21 participants were for referees courses while 19 were for VAR.
International referee Abdulrahman Al Jassim from Qatar will also participate in the course this year. The course has been divided into theoretical lectures and practical exercises. The lectures will be held at the Intercontinental Hotel, while practical exercises and tests will be held at Qatar Club.
The courses will be presided over Vice Chairman of FIFA and AFC Referees' Committees Hani Ballan, Head of the Arbitration Department in the FIFA Massimo Busacca and Chairman of the FIFA Referees Committee Pierluigi Collina.
Also Read: FIFA World Cup 2022: Qatar to Launch Three New Stadiums This Year
Qatar-First Middle Eastern Country to Host WC
Qatar will be the first middle-eastern country to host a FIFA World Cup. While Qatar has been a regular participant in the continental AFC Asian Cup, the national side has always fallen short in the final stage of World Cup campaigns.
It became the second nation after Italy in 1934, to play in the World Cup without qualifying for it. This will be the second World Cup held entirely in Asia after the 2002 tournament in South Korea and Japan.
Also Read: Qatar's Preparations for FIFA World Cup 2022
FIFA 2026 to have 48 Teams
This will be the World Cup with 32 teams as the teams have been increased to 48 in the next edition of the FIFA World Cup hosted by three North American countries, the United States, Canada and Mexico.