TFA 30-Days Football Trial in Dubai – Rush to Dubai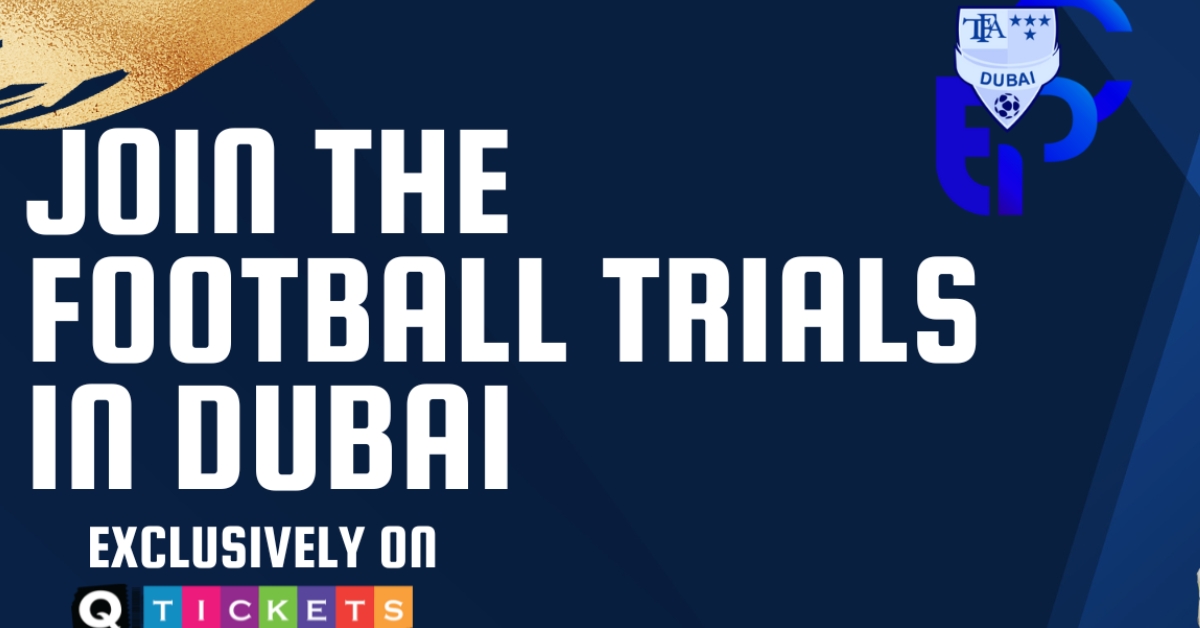 The TFA 30-Days Football Trial in Dubai offers aspiring footballers a unique opportunity to invest in their future as footballers. With an investment of 6600 AED, participants will embark on a comprehensive 30-day trial with TFA EPC Future Team, a premier football club in Dubai. The program includes rigorous training sessions, gym sessions, and matches, providing participants with the chance to hone their skills, build strength and endurance, and showcase their abilities. Accommodations, daily meals, and transportation are provided as part of the trial.
Weekly Schedule:
Football Training: Two dedicated training sessions each week to enhance skills, learn new techniques, and prepare for the big game.
Gym Sessions: Two gym sessions per week to build strength, endurance, and agility, complementing the football training.
Matches: One match per week to experience the thrill of the game and showcase abilities.
Amenities Included:
Accommodation: Comfortable accommodations provided as part of the trial to rest and recharge.
Daily Meals: Nutritional lunch and dinner designed to meet the needs of high-performing athletes.
Transportation: Hassle-free transportation from accommodation to the training ground.
The outcome of the Trial:
Reserve Selection: Impressive performers during the trial may be selected for the Reserves, offering an opportunity to develop their skills further.
First Team Opportunity: Exceptional talent may have the chance to join TFA's first team, which plays in the third division, providing an opportunity to play at a higher level and make their mark in the world of football.
Why Join Football Trials in UAE
World-Class Developmental Football League: The UAE Football Association has developed one of the best developmental football leagues in the world, nurturing talent and providing a platform for players to showcase their abilities on a global stage.
Unique Opportunities for Foreign Players: The UAE allows up to 22 foreign players in a FIFA-recognized league, creating a diverse learning environment and offering unique opportunities for international talent.
Dubai – The Ideal Location: Dubai is a city of architectural marvels and luxury and a thriving sports city with world-class facilities, professional training grounds, and a vibrant football culture. It provides an ideal environment for footballers to grow, thrive, and gain exposure.
The terms and conditions ensure a fair and smooth process for all participants, including arrival requirements and cancellation policies. Participants must arrive in Dubai at least 24 hours prior to the first day of the trial. Cancellations must be sent in writing, and reimbursement is subject to specific timelines and administrative fees.
EPC 30-Day Football Trial
Date: 01-09-2023 onwards
Location: Dubai, UAE
Admission:
Age Group: 16 to 30 Years
To book tickets for the EPC 30-Day Football Trial, please visit the Qtickets website at www.q-tickets.com/uae/. Qtickets is the official ticketing partner for this event and provides a convenient and secure platform for ticket reservations.
By booking your tickets, you secure your spot in the EPC 30-Day Football Trial, which offers aspiring footballers a unique opportunity to showcase their skills and pursue their dreams of becoming professional footballers. This trial provides a comprehensive training program, matches, and exposure to the world-class football environment in Dubai.
To reserve your place, simply visit the Qtickets website and follow the instructions to book your tickets. Make sure to select the appropriate age group (16 to 30 years) during the ticket booking process.
Book your tickets here https://bit.ly/44gha0E