Eibar Applauds Lionel Messi's Four-Goal Strike in Barcelona Win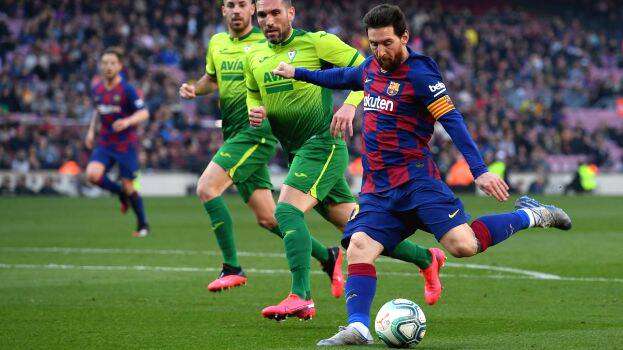 Barcelona captain Lionel Messi's four-goal strike helped his side beat Eibar in the La Liga game on Saturday. Messi scored as early as in the 14th minute of the game to give Barca the lead in the game. He scored again on the 37, 40 and 87th minute to give his team a 4-0 lead. Arthur Melo scored in the 89th minute of the game again, much to the amusement of the Barca fans at Camp Nou. Barcelona ultimately won the game 5-0.
However, the opponents of Barca showed some great sportsman spirit after the game, hailing Lionel Messi's four-goal strike. Eibar's Twitter handle in Spanish read " Te sufrimos. Te padecemos. Te sobrellevamos. Y no nos queda otra que ponernos en pie y aplaudirte."
It means "We suffered against you, we put up with you and we endured you. Now there's nothing more to do but to stand up and applaud you." Lionel Messi's four-goal strike came after he went goalless in the last four games.
Also Read: La Liga Points Table and Team Standings 2019-20
Lionel Messi's four-goal strike was praised by all the fans who gathered at the Camp Nou. Messi now has 36 hat-tricks in the La Liga, two more than Cristiano Ronaldo's 34. After his feat against Eibar, Messi has become the first player in the history of football, to register 1,000 goal contributions, either scoring directly or with assists.
Barca looked shaky in the early stages against Eibar and conceded a goal that was quickly ruled offside but it soon found its feet, led by Messi who was unstoppable on Saturday night.
Also Read: Five Reasons Why the Whole World Is Crazy about Football
Barca Atop La Liga Points Table After Lionel Messi's four-goal strike
Messi now takes his career goal tally to 696 goals and 306 assists in his 16-year career for Barcelona and Argentina. Messi's goals ensured that Barca are back at the top of the table in the current season.
Meanwhile, the Kick-off at Camp Nou had been slightly delayed and the early moments were marred by protests against President Josep Maria Bartomeu in the form of white handkerchiefs and boos by the football fans.