Dive into the extraordinary life of Franz Beckenbauer.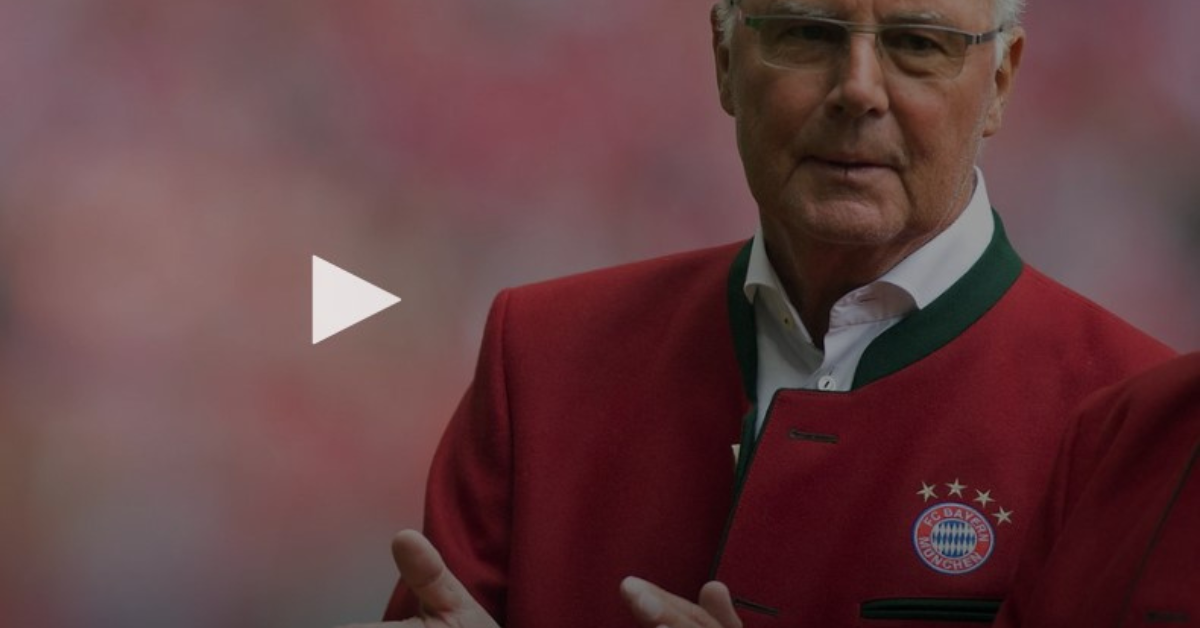 Dive into the extraordinary life of Franz Beckenbauer
Munich, rather than the "Reds" of Bayern. As the son of a postal worker, young Beckenbauer grew up dreaming of donning the blue jersey of 1860 Munich. Fate, however, had other plans.
The turning point came in the summer of 1958 when a 13-year-old Beckenbauer, playing as a center-forward for local side SC 1906, faced 1860 Munich in the U14 tournament's final. The match was fiercely contested, with Beckenbauer engaging in a spirited duel with center-half Gerhard König – a name that means "king" in German.
Details of the match have faded over time, but what remains undeniable is a pivotal moment when König aimed a slap at his opponent. It was this incident that led young Beckenbauer to alter his destiny, choosing to join Bayern Munich later that year instead of 1860, as originally planned.
Beckenbauer himself reflected on this twist of fate, saying, "It was just destiny that brought us together, making me a Red and not a Blue." This seemingly inconsequential decision would go on to reshape the landscape of German football in ways no one could have foreseen at the time.
While Beckenbauer embarked on his journey through Bayern's youth ranks, the club experienced a setback. In 1963, as the Bundesliga was being established, the league authorities decided that only one Munich club would be granted entry. 1860 Munich secured the coveted spot due to their Oberliga Süd victory in the 1962-1963 season.
However, this decision inadvertently became a blessing in disguise for Bayern Munich. Struggling financially, the club was forced to rely on emerging talent, promoting young players from their own ranks and tapping into the footballing prowess of the Bavarian provinces. Among these promising talents were the likes of goalkeeper Sepp Maier and, of course, Franz Beckenbauer.
Beckenbauer made his senior debut in June 1964, not only showcasing his defensive prowess but also contributing a goal in a 4-0 victory over St. Pauli. Later that same year, Bayern outmaneuvered 1860 Munich to secure the signing of another rising star, Gerd Müller, and their ascent to the top flight began.
As success followed, Bayern Munich's rivalry with 1860 Munich intensified. In August 1965, Bayern suffered their first Bundesliga defeat to their local rivals. Yet, while 1860 Munich clinched the league title, Bayern triumphed in the DFB Cup. Beckenbauer played a pivotal role, scoring a crucial goal in the final against Duisburg to claim his first piece of silverware.
The summer of 1966 saw a 20-year-old Beckenbauer shine on the global stage at the FIFA World Cup. His West Germany side suffered a heart-wrenching extra-time loss to England in the final at Wembley. Still, Beckenbauer's stellar performances earned him a spot in the tournament's best XI and the distinction of being the best young player, having netted four goals during the competition.
The tale of Franz Beckenbauer's journey from a young footballer in Giesing to a global football icon serves as a testament to the role of destiny in shaping sporting history. His story is one of dedication, resilience, and an unyielding love for the beautiful game. As Beckenbauer's legend continues to resonate, his impact on the sport remains as profound as ever.
In the annals of football history, Franz Beckenbauer will forever be celebrated as a symbol of excellence, a leader of men, and an indomitable figure whose journey from "Blues" to "Reds" left an indelible mark on the world of football.
For more related updates visit our official site,
By-Sahiba Suri
About sahiba
Tags
[wbcr_php_snippet id="21419"]