Didier Drogba – The Man Who Would Be Crowned King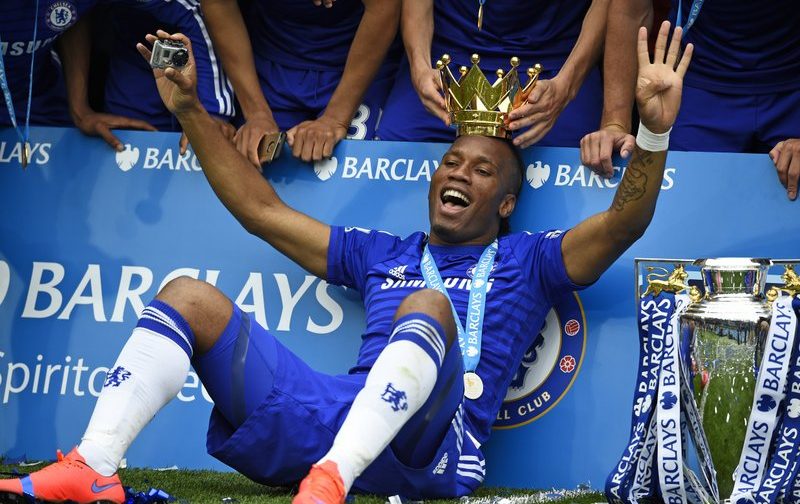 "He is the kind of player I would tell: 'With you, I could go to every war'" these were the words Jose Mourinho used to describe his inspiring striker Didier Drogba.
War is not something you would associate Drogba with, but if you consider football as war, then Drogba's warring days have come to an end. The Ivory Coast striker drew the curtains on his illustrious career as his side Phoenix Rising fell 0-1 to Louisville City in the final of the USL Cup.
It's astonishing that destiny has been cruel to Chelsea's iconic number 11. After all, he is considered as the ultimate big game player, the man for the final. Yet, his last big game ended in a defeat. Ironically his first big game too met with the similar fate when his Marseille side were beaten 2-0 by Valencia in the 2004 UEFA Cup final.
Defeats are part and parcel of sport, but that doesn't take away from the fact that Drogba is a rare talent. Few players like him have ever existed – a combination of brute strength and great finesse. A hybrid striker, a machine designed not just to hold up the ball with ease, but that could also make quick turns and have a go at goal. Despite his bulky stature, he was a fox in the box, powerful in the air and swift as lightning. Add to this his dead ball ability – a maestro when it comes to free-kicks from long and close range.
The Making Of Didier Drogba
The 2004 Roman Abramovich revolution at Chelsea saw Jose Mourinho arrive at the club. The Portuguese who was highly impressed with Drogba tempted Marseille with a £24m offer. With such kind of money dangling in front of their noses the French side let go of their rising star. Juventus too were interested in the Ivorian, but as history has it, he took a leap of faith and next stop was London. People questioned Mourinho's sanity for paying so much for a 26-year-old striker who had shown nothing extraordinary. Jose Mourinho replied 'Judge him when he leaves the club'. No surprises but it was indeed money well spent.
⚽️ 104 #PL goals
👟 2 Golden Boots
🏆 4 Premier League titles@didierdrogba joined @ChelseaFC #OnThisDay in 2004 pic.twitter.com/BXkNGsX83d

— Premier League (@premierleague) July 20, 2018
Drogba inspired the Blues to the Premier League title with 16 goals in his debut campaign. He then proved to be an instrumental figure in the League Cup final that same year against Liverpool after he put his side ahead in extra-time, a lead Chelsea would never relinquish. Soon it became a habit to the big man and scoring in cup finals became his second nature. Several managers walked out the door at Stamford Bridge, but Drogba remained an integral part of each Chelsea squad.
The towering Ivorian was not just one of the best strikers to have graced the Premier League; he was the man for the big occasion. It's no surprise that Arsenal fans are not very fond of him, but even they too cannot deny he is unplayable when at his best.
Champions League Heartbreaks
In 2008 Drogba powered Chelsea to their first Champions League final after decimating Rafa Benitez's Liverpool in the semi-finals with two decisive goals. The Blues from West London would now face Sri Alex Ferguson's Manchester United in the final in Moscow. But the beautiful game can be cruel sometimes. Drogba gave his all in the final, he even stuck the post, but in extra time, the Ivorian was shown a red for slapping Nemanja Vidic after a fracas. Drogba became only the second player in history to be sent off in a Champions League final and it came at a big cost.
Chelsea were denied the penalty-taking prowess of their legendary striker, thus forcing captain John Terry to step up to take the final penalty. To everyone's despair, this would go on and culminate what would be English Football's most famous slip until Steven Gerrard redeemed Terry of that six years later. United were handed a new lifeline and in the end the Champions League title.
But a disgraced Drogba had a chance to make things right the very next season, but several bizarre refereeing decisions going Barcelona's way, the Catalans managed to score a late injury-time goal to progress to the final. Heart-broken and a furious Drogba lashed out at the television cameras "It's a F**king disgrace!". His actions saw him handed a one-game ban, a ban he would never come to regret.
The Redemption
But the King of Stamford Bridge would redeem himself and his former colleague three years later. Drogba's entire career can be summed up from that one night in Munich on May 19 in 2012. It was a fairytale end to his career at Chelsea. The Champions League final against Bayern Munich at their home ground the Allianz Arena.
Chelsea were certainly considered the underdogs but try saying that to Didier Drogba. The big man rose to the occasion and brought Chelsea back from the jaws of defeat with an 88th-minute equalizer. But football has its own script and with just a few minutes left in extra-time Drogba clumsily brought down Franck Ribery in the box and Bayern Munich were gifted a penalty. Drogba looked in despair, but in times of trouble, you have your teammates to fall back on. Petr Cech proved to be too good for Arjen Robben thus forcing the game to penalties.
As destiny would have it, it was Didier Drogba who scored the penalty that won his beloved Chelsea their first Champions League title. A fitting farewell, a well-scripted story. With his final act of redemption, Drogba had liberated his soul and cast off the burden of delivering the Stamford Bridge faithful their first Champions League title. England's number 6 team had gone on to become the number one team in Europe, courtesy of the last touch of their legendary striker, who was set to depart to China. What a way to depart!
Conquering Europe, he then left for Shanghai Shenhua before setting the Turkish Super Lig on fire with Galatasaray. He even managed to score the only goal in the final of the Turkish Super Cup for Galatasaray. His love affair with Chelsea brought him back to Stamford Bridge for one last reunion with Jose Mourinho. The old war stallion did all he could and helped Chelsea to the Premier League title. But he was not done yet, America was waiting. He moved to Montreal Impact before calling it a day with Pheonix Rising.
The Philanthropist
While winning hearts on the field would come naturally to him, off the field too – he was one of Africa's brightest sons. He is no ordinary footballer. If you look at his glorious life beyond football, you will find a philanthropist who would go on to become the most powerful man in Ivory Coast. He never used power to influence people, but it was the power of his influence which made him the most loved man in Ivory Coast, if not Africa.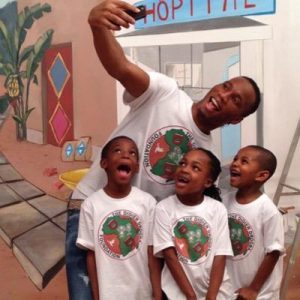 While making the headlines for his goal scoring plaudits, Drogba silently used his pay cheques to help the sick and the needy. He raised money for orphanages and built hospitals in his homeland. By 2010 Drogba had already made it to Time list of world's 100 most influential people.
The Man Who Ended The Civil War
And then there was the Civil War which had been raging in Ivory Coast for almost five years. Just moments after leading the Les Éléphants, into the 2006 World Cup finals in Germany, an emotional Drogba picked up the microphone and went down on his knees to make a plea to his entire nation, live on national television. He asked for the Civil war to come to an end and within a week his wish was granted.
Many players have used their influence to significant effect, be it philanthropy or promoting the beautiful game. But truth be said nobody has ever stopped their country from being torn apart. A feat no football player could and will achieve.
Without any doubt, Drogba is his country's biggest hero. He is a symbol of hope and peace in Africa. Every young Ivorian aspires to be Didier Drogba, they try to dress like him and even write songs about him. In fact, one-litre bottles of locally brewed beer called bock are known as Drogbas in Ivory Coast. He is the life of Ivory Coast, and now with his football career coming to an end, King Drogba is coming back home.