Copa America 2019 Quarter Finals Fixtures: Knockout Stage Matches Schedule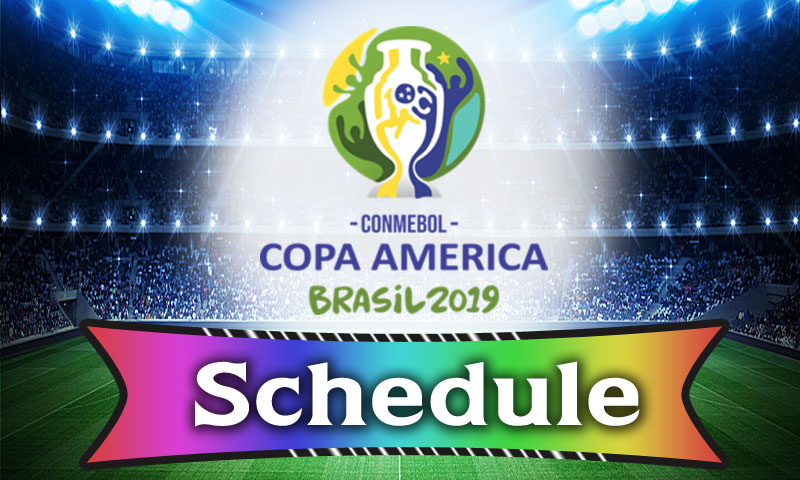 The Copa America 2019 kicked off on the 15th of June, with 10 local CONEMBOL teams participating, and Japan and Qatar invited from overseas to participate in the prestigious tournament. 11 days later, the 12 teams have been narrowed down to 8. Hereon the knockout stage begins. Copa America 2019 quarter finals opponent teams / matches bracket now revealed –
Quarter Final 1: Brazil v/s Paraguay: 27th June
Favourites Brazil cruised through the group stages, with their defence unpenetrated across all 3 group games. This defensive solidity was complemented by a ruthless attack that put 8 unanswered goals past helpless Peruvian and Bolivian defences. Everton Soares and Phillipe Coutinho stole the show in attack, with the former's exciting displays reportedly putting him on the radar of top European clubs such as Inter and Manchester City. Coutinho rediscovered the form that prompted Barcelona to break the bank to sign him, albeit in a different system.
Only Venezuela were able to stop Brazil from scoring past them, but it came consequent upon a huge collective effort, safely seeing off 19 shots and 9 corners.
Paraguay had a very different 3 games. They started off shaky, letting a 2 goal lead slip against Qatar to draw 2-2 late on. Against Argentina, they were superb from start to finish, and were one terrific penalty save away from defeating the football giants. Some controversy intervened in the game leaving Paraguay feeling hard done by, and wondering what could have been.
In their final game, Paraguay played out a fairly even game against the seemingly unstoppable Columbians, losing 1-0 in the end, but displaying signs that the team had it in them to cause major upsets. Eduardo Berizzo has generally set up his team to play to their strengths and to frustrate the opposition simultaneously, but it will take everything Paraguay have got to upset this Brazilian side in this form.
Quarter Final 2: Venezuela v/s Argentina: 28th Jun
Venezuela's journey thus far into the quarters has been extremely interesting. Relying majorly on defensive steel, the South American side has conceded a solitary goal in the tournament so far. Defending in numbers and stopping the crosses has been the clear strategy against teams they expect to have less possession against; a pragmatic and understandable approach.
In their final group stage game against Bolivia, Machais and Martinez (off the bench) came up with the goods to put Venezuela through. Salomon Rondon has been relatively quiet, and the time could not be better for him to show the world the same form with which he orchestrated Newcastle United's attack towards the close of last season. Playing a 4-1-4-1 against Argentina doesn't sound intuitive, but it may just be the precise option this time around.
Argentina struggled like anything in this tournament and were on the verge of being eliminated before they finally snapped out of their sleepy trance and beat Qatar by 2-0. Lionel Messi has once more dominated the headlines, but his side has seemed lacklustre and lethargic to the watching neutrals. Although Dybala's arrival did spark a little something against Qatar, I do not expect the Juventus man to feature from the get go against Venezuela.
Although Venezuela's sitting back approach may play into Argentina's hand, precedent says that there will be enough chances for the former on the break to catch out the big boys. Rondon's hold up play and aerial ability will need to be on full efficiency if Venezuela are to emerge from this battle and head into the Copa America 2019 Semi Finals.
Quarter final 3: Columbia v/s Chile: 28th June
Columbia sailed through the group stages, winning all 3 games and without conceding a single goal. A Yerry Mina – Davinson Sanchez partnership has been key in the heart of defence, and Juan Cuadrado has excelled from a slightly deeper position in midfield. Zapata has been quite a revelation up top, and James Rodiguez has been quietly efficient.
Overall, it is difficult to find a unit as well-oiled as the Columbians, although Chile may beg to differ. Starting Gary Medel in a much deeper role and playing Vargas through the centre of the 4-3-3 has certainly yielded results. A 4-0 drubbing of Japan was followed up by a 2-1 win over Enner Valencia's Ecuador. A switch to a more experimental 3-5-2 against Uruguay didn't generate the required result however, as an Edinson Cavani goal was sufficient to see off the Chilean challenge.
That being said, with Charles Aranguiz and Alexis Sanchez finding their form once more, Chile will be more than up for a head on battle against Columbia. The front three's technical ability is where I personally believe the battle will be won and lost. Although Sanchez and Mina have coped with the likes of Messi and Almiron, Sanchez and Vargas offer something else entirely. Likewise, it will be interesting to see how Medel and Maripan (And possibly Jara) respond to Columbia's overload tactic and Juan Cuadrado's exploits from midfield.
Quarter Final 4: Uruguay v/s Peru: 29th June
Uruguay can boast arguably the best manager of all those present at the Copa America 2019 in Oscar Tabarez. And Tabarez's set up really is a marvel to behold. With Jose Maria Gimenez and Diego Godin at the heart of defence, and Caceres and Laxalt as full backs, the thirst for a tackle and aerial ability is deep wired into the defence. Add to that a usual midfield of Bentancur, Vecino and / or Torriera, and you have a midfield capable of running at full speed throughout the 90 minutes. Suarez and Cavani perfectly complement each other in attack to complete a fantastic first XI, that topped the group stage without suffering a single loss.
On the other hand, Peru finished 3rd in their group (A), behind Brazil and Venezuela. Being shut out by both teams ahead of them doesn't offer too encouraging a sign for the Peruvians as they prepare to take on a well drilled and discipline defence. Guerrero and Farfan will need to be at the very top of their games to be able to create enough, and they will need an equally strong performance by Abram and whoever partners him in central defence to try and keep out 2 of European football's deadliest hitmen in Suarez and Cavani.
It will take the best game of the Peruvian players' international career to cause an upset here and set up a semi-final clash with the winner of Chile v/s Columbia.
After an exciting round of Group Stage matches in the Copa America 2019, it will be interesting to watch how the drama unfolds in these Copa America 2019 Knockout stage matches starting from June 27 until June 29.