Victor Boniface: Bundesliga Player of the Month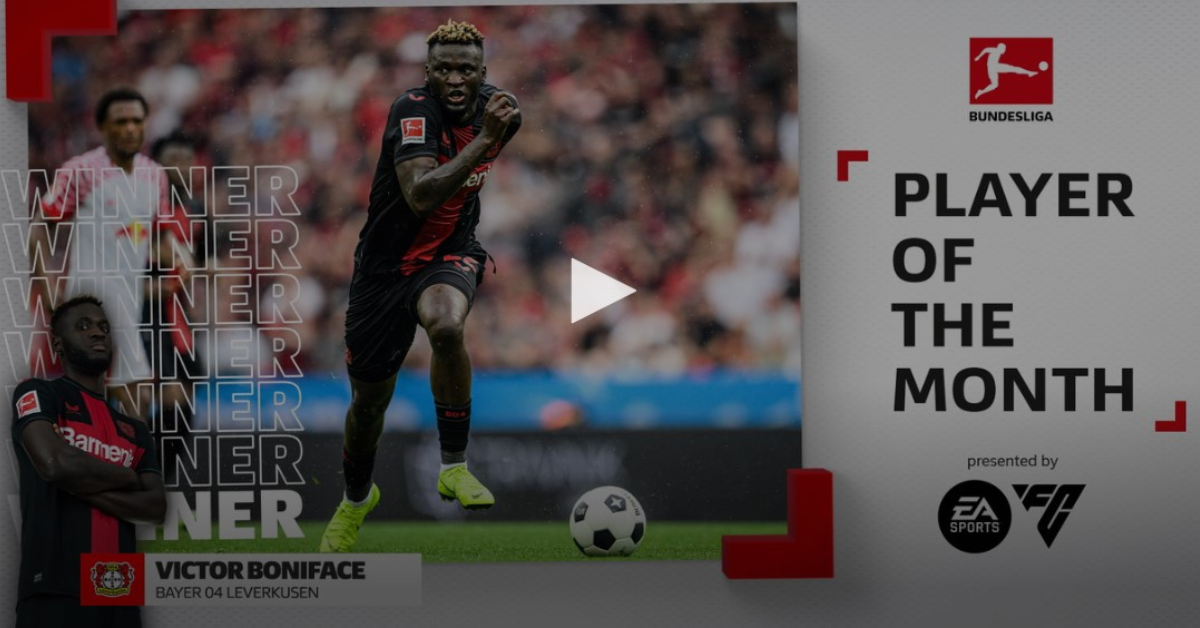 Victor Boniface: Bundesliga Player of the Month
Victor Boniface, the Nigerian striker, has been named the Bundesliga Player of the Month for August. This accolade was awarded to him just 57 minutes ago, and it's a testament to his outstanding performances during the first two matchdays of the season. He outshone renowned players like Harry Kane and Kevin Behrens to secure this honor.
The Bundesliga Player of the Month award, initiated by the DFL Deutsche Fußball Liga in partnership with EA Sports during the 2018/19 season, is determined through a two-stage selection process. It takes into account both the players' individual performance data and a vote by fans and experts.
Boniface's exceptional form in August, spanning Matchdays 1 and 2, led to his victory. Playing for Bayer Leverkusen under coach Xabi Alonso, the 22-year-old striker made an immediate impact on the Bundesliga. He contributed to Jeremie Frimpong's opening goal against Leipzig in a thrilling 3-2 victory and then netted two goals himself in a comfortable 3-0 win against Borussia Mönchengladbach.
Notably, Boniface recorded the highest number of shots among all Bundesliga players in August, a total of 14. In the match against Gladbach alone, he fired off an impressive 11 attempts on Jonas Omlin's goal, matching the efforts of Harry Kane across Matchdays 1 and 2. His relentless work rate is also worth mentioning; he contested 54 challenges, the highest in the Bundesliga, and his aggressive pressing led to winning 43 percent of them. Additionally, Boniface received the Rookie of the Month award, becoming the first player since Erling Haaland in 2020 to win both Player and Rookie of the Month in the same month.
Other notable nominees for the August award include Alphonso Davies from Bayern Munich. Davies, known for his incredible speed and current form, played the full 90 minutes in Bayern's first two Bundesliga fixtures despite Thomas Tuchel's penchant for rotation. He contributed significantly by providing three assists in these matches, supporting new striker Harry Kane, who scored twice from Davies' assists. Davies also created 10 shots, the most in the champions' squad. His defensive contributions should not be overlooked, as he attempted 40 challenges, the highest among Bayern players on Matchdays 1 and 2.
In summary, Victor Boniface's remarkable start to his Bundesliga career earned him the Player of the Month award for August. His incredible shooting prowess, relentless work rate, and impressive contributions to Bayer Leverkusen's victories set him apart. Alphonso Davies, with his speed and versatility, was another standout performer among the nominees, showcasing his ability to create goals and contribute defensively for Bayern Munich.
For more related updates visit our official website .
By- Sahiba Suri