"Rivalry Alert: M'gladbach vs. Bayern in Bundesliga"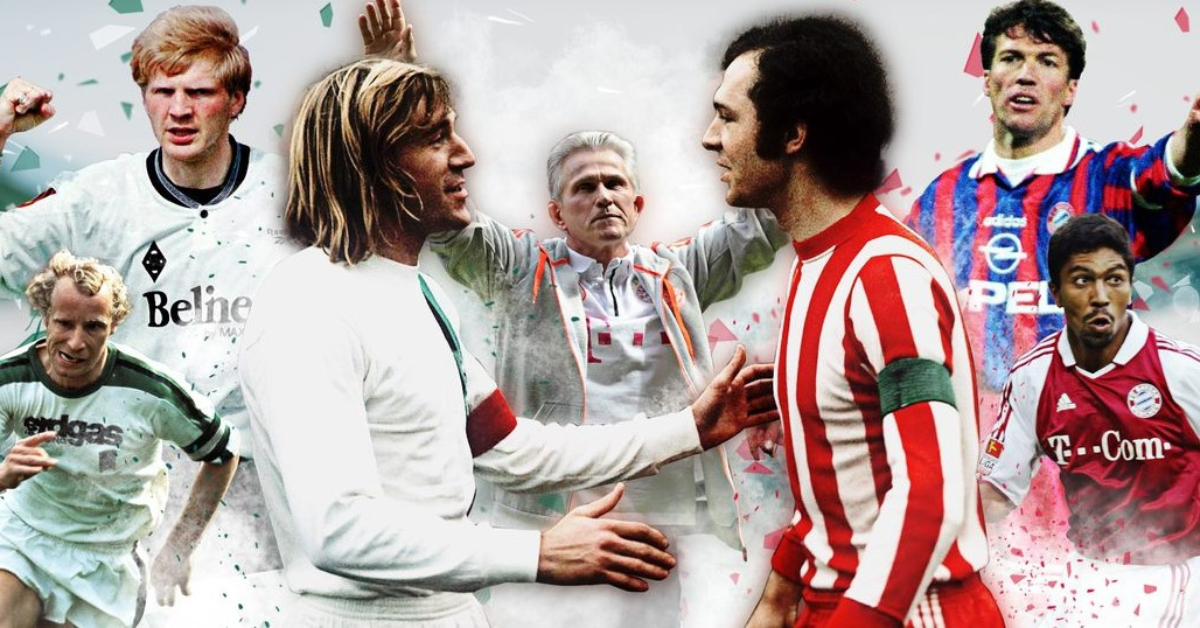 Exploring the Significance of Borussia Mönchengladbach vs. Bayern Munich in the Bundesliga.
The clash between Bayern Munich and Borussia Mönchengladbach holds a special place in Bundesliga history due to the remarkable rivalry that defined their interactions. This rivalry reached its peak during the 1970s when both teams shared the prestigious Meisterschale for nine consecutive seasons.
Delving into the past, bundesliga.com invites you to relive an era of glory for these two clubs, a period that also influenced the German national team's fortunes.
The Roots of the Rivalry
The journey of both clubs into the Bundesliga's top tier began in 1965, with each earning promotion from their respective regional leagues. Bayern Munich had experienced a setback during the league's establishment two years earlier when only one representative per city was permitted, leading to their exclusion despite their caliber. However, they quickly adapted to the top-flight environment.
Under the guidance of former Yugoslavia midfielder Zlatko Cajkovski, Bayern achieved an impressive third-place finish in their debut season and secured the DFB Cup. This victory paved the way for a UEFA Cup Winners' Cup triumph the following year.
Cajkovski molded his team around a trio of exceptional talents: goalkeeper Sepp Maier, sweeper Franz Beckenbauer, and center-forward Gerd Müller. While Beckenbauer orchestrated play from the sweeper position, Müller, who remains the Bundesliga's all-time leading scorer with a staggering 365 goals, made his mark by netting 30 goals in the 1968/69 season, driving Bayern to their inaugural Bundesliga title – a remarkable achievement considering they had only clinched their second national title in history in 1932.
Rise of the Foals
Gladbach wasted no time in asserting their presence on the grand stage. Guided by the legendary Hennes Weisweiler, who played a pivotal role in coaching education and eventually had a coaching center named after him, they secured their first Bundesliga championship in the 1969/70 season.
While Bayern's strategy centered on disciplined play and a resolute defense, characterized by Beckenbauer's innovative sweeper role, Gladbach adopted an attacking style. Their dynamic and youth-driven approach to football earned them the enduring nickname "Foals."
Watch- https://www.sportsmonks.com/sports/buckingham-shines-in-new-redbacks-coaching-setup/
Gladbach boasted their own array of remarkable players, most notably the star playmaker Günter Netzer. Supported by talents like Berti Vogts, Herbert Wimmer, and Jupp Heynckes, they clinched consecutive titles in 1970 and 1971, a feat that marked the Bundesliga's first successful title defense.
The Legacy Continues
The storylines of both clubs continued to intertwine, with Jupp Heynckes, who would later manage both teams, becoming a significant figure. Heynckes, after spending time at Hannover, returned to his hometown team Gladbach in 1970, ultimately amassing 168 Bundesliga goals during his illustrious eight-year tenure.
The fixture between Borussia Mönchengladbach and Bayern Munich transcends mere competition; it represents a clash of football philosophies, historical legacies, and enduring rivalry that has left an indelible mark on Bundesliga history.
For more related updates, visit our official website!
By- Sahiba Suri