Harry Kane's Bundesliga Hat-Trick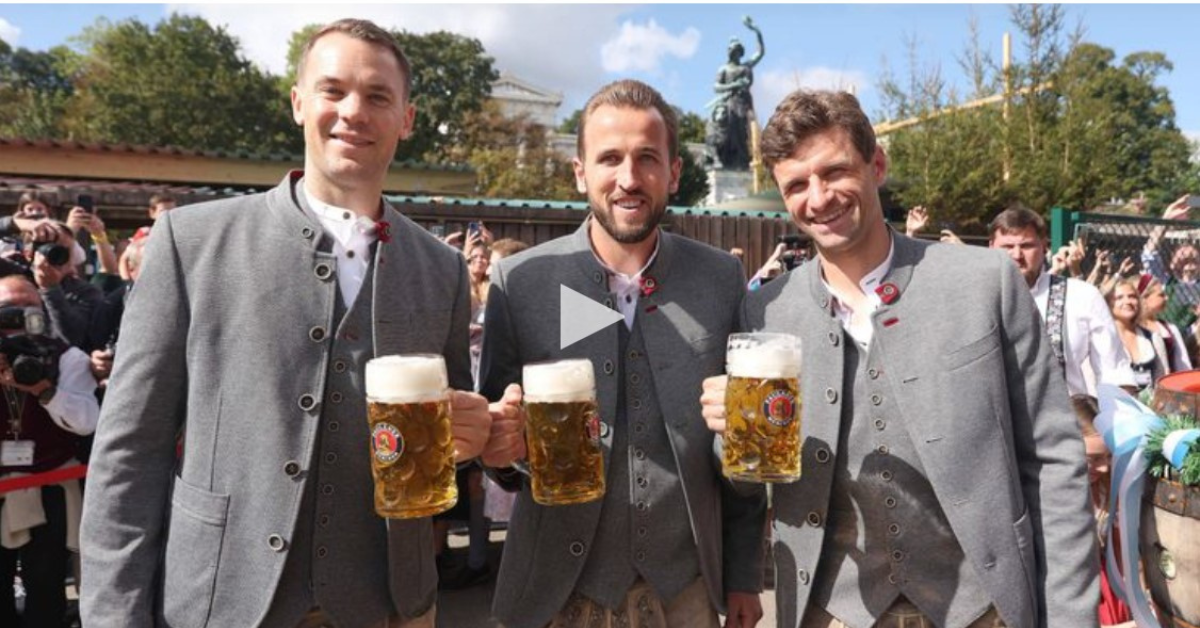 "Harry Kane's Thriving at Bayern Munich: A Bundesliga Hat-Trick Hero"
Harry Kane's Bundesliga Breakthrough
Just one day ago, Harry Kane made waves in the football world as he notched his first-ever Bundesliga hat-trick in Bayern Munich's resounding 7-0 victory over Bochum. The 30-year-old striker's performance left fans and pundits in awe, with Kane showcasing his goal-scoring prowess and playmaking abilities.
A Hat-Trick of Brilliance
Kane's remarkable performance began in the 13th minute, capitalizing on Alphonso Davies' mesmerizing run to drill in his first goal of the afternoon. He followed this up with an unerring penalty and a near-post flick in the second half to complete his treble. However, Kane's contribution didn't stop at scoring; he also provided two crucial assists. One was for Mathys Tel, and the other was an exquisite, defense-splitting pass that allowed Leroy Sané to showcase his own attacking prowess.
Kane's Love for Bayern
Speaking after the match, Kane expressed his delight with his time at Bayern Munich, stating, "It's been a really good start so far. I thought we had a really good game today; not just me, but the whole team." He emphasized the team's mental sharpness and their ability to make a challenging match appear effortless. Kane's enthusiasm for his current club was palpable: "I'm excited, and I'm loving every minute here with the team, the club, and the fans."
Kane's personal achievement of scoring a hat-trick at home held special significance for him. He planned to commemorate the day by having his match ball signed by his teammates, turning it into a cherished memento.
Setting Records at Bayern
Kane's impressive start to his Bayern Munich career also made him a record-breaker. With seven Bundesliga goals in just five appearances, he became the first player in the club's history to achieve such prolific scoring early on. It's worth noting that the only player to score more goals in their first five Bundesliga games was Erling Haaland, who managed eight goals after joining Borussia Dortmund in 2020.
The Value of Team Spirit
Kane attributed his smooth transition into the team to it being "a good fit," but he also emphasized the importance of team spirit in Bayern's success. Despite not having the largest squad, the players were committed to giving their best for the team in every minute they played. Kane highlighted the solid team environment they were building and the contributions of players who hadn't seen much playing time, emphasizing the need for such depth in a long season ahead.
Looking Ahead to Oktoberfest
Bayern Munich's strong sense of togetherness will continue as they partake in their annual visit to Oktoberfest. Kane expressed his excitement, stating, "I'm looking forward to it. It's always nice to win today so that we can enjoy it tomorrow." He acknowledged that he wasn't entirely sure what to expect but was eager to soak in the festivities while maintaining focus for the upcoming cup match on Tuesday.
In just one day, Harry Kane has left an indelible mark on Bayern Munich and the Bundesliga, proving that he's not only a goal-scoring machine but also a valuable team player. As Bayern's journey unfolds, fans can expect more memorable moments from this star striker.
For More Related Updates Visit Our Official Website .
By- Sahiba Suri