"French Football Stars' Impact on the Bundesliga"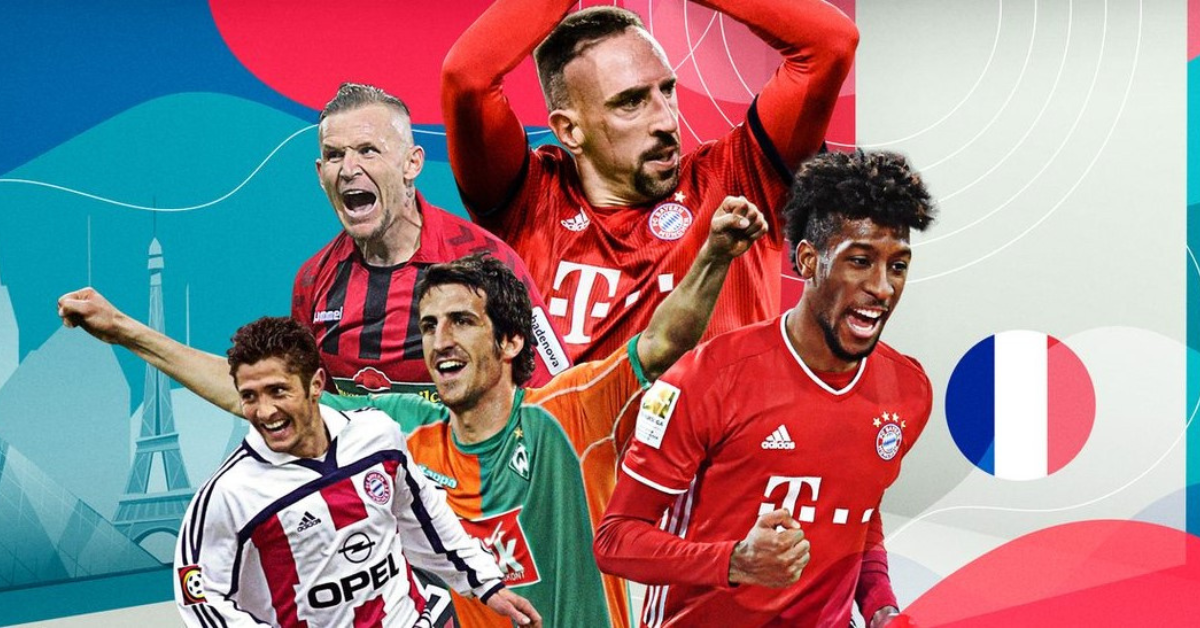 "French Football Stars' Impact on the Bundesliga"
French Stars in Bundesliga
Since Gilbert Gress became the first Frenchman to play in the Bundesliga in 1966, a number of talented French footballers have made significant contributions to Germany's premier football league. Let's take a closer look at some of the standout French players who have graced the Bundesliga over the years.
Franck Ribery (2007-2019)
Bundesliga Appearances: 273
Franck Ribery, an iconic figure in Bayern Munich's history, left an indelible mark on the Bundesliga during his 12-year stint. Over the course of 273 appearances, Ribery netted 86 goals and provided 120 assists, making him one of the league's most influential players.
Ribery's time at Bayern was marked by an extraordinary period of success. The pinnacle came during the 2012/13 season when he played a pivotal role in Bayern's historic treble-winning campaign, clinching the Bundesliga, UEFA Champions League, and DFB Cup titles.
In recognition of his outstanding performances, Ribery was named UEFA's Best Player in 2013. However, his bid for the Ballon d'Or that year was thwarted as he finished behind Cristiano Ronaldo and Lionel Messi in the final voting.
Kingsley Coman (2015-present)
Bundesliga Appearances: 185 (as of the article's publication)
Following in the footsteps of Franck Ribery, Kingsley Coman has become a prominent French presence at Bayern Munich. With 185 Bundesliga appearances and counting, Coman has established himself as a crucial player for the club.
Coman's most iconic moment came when he scored the match-winning goal in the 2020/21 UEFA Champions League final against his boyhood club, Paris Saint-Germain, completing an unprecedented sextuple for Bayern Munich.
His career has been marked by remarkable consistency, as he has lifted eight successive Bundesliga titles, spanning his time with PSG, Juventus, and Bayern. In the 2020/21 season, he recorded his personal best in terms of combined goals (five) and assists (12), showcasing his growing influence on the pitch.
At just 27 years old at the time of the article, Coman had many more years to make an even greater impact on the Bundesliga and European football.
Benjamin Pavard (2017-2023)
Bundesliga Appearances: 174
Benjamin Pavard, known for his versatility and defensive prowess, made significant contributions during his Bundesliga career, primarily with Bayern Munich.
He was a vital part of Bayern's sextuple-winning squad, achieving this feat two years after lifting the FIFA World Cup with the French national team in 2018.
Pavard's journey in Germany included experiencing the highs of promotion to the Bundesliga with VfB Stuttgart and the lows of immediate relegation to Bundesliga 2. However, he eventually found his place as a right-sided defender in Bayern's back four.
Known for his dependable defending, impressive vision, and occasional moments of brilliance, Pavard's Bundesliga journey concluded with a move to Inter Milan in the summer of 2023.
Lucas Hernandez (2019-2023)
Bundesliga Appearances: 74
Lucas Hernandez, like his compatriot Benjamin Pavard, enjoyed considerable success during his time in the Bundesliga, predominantly with Bayern Munich.
Hernandez's versatility was one of his defining characteristics, as he demonstrated his capabilities both in central defense and on the left flank. Until February 2021, he held the remarkable record of never losing a single one of his first 32 Bundesliga appearances.
His time in Germany, however, was marred by a series of injuries, including a serious cruciate ligament rupture, which kept him sidelined for extended periods.
Despite the setbacks, Hernandez's contributions were vital to Bayern's domestic success, and he returned to Paris Saint-Germain as a seasoned defender with a wealth of experience.
These French football talents have left an enduring legacy in the Bundesliga, making invaluable contributions to their respective clubs and enriching the league with their skill and passion for the game.
For more related updates visit our official website .
By- Sahiba Suri