Bundesliga Record : Leverkusen vs. Bayern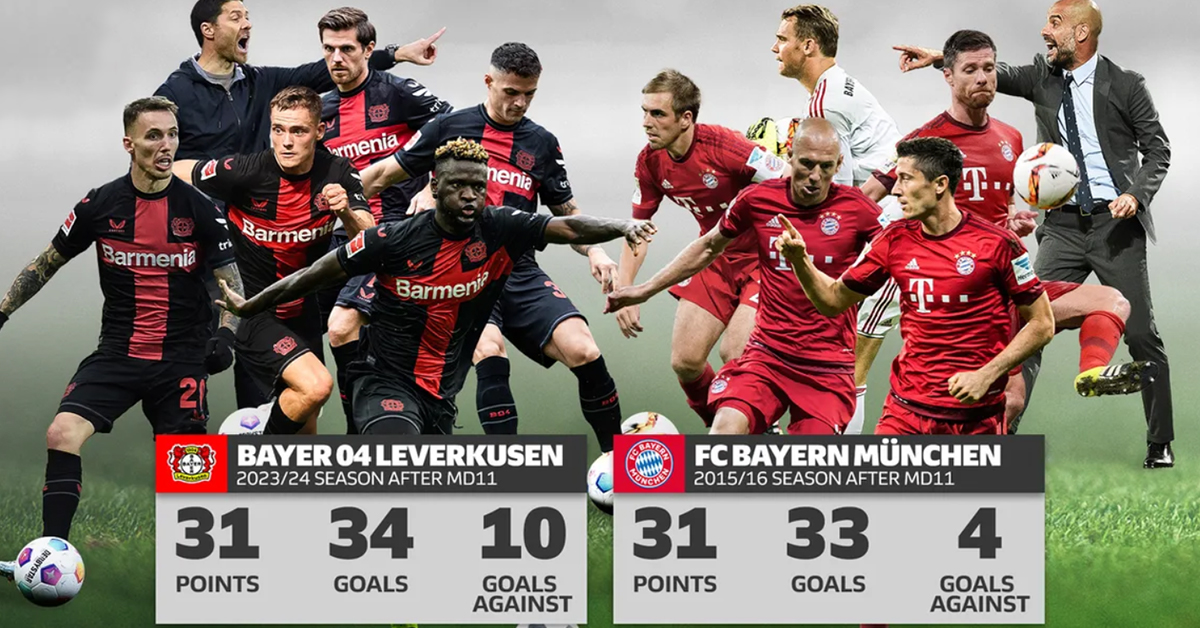 Bayer Leverkusen, led by Xabi Alonso, matches Bayern Munich's historic start to the Bundesliga. A comparative analysis of their seasons so far.
Content:
Xabi Alonso's Bayer Leverkusen has reached the pinnacle of Bundesliga excellence, matching the record-setting start of Pep Guardiola's Bayern Munich in 2015/16. Here's a comprehensive look at the parallels and distinctions between these two remarkable campaigns.
Leverkusen's Resurgence:
Leverkusen's ascent under Alonso is a testament to their resilience, going from second-bottom to a top-six finish and a UEFA Europa League semi-final in the previous season. The summer transfer influx, including talents like Victor Boniface and Jonas Hofmann, set high expectations for the current campaign.
Early Challenges Overcome:
Leverkusen faced formidable opponents early on, with victories over RB Leipzig, Borussia Mönchengladbach, and a resilient draw against Bayern Munich at the Allianz Arena. Despite occasional narrow wins, they demonstrated the ability to prevail in various circumstances.
Key Players Driving Success:
Leverkusen's success is propelled by standout performances from players like Victor Boniface, Jonas Hofmann, and Florian Wirtz. Full-backs Grimaldo and Frimpong have contributed offensively, showcasing a well-rounded team effort.
Alonso's Tactical Emphasis:
Alonso's possession-oriented approach has resulted in Leverkusen boasting impressive possession stats, rivaling even Bayern. Their offensive efficiency, with only 5.4 shots per goal, underscores the effectiveness of Alonso's tactical philosophy.
Comparative Analysis with Bayern's 2015/16:
Drawing parallels with Guardiola's Bayern, Leverkusen's start matches the record points tally and goal difference. While Leverkusen's attack has been prolific, Bayern's historical 42 goals in the same period still stands as an unmatched benchmark.
Bayern's Dominance in 2015/16:
Guardiola's Bayern in 2015/16 secured successive titles, setting a relentless pace with star signings like Arturo Vidal. They dominated opponents, highlighted by an 8-0 victory over Schalke and an unparalleled goal-scoring feat by Robert Lewandowski.
Potential Legacy for Leverkusen:
Leverkusen's pursuit of top-tier status until the end of the season could leave a lasting legacy, akin to Bayern's transformation under Guardiola. The comparison underscores the significance of Leverkusen's remarkable start in the context of Bundesliga history.
In conclusion, as Leverkusen emulates Bayern's historic start, the Bundesliga awaits a potential shift in power dynamics, with Xabi Alonso's side poised to leave an indelible mark on the league's annals.
For More Related Updates Please Visit Our Official Website
By- Sahiba Suri