Bayern Advantages in UEFA Champions League Clash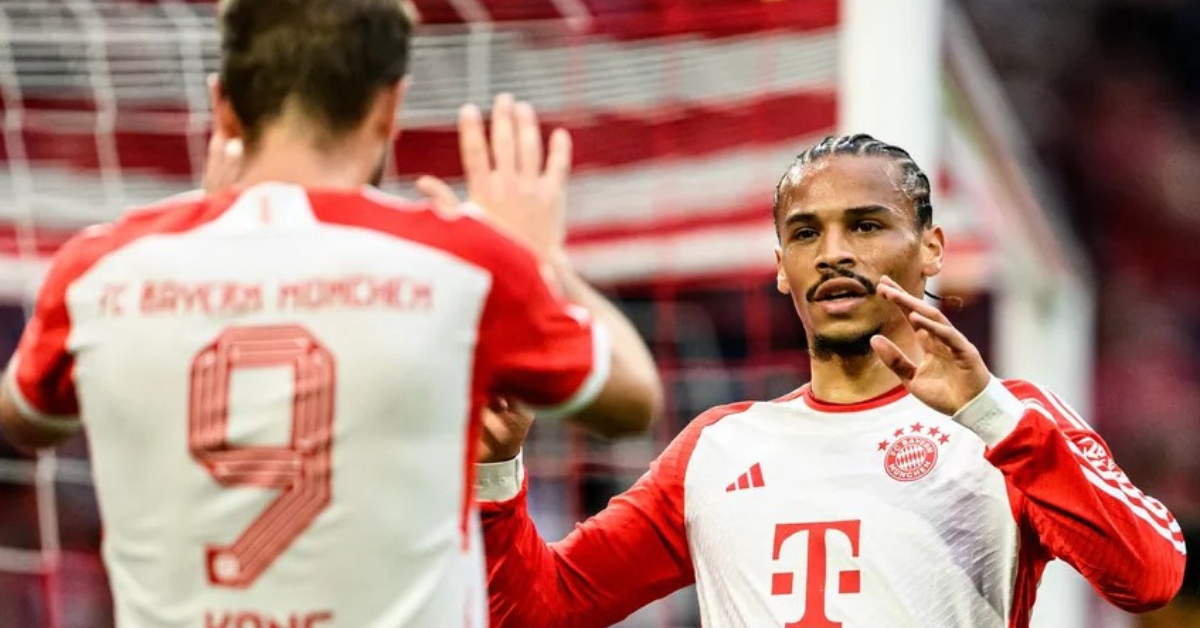 Five Key Factors Favoring Bayern Munich in Their UEFA Champions League Clash Against Galatasaray
In the upcoming UEFA Champions League clash, Bayern Munich finds itself in a promising position as they prepare to take on Galatasaray. There are several factors that suggest Bayern may have the upper hand in this encounter. Let's delve into these five key elements that could propel Bayern to victory.
1. The Kane-Sané Connection: A Remarkable On-Field Partnership
One of the most significant reasons for Bayern's optimism is the sensational partnership between Harry Kane and Leroy Sané. Despite never having played together before, their on-field connection has been nothing short of remarkable. Both players have quickly adapted to each other's style of play, forming a telepathic understanding on the pitch. Kane's arrival from Tottenham Hotspur has been nothing short of stellar, with 15 goals and five assists in just 10 Bundesliga games. In fact, he became the first Bayern player to achieve such a feat in his first 10 league appearances. Add to this his two goals and two assists in three European outings, and Kane's impact is undeniable. Sané, too, has been in fine form, with eight goals and four assists in the league and impressive contributions in the Champions League. Their combined efforts make them a formidable force that Galatasaray will find challenging to contain.
2. Neuer's Return: Reinforcing Bayern's Defensive Strength
Injuries have plagued Bayern Munich this season, but there's excellent news on the defensive front. Manuel Neuer's return to the first team provides a significant boost to Bayern's defense. His comeback in a clean sheet victory over Darmstadt, after missing 10 months with a broken leg, couldn't have been better timed. A second shutout against Borussia Dortmund further underlined his encouraging performances. Neuer's presence not only strengthens the defense but also boosts team morale. As Bayern's skipper, he relishes the opportunity to lead the team in the Champions League once again, and his experience and skill as a sweeper-keeper will be crucial against Galatasaray.
3. Invincible Bayern: A Champions League Record
Bayern's impressive record in Champions League group matches is worth noting. They are currently unbeaten in 37 consecutive group games and have won their last 16 in a row, both of which are outright competition records. Additionally, their dominance at home is remarkable, with 27 victories in their previous 28 home group games. Bayern's ability to maintain their form and composure in group stage matches sets them apart as formidable competitors in the Champions League. Their consistency and track record make them a strong contender for victory against Galatasaray.
4. The Turkish Challenge: Bayern's Historical Dominance
When it comes to facing Turkish opponents, Bayern Munich has a history of success, and it's not just a recent trend. In seven encounters against Turkish teams, Bayern has emerged victorious six times, with the only exception being a draw. The first meeting with Galatasaray in 1972 resulted in a 1-1 draw, followed by a resounding 6-0 victory in the second leg, securing Bayern's progression. Galatasaray's return to the Champions League after four years does not bode well for them when facing Bayern, as the German team holds a commanding 21-2 aggregate score over Turkish teams. Bayern's past achievements against Turkish opponents instill confidence that they can once again come out on top.
5. Rising Star Tel: The Impactful Super-Sub
While Kane and Sané receive much of the spotlight, Mathys Tel's emergence as a goal-scoring sensation cannot be overlooked. The 18-year-old French forward, in his second season at Bayern after joining from Rennes, has been a revelation. Rudi Völler, the DFB's sporting director, has even suggested that Germany could attempt to persuade Tel to change his sporting allegiance. Tel's statistics speak for themselves. In just nine league appearances this season, he has scored three times, and his impact off the bench is significant. His ability to find the net in crucial moments makes him a dangerous weapon in Bayern's arsenal. As he continues to develop, Tel adds depth to Bayern's attacking options and provides a valuable asset for coach Thomas Tuchel.
In conclusion, Bayern Munich's prospects look promising as they prepare to face Galatasaray in the UEFA Champions League. The exceptional partnership between Kane and Sané, the return of Neuer, their unbeaten record in group matches, historical dominance against Turkish teams, and the emergence of Mathys Tel as a goal-scoring talent all contribute to Bayern's strong position. With these factors in their favor, Bayern Munich is well-prepared to secure a victory in their upcoming Champions League clash.
For More Related Updates Please Visit Our Official Website
By- Sahiba Suri