Argentina vs Qatar – Copa America Pre Match Preview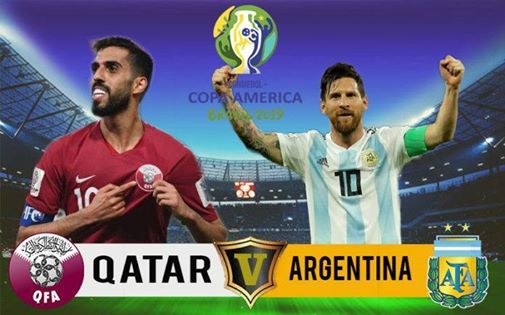 After disappointing ends to their round 2 fixtures, both Argentina and Qatar will be looking to bounce back when they face each other in the final matchday of the group stages.
Argentina's lacklustre set up failed to inspire, as Paraguay took charge of the game with a predictable counter attacking approach. Unfortunately, their long balls were not as clinical as they needed to be to cause too much trouble to a disorganised Argentine defence. Santander was used to hold up play, and Gonzalez pushed up at every possible chance, acting as a secondary striker of sorts.
Controversy reigned supreme on a night where Argentina's equaliser came via a very questionable penalty award, but which Lionel Messi credibly put away. Franco Armani, too grabbed the headlines with his involvement. The goalkeeper was caught off guard, and conceded a free kick by rather wildly trying to poke the ball to his defender, instead succeeding only in kicking his Paraguayan counterpart in the shin. But he did make up for his brief rush of blood by expertly keeping out Gonzalez from the penalty spot, after Nicolas Otamendi wildly lunged in from behind. Otamendi was fortunate not to be booked for his challenge, or else he would have been given his marching orders in the 83' minute, when he was indeed shown a yellow.
Overall, I believe Paraguay showed enough to deserve a win, but individual efforts from Argentina kept them alive in the tournament.
Qatar against Columbia was a brilliant match to analyse, and a few pointers stood out. It almost seemed as though Qatar had set up specifically as if they were rehearsing for their match against Argentina on Sunday night. That being said, although the setup itself was decent, they left themselves vulnerable to one of Columbia's biggest strengths: aerial ability. Despite not starting Radamel Falcao, who is one of the best headers of the ball in the modern game, Columbia were able to carve out significant chances via crossing.
Qatar had set up with a 3 man back line, which I believe would work well against Argentina. However, their defenders would need to work especially hard on the training ground to stop Lionel Messi dribbling past them. Juan Cuadrado, once again starting in a deeper position, was able to make a yard for himself to cross or shoot on several occasions, something which cannot be allowed against Messi. Very frequently, Qatar allowed as many as 5 Columbian attackers in their own box, which is 3 men too many. They were bailed out of jail by good goalkeeping from Al Sheeb between the posts, and also by poor finishing from Columbia's end.
Additionally, Qatar were guilty of being susceptible to subtle tricks and frequent 'give-and-go's by the James Rodriguez, Cuadrado and Uribe. In that respect, perhaps a definitive man to man system could be used against Argentina. Their final line of defence was superb when called upon, but they were asked to step in and assuage the danger a little too often for their comfort. To remedy this, Qatar will need to close down space just ahead of the final third a tad sooner than they are presently doing, for it has cost them 2 games in a row now.
In attack, the signs were encouraging. They correctly spotted Columbia's high back line and played in balls from deep to try and give Ali, Affif and the rest of the runners from deep something to latch onto, and build from there. There were moments when they were on the cusp of a goal, but Davinson Sanchez used his physique to great effect in cutting off the chance of a potential 1v1.
Derlis Gonzalez of Paraguay showed that a frequent runner from deep can be quite useful against Argentina, provided they have someone to win the knock down header. Else, it would just be a green light to counter attack from the space vacated. I believe Qatar could use the same tactic to try and get at the Argentina defence, particularly because their 4-4-2 approach would require Tagliafico to provide the width from left back.
Qatar and Argentina are currently level on point, but the latter is guaranteed to show greater urgency to get a result. This could play into Qatar's hands. If they are able to soak up enough pressure and invite the full backs forward, then a simple long ball with a runner from deep could be the key to their success. However, if their absorption of pressure is anything like it was against Columbia, then Lionel Messi would have a field day weaving his magic through the Asian Champions' defence. It promises to be a great tactical encounter.