Alex Morgan, Megan Rapinoe or Marta: Who are the richest stars going to this summer's Women's World Cup?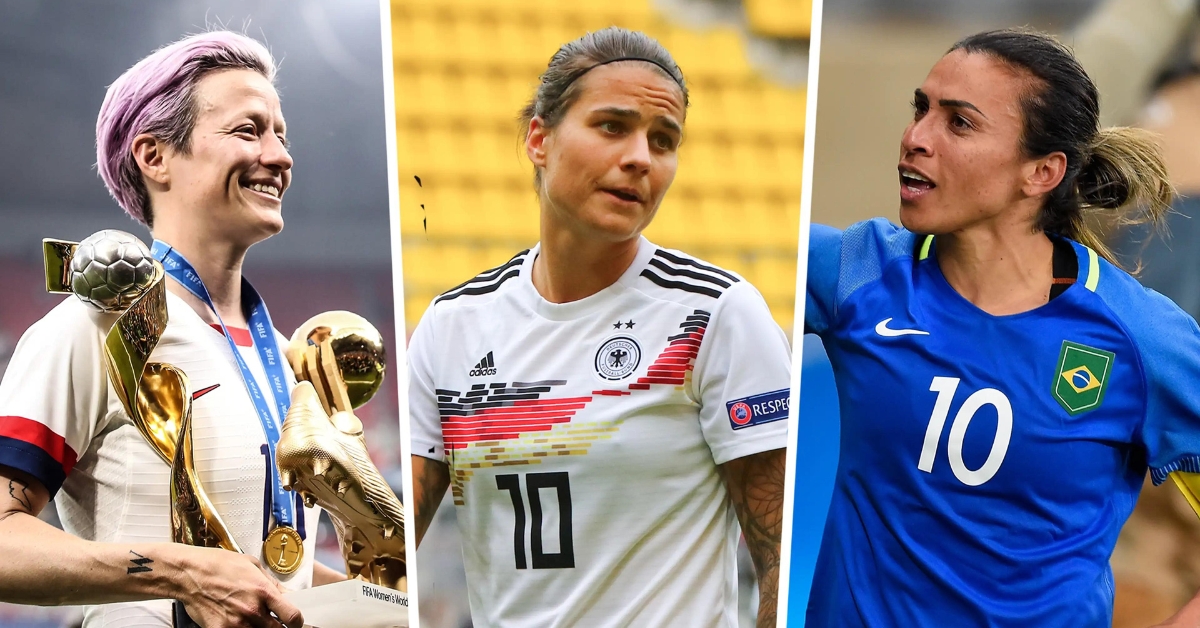 Although there continue to exist huge wage disparities between the men's and women's football, there now appears to be a greater willingness on behalf of the sport's governing bodies to address the issue. The upward trajectory of the sport will also bring with it greater economic benefits: increased popularity leads to more broadcasting interest, ticket sales and other commercial deals such as sponsorship. For that reason, it's been projected that salaries are expected to continue to grow in women's football.
Having said that, there are plenty of players who have enjoyed lavish benefits from being some of the sport's biggest stars. With their outstanding skills and talent on the pitch and important voice off it, these footballers have played viral roles in helping the sport grow both domestically and internationally. This is a list of the highest paid stars that will be playing at this summer's Women's World Cup in Australia and New Zealand.
Megan Rapinoe
Megan Rapinoe has become somewhat of an icon in women's football. Her constant work to grow the women's game and fight for improved conditions means she's become an extremely influential figure in the game. Rapinoe has had an incredible career- particularly at international level. She has represented the USA at three World Cups, winning two. She also won the Ballon d'Or in 2019.
Rapinoe's contract is worth $445 million a season and has a net worth around $3.7 million.
Alex Morgan
Alex Morgan is one of the most famous footballers in the world. The striker is one of the most consistent goal scorers too. She's scored 121 goals in 206 games for her country, having made her debut back in 2021. She will spearhead the USA's attack at this summer's tournament and her goals will be vital if the USWNT are to repeat their 2019 and 2015 World Cup successes.
Morgan is said to earn around $450 thousand per year and have a net worth around $4 million.
Amandine Henry
Amandine Henry is the first of two French footballers to be included in this list. After suffering a serious knee injury at the age of 18 in 2007, Henry's career was nearly cut short. Fortunately, she was able to make a full recovery and then went on to become of the great footballers of her generation. Playing for Lyon for the majority of her career (with a couple of loan spells in between), she's won pretty much everything. With the national team, Henry finished second in the vote for player of the tournament at the 2019 World Cup in France. She'll want to get her hands on the prestigious trophy in what will surely be her final tournament in Australia and New Zealand.
Henry earns a yearly salary of $390 thousand and has a net worth of around $7 million.
Wendie Renard
Wendie Renard will captain France at this summer's World Cup. She's also captained Lyon- the most successful club in European women's football-. during precisely the most successful period having won 14 league titles and eight European cups. She's one of the most decorated players in the history of women's football.
The center back has represented France 144 times over her career and will extend that figure this summer in what will be her third World Cup. Renard reportedly earns just shy of $400 per year and has a net worth of $10 million.
Marta Vieira Da Silva
The Brazilian superstar is considered by many to be the greatest players in the history of women's soccer. She currently plays for National Women Soccer team Orlando Pride. A striker, Marta is famous for her incredible goalscoring abilities. She's the national team's top goal scorer, notching 115 goals in 174 appearances. Not bad. She's also been named FIFA World Player of the Year six times. Not bad either.
Her salary is without doubt a reflection of her contributions of the pitch. Marta's contract with Orland Pride is said to be around $400,000 a year, with a net worth around $13 million.
Source Marca