Al Wakrah, Al Khor collect full points as Al Sadd and Al Sailiya share points in eight-goal thriller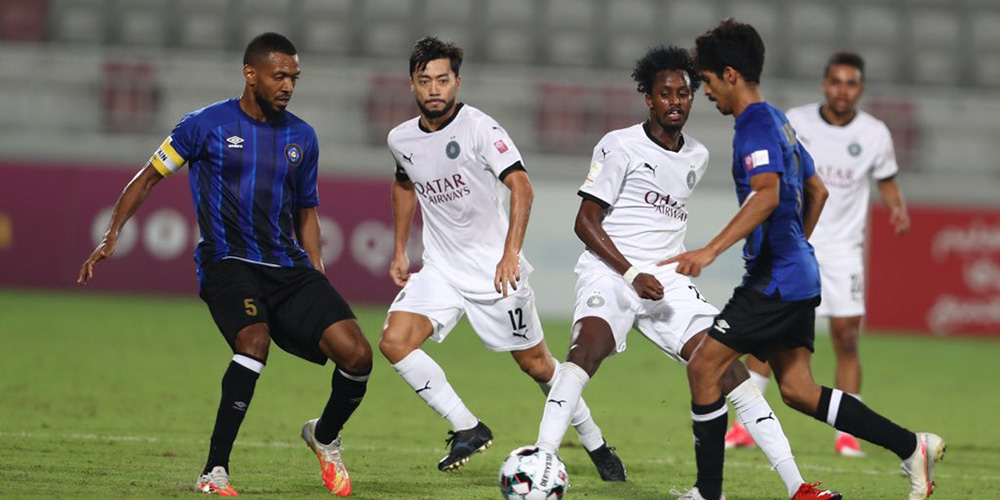 Al Wakrah and Al Khor collected full points while Al Sadd and Al Sailiya share points in eight-goal thriller in the 2020-21 season Ooredoo Cup.
At Al Duhail Stadium, Al Sailiya and Al Sadd played out a dramatic 4-4 draw in Round 3 (Group A) match.
Striker Tiago Bezerra led Al Sailiya's charge with a hat-trick (58th-min penalty, 74th and 78th-min-penalty). Mohanad Ali was their other scorer (72nd minute).
Rami Sohail (13th minute), Nam Tae-Hee (19th-min penalty), Yousef Abdulrazaq (47th minute) and substitute Rodrigo Tabata (53rd minute) scored for Al Sadd.
The total tally of eight goals included three penalty conversions.
Al Sailiya now have six points, while Al Sadd opened their account.
Al Sailiya had lost their opener 1-5 to Al Khor, but defeated Al Duhail 3-1 in Round 2.
Al Sadd, whose game against Al Duhail in Round 1 was postponed owing to both teams' campaigns in the 2020 AFC Champions League, had lost 2-3 to Qatar SC in Round 2, after leading by two goals.
Incidentally, Al Sadd dropped points this time too after enjoying a 2-0 lead at the end of first half. The Wolves, who won the 2019-20 season Ooredoo Cup by beating Al Arabi 4-0 in the final on 10th October, missed many players owing to national duty.
It was a thrilling comeback by Al Sailiya in the second half, which saw six goals being scored in all. The Peregrines fought back into the game in extraordinary fashion as they trailed 0-4 by the 53rd minute.
The sudden splurge in attack by Al Sailiya saw them pump in three goals in the space of six minutes.
At the same stadium, Al Wakrah notched up their second victory in the 2020-21 season Ooredoo Cup when they beat Al Duhail 3-1 in Round 3 (Group A).
Omar Ali (23rd and 68th minutes) and Ousmane Coulibaly (64th minute) scored for the winners.
Abdulrahman Moustafa scored Al Duhail's goal in the 29th minute.
Al Wakrah moved on to seven points, while reigning QNB Stars League champions Al Duhail have yet to open their account although they have one match in hand.
Al Duhail's game against Al Sadd in Round 1 was postponed owing to both teams' campaigns in the 2020 AFC Champions League. The Red Knights had lost 1-3 to Al Sailiya in Round 2.
Al Wakrah, who had played out a 1-1 draw with Qatar SC in Round 1, then beat Al Khor 2-1.
Al Duhail dominated the ball in the first half where the teams were level at 1-1, but it was Al Wakrah who had more chances. The Blue Wave gained much ground after resumption and scored two more goals to seal an important win.
Omar opened the scoring by taking advantage of a faulty clearance by Ahmed Yasser. Captain Isaias Sanchez set up Omar with the ball and the latter calmly volleyed the ball home.
A surge by Al Wakrah saw Cristian Ceballos hit the side-netting the next minute.
Al Duhail now took control and drew level through Abdulrahman Moustafa, who produced a neat finish off a Luis Martin through pass.
Al Duhail's Eduardo Rodriguez (Dudu) skied the ball in the 41st minute.
Earlier, Al Wakrah's Mohamed Benyettou had come close on a couple of occasions.
Al Wakrah were more determined in the second session and that reflected on the result.
Coulibaly headed in a chipped pass from former Al Duhail defender Lucas Mendes to make it 2-1 and Omar found the target a second time off a pass from Ceballos from near the goalline.
At the Al Arabi Stadium, Al Khor defeated Qatar SC 2-0 in Round 3 (Group A) of the 2020-21 season Ooredoo Cup.
Ahmed Al Mohannadi (72nd minute) and new recruit Yuki Kobayashi (81st minute) scored the goals as Al Khor moved on to six points with their second victory.
The Knights had begun their campaign in great style by beating Al Sailiya 5-1, but suffered a 1-2 defeat at the hands of Al Wakrah in Round 2.
Qatar SC, who had played out a 1-1 draw with Al Wakrah in Round 1, recorded a come-from-behind 3-2 victory over reigning champions Al Sadd in Round 2. The Kings remained on four points.
Qatar SC mostly fielded youngsters, with seven of their Under-23 players starting the game. They did not field a single overseas player.
Al Khor had more of the possession and created more chances. The seven corner kicks they earned, compared to Qatar SC's none, spoke for it.
After a barren first half, the first goal came off an assist by Ahmed Mawla. Yuki then had his free-kick deflected into the goal by the Qatar SC defensive wall.
Qatar SC tried hard to make a breakthrough, but in vain.