The Kuala Lumpur Major : Four teams qualify to the Upper Brackets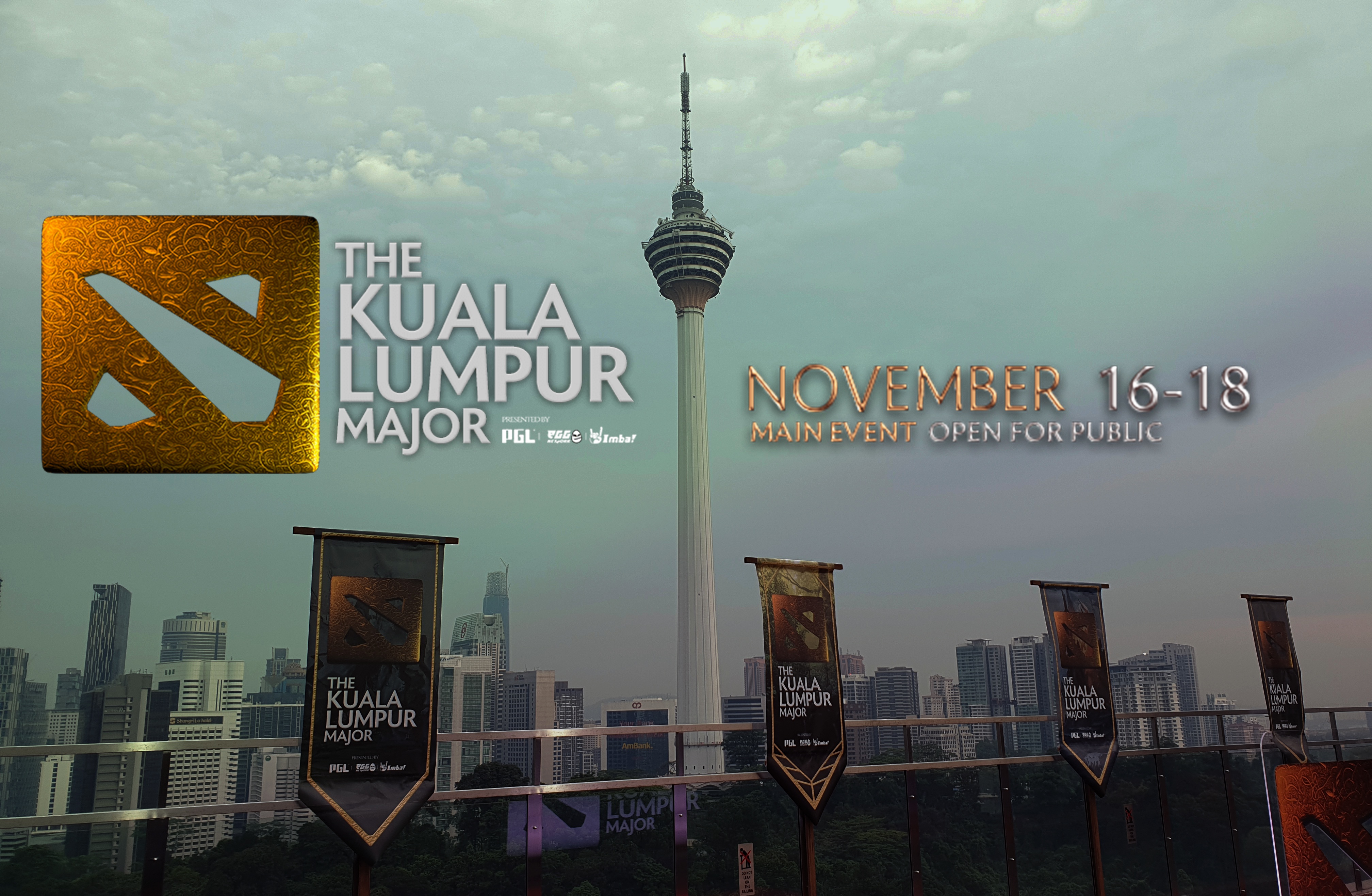 The first day of the Kuala Lumpur Major has come to an end and we now have four teams who will go through to the next stage. The Kuala Lumpur Major is the first Major of the current DPC Season and it will grant the winners a total of 15,000 DPC points. These DPC points will be useful for the teams as they attempt to secure invites to The International 2019.
Group A
The Group A had two really strong teams in the form of Ninjas in Pyjamas and Team Secret. Team Secret was very dominating in the Group stages of the tournament. Nisha was exceptionally good in the Group stages of this tournament. Team Secret's performance this year is also quite similar to that of last year. They are able to play to their strengths and also pull off exceptional plays. They have a tendency to pull out Yapzor on his signature heroes when the going gets tough. However, so far in this tournament we have only seen these a couple of times. The team's performance in this tournament has been exceptional so far, but as we go into the upper bracket Team Secret will face off against tougher opponents. Between Nisha's Morphling and Yapzor's Blackhole steals, Team Secret was thorough with their team synergy.
GGWP @paiNGamingBR 🇧🇷

Another 2:0 for the Ninjas! That means that we are going to upper bracket and on Monday we will face @EvilGeniuses 🇺🇸#GONINJAS #DOTA2 #KLMajor #KualaLumpurMajor pic.twitter.com/mmCZJ1T7uT

— NiP 🇸🇪 @ #KLMajor 🇲🇾 (@NiPGaming) November 9, 2018
The other team that qualified through Group A were the Ninjas in Pyjamas. The PPD led team recently secured a pardon from Valve when it comes to using Mind_Control as a stand-in. With Valve rules penalising the teams for using stand-ins, Peter Dager felt it was unfair of Valve to do this since their team was already set before the start of the DPC season.

NIP won 4-0 against Pain Gaming, once in the Group stage match and once more in the elimination match. There was an obvious mismatch when it comes to the skill as well as the draft of the team. PPD definitely looks much better when it comes to this team with their exceptional skill and drafting prowess. NIP used heroes like Broodmother and Spectre to power their way through the Group stage of the tournament.
Group B
Evil Genius is a team that is considered to be the strongest North American team. The team has a lot of fans all over the world. With Sumail complaining about the 2-minute mint runes, it does seem like Evil Geniuses is not satisfied with the state of the game as it is. Their opening match was against Team Aster and it started as a disaster for Team Evil Genius. Team Aster won the first game after a thorough comeback against EG. However, Evil Geniuses was quick with the response and they made a strong comeback int he series to win it 2-1. Eventually, EG looked much more dominant especially as Sumail was able to win the mid-lane.
And that's all she wrote!

We take our series against @ViCi_Gaming 2-0 to clinch an Upper Bracket berth at the Kuala Lumpur Major! With this win we'll get tomorrow off, and we'll see you on the 12th!#BleedBlue pic.twitter.com/qphjMuooFF

— Evil Geniuses (@EvilGeniuses) November 9, 2018
The series was a very interesting one which culminated in Game 3. The third game saw Spectre and Morphling on both sides and there was a constant tussle when it came to the team's performances throughout the game. The game 3 lasted for a full 77 minutes, and despite Team Aster's high ground defence, EG was able to breach their throne and win it.
In the second game, Evil Geniuses faced off against Vici Gaming, the Grand finalists at ESL One Hamburg. Evil Genius was able to dominate the Chinese side with their picks and their early game dominance. Constantly looking for team fights, EG was able to build on their lead, extending it with objectives like Roshan, Map presence or racks. Sumail on the Invoker and Arteezy on the Arc Warden proved to be too much for Vici Gaming who had no real answer in either game.
Vici Gaming also joins EG in the Upper Bracket of the Main event.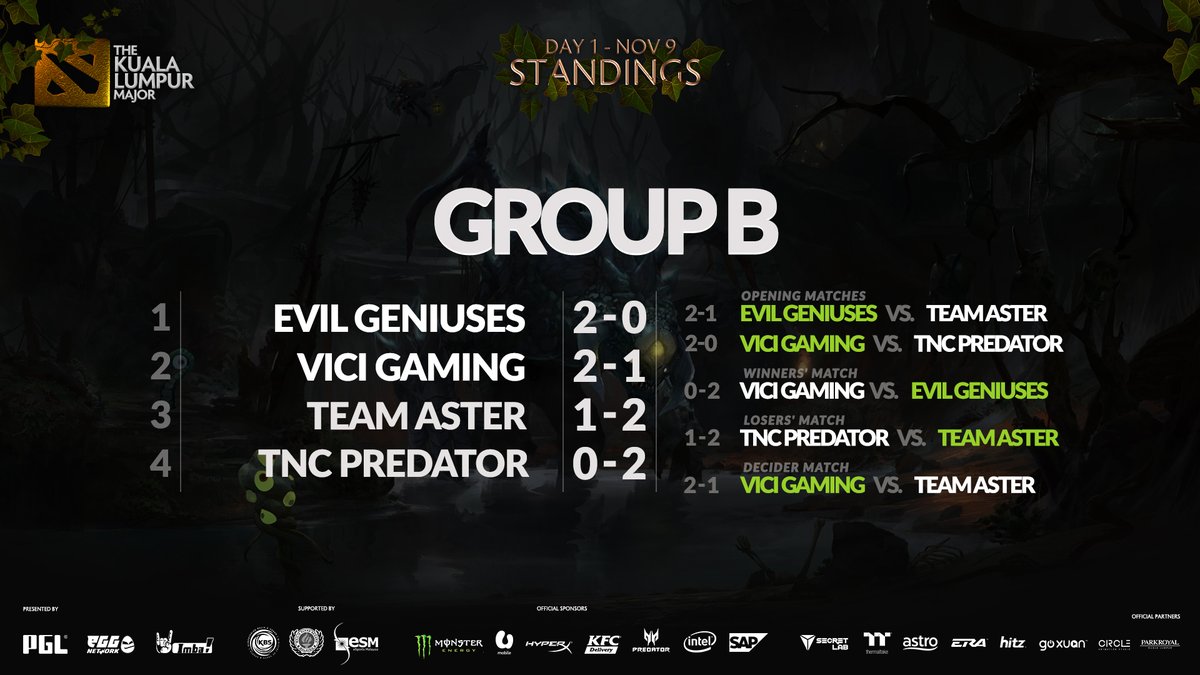 Vici Gaming is not a team that gives up easily when it comes to huge tournaments. The Grand finalists at ESL One Hamburg 2018 saw themselves constantly picking Necrophos. Their belief in the hero and its healing abilities saw them pick the Phoenix alongside the hero as well. This would provide for tonnes of healing for the players, something that would help them endure the burst damage from Team Aster. The second game saw a very interesting play by Aster. Despite having an advantage for the most part of the game, they conceded defeat once they were unable to have a clear path to the high ground. They even bought the Divine Rapier on their Luna, but they were unable to make a huge impact even with Drow missing from the team fights. They lost a 4v5 team fight, dropped the Divine Rapier, allowed Drow to make mega creeps.
Currently, Vici Gaming's win in Game 2 seems to be mostly Team Aster's loss rather than Vici's win. It will be interesting ot see how the Vici Gaming can pull their weight against stronger teams in the upper bracket of the Main event.
The Kuala Lumpur Major continues on Day 2 with Group C and D.  They have some really strong teams in their lineup. They have Gambit, Fnatic, Tigers as well as PSG.LGD.