Online Sports Gaming Checklist: Essentials of the Ultimate Gaming Setup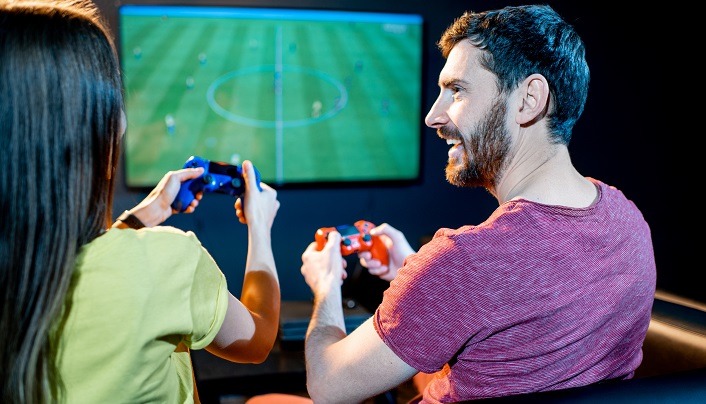 Gaming is getting quite popular today, especially after Covid-19. When people were forced to stay at their homes, amidst lockdown restrictions, there was hardly any leisure activity to do, to keen oneself engaged in-house. Having said that, Gaming was one option that became a lifesaver for individuals during the prevailing house-bound times.
Games like PUBG and Fortnite rose to record-breaking users during Covid-19, and online gaming itself rose to an unprecedented growth. Every other person was out to get hands on Gaming PCs, Consoles, Smartphones, and Gaming Laptops.
While gaming itself is quite captivating and enjoyable, you must always be equipped with the right gaming accessories, regardless of your chosen platform for gaming. Whether you're using Desktop Computers, Gaming Laptops, Gaming Smartphones, or even a Console, the experience for online gaming is amplified with the right checklist of supporting accessories. Without those accessories and gaming equipment, your online gaming experience won't be as captivating.
Therefore, today, we're going to enlist the best supporting accessories for online gaming, required to make your online gaming experience surreal and complete.
Gaming Accessories Required for The Best Online Gaming Experience
If there's anything that gamers wouldn't like, is to have a disappointing set of supported accessories, while having equipped a decent gaming setup. It just doesn't match up. Having said that, irrespective of what you play online games through, you must possess the right equipment and accessories, which are essentials for online gaming.
Headphones – online gamers value headphones like their own life, especially those who compete online. We cannot begin to say how important Headphones are when it comes to online gaming. Whether you're playing on a Desktop PC, Gaming Laptop, Console, or smartphones, you must have a decent pair of Headphones, preferably with noise cancellation (hybrid or passive at the very least). A decent pair of headphones will ensure that you're gaming online with full focus, making sure that your voice is audible to the online players, and the sound effects are surreal. Investing in Neckband headphones are preferred today, as it doesn't cause ear fatigue, and makes sure that the earphones are intact in your ears. You can grab a decent pair of Neckband headphones in good prices at Amazon or eBay with ease.
●       Laptop Cooler – while this accessory is only exclusive to gaming laptops, it is important to mention it, since online gamers who game on laptops know the true value of laptop coolers. Since gaming laptops are equipped with heavy GPUs, the processing power of a gaming laptop is much higher than that of a normal one, which is why it is prone to higher thermals. And higher thermals lead to thermal throttling, which makes the online gaming experience hurdled and obstructive. In order to make sure that your gaming laptop is running efficiently at the right temperatures, in order to avoid thermal throttling, you need to invest in a decent laptop cooling pad, with at least two fans. Brands like CoolerMaster are recommended for producing good cooling pads. You can grab decent cooling pads at online stores like Banggood, GearBest, and AliExpress.
Gaming Mouse & Keyboard – online gamers usually fall back, when it comes to spending on peripherals like mouse and keyboards, which is why they usually go for the cheaper options, in order to save up cost. However, true gamers know how important investing in a mechanical gaming keyboard or mouse is. When gaming online, it's all about response times, and these traditional mouse and keyboards offer poor response times, notably affecting online gaming experience. Having said, mechanical keyboards and mouse are designed to significantly drop response times to as low as 2ms. For a mouse, the DPIs matter, which is why a gaming mouse can provide you up to 32,000DPIs, which is quite impressive. Our advice is that you immediately head on to Walmart's online store or Tomtop, to grab amazing deals on gaming mouse and keyboards.
Gaming Glasses – it is important to realize, for online gamers, who have their eyes glued to the computer or laptop screens for prolonged periods, even as much as 18 hours. Maybe even more. This is the exact reason you need to invest in a pair of gaming glasses that protect you from the harmful blue light that is produced from the monitor screens. Not only does gaming glasses help you with blue light filtering, but it also keeps your eyes soothed and relaxed, making for a better online gaming experience, especially if you're playing online for long hours. You can get hands on Gaming Glasses from online stores like Amazon with ease.
Conclusion
We have listed the gaming setup essentials that are required for an amplified and enhanced online gaming experience. Make sure to check out the online stores we've mentioned for the best deals on online gaming equipment and accessories, and if you're looking for additional discounts, checkout some coupons, where you can find coupon codes of all the stores mentioned above.