Virat Kohli says Ishant Sharma was pissed off after India's win over Australia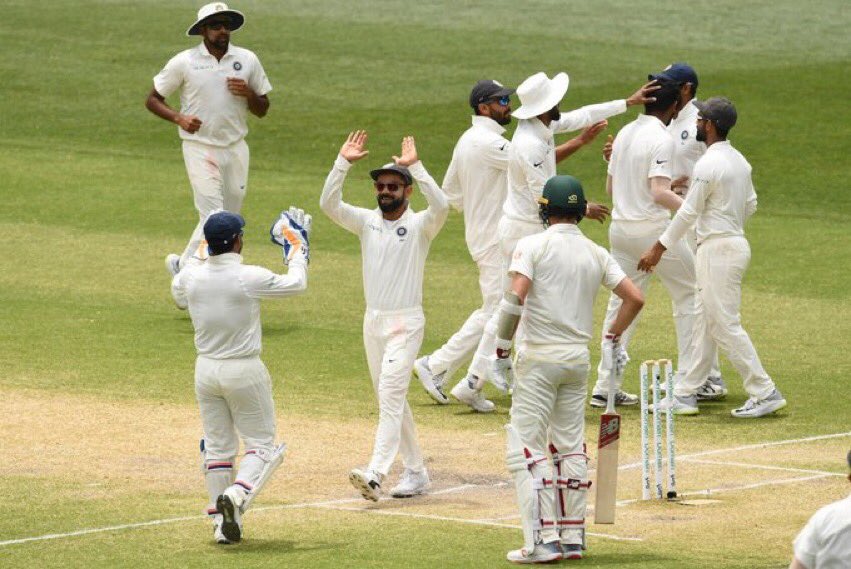 India paceman Ishant Sharma could have got two more wickets to his name if had he not bowled those two no-balls against Australia in the first Test in Adelaide.
The visitors managed to beat the team from Down Under by 31 runs in the final day of the first Test match. After the match, Team India captain Virat Kohli said Ishant Sharma was disappointed with his own performance.
Ishant Sharma could have got out Aaron Finch in the first over of Australia's second innings, but he saw seen stepping over the line when the right-handed opening batsman reviewed the decision.
The same happened when Nathan Lyon was caught in the slips, but the umpire was quick to call it a no-ball immediately and thus, delaying India's victory.
"Ishant was the most pissed off right now. We were all celebrating but he was really, really angry with himself and we asked him why and he said, 'I cannot afford to bowl a no-ball being a senior guy and having played so much cricket in the crunch situation when the umpire could have given that out'," Kohli said after the match.
"So that could have been the difference at a more important stage in the series."
"It's not a school-team environment here," said Kohli. "So, look, guys take ownership of those things but they can commit mistakes. As long as the attitude is right, we look to correct those mistakes.
"So this incident that's happened, I am sure Ishant is going to be obsessed about not doing it again, just like how we improved our batting straight away in the second innings at the top of the order. Guys want to learn as soon as they can, take responsibility themselves, and they are not hiding from it.
"It's not a case of not wanting to talk about it, but they are unhappy themselves that they made a mistake at a crunch situation and, come that situation again, they don't want to do it. So that's the most you can ask from any player playing for their country and that's certainly the right attitude to have."