Top 5 Cricketers with Most Sixes in ODI Cricket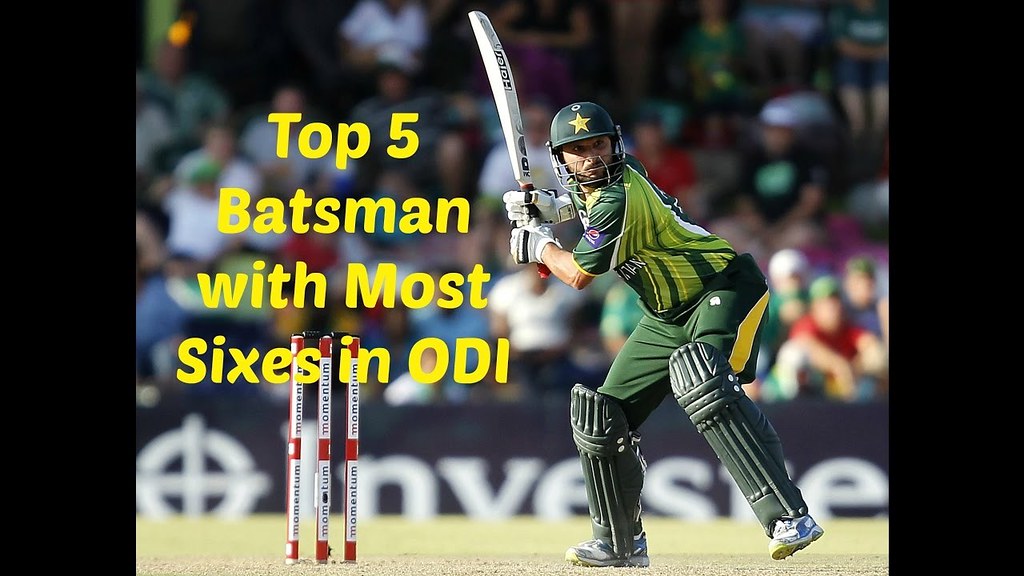 Cricket becomes more interesting to the viewers when the batsman starts hitting boundaries. They can stand against the bowling attack of any bowler on a day when they're in murderous form and this extends to six hitting as well!
The beauty of a flat six that is well-hit is that the crowd goes berserk, it helps accelerate the scoring rate while also pinching the bowler's confidence. Given below is the list of cricketers who have notched up the highest number of sixes in ODI cricket
Shahid Afridi
Shahid Afridi of Pakistan was a successful all-rounder who retired from International cricket in May 2018. Having hit 351 sixes in 398 matches and 369 innings with an average of 24 runs and a strike rate of 117, he is on the top of the list of cricketers with the most sixes in ODI cricket. He has also received the maximum number of player of the match awards and has also taken the highest number of wickets in Twenty20 International matches.
Chris Gayle
Chris Gayle began his career playing for Lucas Cricket Club in Jamaica. This all-rounder who plays for West Indies, takes the second place in the list, having hit 326 sixes in 298 matches and 291 innings. Overthrowing Brian Lara's record of 10,348 runs, Chris Gayle was awarded as the leading run scorer for West Indies batsmen in ODIs. Further, he is their only player to hit a double hundred in ODIs, triple hundred in tests and a hundred in T20Is.
Sanath Jayasuriya
This former captain of Sri Lanka revolutionized ODI cricket. He is on the third place in the list, having hit 270 sixes in 445 matches and 433 innings. He was the Most Valuable Player of the 1996 Cricket World Cup and one of the Five Cricketers of 1997 as named by Wisden Cricketers' Almanack. He also took over 300 wickets and scored over 12000 runs in ODIs and was the only player to do so. In 20 years of his career as a cricketer, he maintained an average of 32 with a strike rate of 91.
Rohit Sharma
Rohit Sharma started his career in March 2005, in the Deodhar Trophy at Gwalior and made his Test debut in November 2013 at Eden Gardens, Kolkata, scoring 177 runs against the West Indies. This right-handed batsman in on the fourth position in the list, hitting 232 sixes in 215 matches and 209 innings with an average of 49 and a strike rate of 89. Considered as one of the most successful players of the Indian Premier League, this captain of Mumbai Indians has won the tournament four times. He has scored 27 centuries in ODI cricket, 3 centuries in Test cricket and 4 centuries in Twenty20 internationals.
MS Dhoni
Mahendra Singh Dhoni made his ODI debut against Bangladesh in December 2004. India won the ICC Cricket World Cup in April 2011 against Sri Lanka under his captaincy. Also, under his leadership, India won the ICC Champion's Trophy in 2013, defeating England in the final. Dhoni has the distinction of hitting 229 sixes in 350 matches and 297 innings, thereby securing the fifth position in the list. He has maintained an average of 51 and a strike rate of 88.
As can be seen, these are some of the biggest six-hitters and mega cricketers of the world. Afridi, Jayasuriya and now Chris Gayle who is about to retire, represent a golden generation of icons that have mostly faded out of the international scenario now and the same can be said of MS Dhoni although he still has much to offer to Indian cricket. In Rohit Sharma, there are the makings of an icon along with Virat Kohli and together, they can spur India to greater heights in times to come.