List of Ranji Trophy Winners and Runners-Up Teams (Since 1934 to Till Now)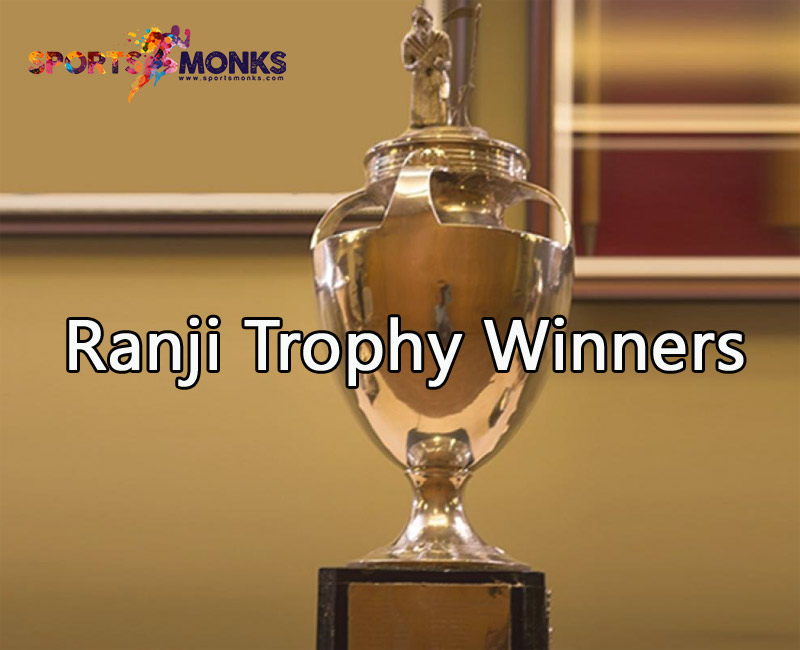 The Ranji Trophy is an annual domestic first-class cricket championship played in India between different teams representing regional and different state cricket associations. This cricket trophy is named after the first Indian cricketer who played international cricket, Ranjitsinhji, who was also known as 'Ranji'. He was the ruler of the Indian princely state of Nawanagar and a fine batsman who played 15 Tests for England between 1896 and 1902. Ranji Trophy was first played in the 1934-35 season. It is the premier first-class cricket championship in India and is organised by Board of Control for Cricket in India (BCCI). The competition currently consists of 38 teams, with all 28 states in India and 4 of the 8 union territories having at least one representation.
Vidarbha is the current Ranji Trophy winner, which defeated Saurashtra by 78 runs in the final match of the 2018-19 season. Mumbai is the most successful team in the Ranji Trophy history which has won 41 titles and Karnataka is the 2nd most successful team, winning 8 titles in 14 final appearances till 2018-19 season.
Ranji Trophy Winners List (Season 1934-35 to Till Now)
| | | |
| --- | --- | --- |
| Season | Winners | Runners-up |
| 2018–19 | Vidarbha | Saurashtra |
| 2017–18 | Vidarbha | Delhi |
| 2016–17 | Gujarat | Mumbai |
| 2015–16 | Mumbai | Saurashtra |
| 2014–15 | Karnataka | Tamil Nadu |
| 2013–14 | Karnataka | Maharashtra |
| 2012–13 | Mumbai | Saurashtra |
| 2011–12 | Rajasthan | Tamil Nadu |
| 2010–11 | Rajasthan | Baroda |
| 2009–10 | Mumbai | Karnataka |
| 2008–09 | Mumbai | Uttar Pradesh |
| 2007–08 | Delhi | Uttar Pradesh |
| 2006–07 | Mumbai | Bengal |
| 2005–06 | Uttar Pradesh | Bengal |
| 2004–05 | Railways | Punjab |
| 2003–04 | Mumbai | Tamil Nadu |
| 2002–03 | Mumbai | Tamil Nadu |
| 2001–02 | Railways | Baroda |
| 2000–01 | Baroda | Railways |
| 1999–00 | Mumbai | Hyderabad |
| 1998–99 | Karnataka | Madhya Pradesh |
| 1997–98 | Karnataka | Uttar Pradesh |
| 1996–97 | Mumbai | Delhi |
| 1995–96 | Karnataka | Tamil Nadu |
| 1994–95 | Bombay | Punjab |
| 1993–94 | Bombay | Bengal |
| 1992–93 | Punjab | Maharashtra |
| 1991–92 | Delhi | Tamil Nadu |
| 1990–91 | Haryana | Bombay |
| 1989–90 | Bengal | Delhi |
| 1988–89 | Delhi | Bengal |
| 1987–88 | Tamil Nadu | Railways |
| 1986–87 | Hyderabad | Delhi |
| 1985–86 | Delhi | Haryana |
| 1984–85 | Bombay | Delhi |
| 1983–84 | Bombay | Delhi |
| 1982–83 | Karnataka | Bombay |
| 1981–82 | Delhi | Karnataka |
| 1980–81 | Bombay | Delhi |
| 1979–80 | Delhi | Bombay |
| 1978–79 | Delhi | Karnataka |
| 1977–78 | Karnataka | Uttar Pradesh |
| 1976–77 | Bombay | Delhi |
| 1975–76 | Bombay | Bihar |
| 1974–75 | Bombay | Karnataka |
| 1973–74 | Karnataka | Rajasthan |
| 1972–73 | Bombay | Tamil Nadu |
| 1971–72 | Bombay | Bengal |
| 1970–71 | Bombay | Maharashtra |
| 1969–70 | Bombay | Rajasthan |
| 1968–69 | Bombay | Bengal |
| 1967–68 | Bombay | Madras |
| 1966–67 | Bombay | Rajasthan |
| 1965–66 | Bombay | Rajasthan |
| 1964–65 | Bombay | Hyderabad |
| 1963–64 | Bombay | Rajasthan |
| 1962–63 | Bombay | Rajasthan |
| 1961–62 | Bombay | Rajasthan |
| 1960–61 | Bombay | Rajasthan |
| 1959–60 | Bombay | Mysore |
| 1958–59 | Bombay | Bengal |
| 1957–58 | Baroda | Services |
| 1956–57 | Bombay | Services |
| 1955–56 | Bombay | Bengal |
| 1954–55 | Madras | Holkar |
| 1953–54 | Bombay | Holkar |
| 1952–53 | Holkar | Bengal |
| 1951–52 | Bombay | Holkar |
| 1950–51 | Holkar | Gujarat |
| 1949–50 | Baroda | Holkar |
| 1948–49 | Bombay | Baroda |
| 1947–48 | Holkar | Bombay |
| 1946–47 | Baroda | Holkar |
| 1945–46 | Holkar | Baroda |
| 1944–45 | Bombay | Holkar |
| 1943–44 | Western India | Bengal |
| 1942–43 | Baroda | Hyderabad |
| 1941–42 | Bombay | Mysore |
| 1940–41 | Maharashtra | Madras |
| 1939–40 | Maharashtra | United Provinces |
| 1938–39 | Bengal | Southern Punjab |
| 1937–38 | Hyderabad | Nawanagar |
| 1936–37 | Nawanagar | Bengal |
| 1935–36 | Bombay | Madras |
| 1934–35 | Bombay | Northern India |