Pujara vs Dravid : A statistical overview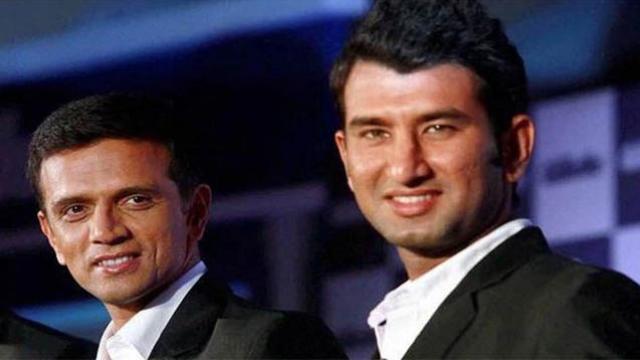 After his precious 194 runs in the first Test of the series against Australia at Adelaide last week, India's Cheteshwar Pujara crossed the landmark of 5000 runs. Interestingly, Pujara reached the 5000-run mark in his 108th innings – exactly the same number of innings that ex-Indian batting legend Rahul Dravid had taken to reach this milestone.
Over the course of his career, Pujara, who bats at the vital No. 3 position for India, has been compared to Dravid who was known for his solidity at the top.
Dravid v Pujara – Career stats at 65 Tests
It would be interesting to look at Dravid's numbers as compared to Pujara at the point of 65 Tests in his career – the same name number that Pujara has played till now.
After 65 Tests, Dravid had collected 5435 runs in 110 innings at an average of 55.45 with 14 hundreds and 24 fifties. Pujara, at present, has played 109 innings with 5099 runs at an average of 50.48 and with 16 hundreds and 20 fifties.
Dravid v Pujara – Home and Away numbers at 65 Tests
If you look at away numbers, then Dravid scores heavily above Pujara. At 65 Tests, Dravid had played 36 Tests away from home with 3134 runs at a stunning average of 59.13 and with 9 hundreds and 15 fifties. Pujara, meanwhile, has had moderate success away from home. In 30 away Tests, he has compiled 1882 runs at an average of 38.40 and with 6 hundreds and 6 fifties. There is definitely room for improvement here.
An interesting point to note in the away numbers of both these batsmen is at that stage Dravid had played 3 Tests in Australia with 93 runs at an average of 15.50 and 5 Tests in South Africa at an average of 42.11. Pujara averages 49.37 in Australia after 4 Tests and 31.11 in South Africa after 7 Tests.
The most prominent stat, however, is that Dravid's strike-rate of 40.71 after 65 Tests is much below Pujara's 46.89. So while many keep criticizing Pujara for his ultra-slow approach, a look at these numbers might change their view a bit.
At home, both Dravid and Pujara have done well with the latter doing better. After 65 Tests, Dravid had played 29 Tests at home with 2301 runs at an average of 51.13 and with 5 hundreds and 12 fifties. Pujara is a little ahead in this aspect – 3217 runs in 36 Tests at an average of 61.86 with 10 hundreds and 14 fifties.
It will be interesting to see where Pujara ends up eventually. But there is no denying that he has charted a very similar course to that of Dravid's and like 'The Wall', if Pujara does end up playing 150-plus Tests then several records are likely to be broken and made.