Prithvi Shaw: Decoding the Youngster's Comeback in International Cricket
Prithvi Shaw earned his maiden ODI call-up after Shikhar Dhawan was ruled out of the New Zealand series owing to his shoulder injury. Dhawan injured his shoulder in the third and final ODI in Bengaluru against Australia which saw him leave the field, never to come back again. Meanwhile, Sanju Samson has been named the replacement for the T20I series while Prithvi Shaw will take Dhawan's place in the ODI squad.
Shaw's journey in international cricket has been a topsy-turvy one so far, with injuries playing a part in hampering his small career. From missing the Australia series due to a broken ankle in 2018 to missing the West Indies series with a hip injury, Shaw has been very unlucky so far.
However, Shaw had a memorable start to his Test career scoring a century against West Indies in his very first Test for India. The former India U-19 captain scored 154-ball 134 in the first Test in Hyderabad and followed it up with a 53-ball 70 in the second Test match in Rajkot.
The road for Shaw has not been rosy since then as his indiscipline saw him miss out on every series India played since then till the time he was picked for the ODI team for the upcoming New Zealand series. He is now a member of the 16-man squad
that has been announced for the three-match series.
Also Read: Top 10 PFA Player of the Year Contenders
Meanwhile, here is a chronological summary of Prithvi Shaw's progress in his short international career so far.
Maiden Test Call-Up
Prithvi Shaw broke into the international scene after scoring tons of runs in the maidans of Mumbai. The young prodigy, who was touted as the next big thing in Indian cricket, rose to fame after leading India to U-19 World Cup glory in 2018.
This is what made the selectors take notice of the young batsman and include him in the two-Test match series against West Indies in 2018-19. He scored a century in his debut Test match in Hyderabad and followed it up with a 70-odd in the second Test match in Rajkot. Things looked promising for the youngster at that point.
Ruled Out from Australia Tour with an Ankle Injury
An untimely ankle injury ruled Shaw out of his first tour to Australia. Just when it looked like Shaw is meant to achieve bigger things in international cricket, this became a major talking point in his career. Amidst questions on his behavioral indiscipline, Shaw played the IPL 2019 scoring 353 runs from 16 matches for Delhi Capitals.
Misses Trip to West Indies
Prithvi Shaw again had an untimely injury, this time in the hip which saw him being ruled out for the tour to West Indies. Tough was getting more tougher for the Mumbai batsman.
Banned for 8 Months on Charges of Doping Violation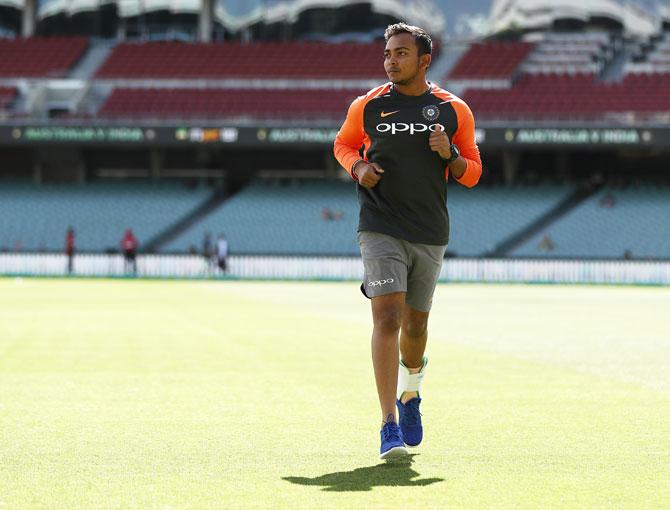 Just when everyone thought things couldn't get worse for the youngster, the BCCI handed him an eight-month ban after he consumed a cough syrup which had a banned substance for player's consumption. Reports said that Shaw had "inadvertently ingested a prohibited substance, which can be commonly found in cough syrups".
Shaw's urine sample collected during the Syed Mushtaq Ali Trophy on 22nd February 2019 had Terbutaline content. Terbutaline, a specified substance, is prohibited both In & Out of Competition in the WADA Prohibited List of Substances.
Also Read: IPL 2020 Captains: Leaders of All 8 Teams
Injury Concern After Comeback
Prithvi Shaw made a fine return to cricket as he smashed a 38-ball 63 in Mumbai's Syed Mushtaq Ali T20 Trophy outing against Assam. He followed it up with scores of 30, 64, 30 and 53 and carried on the fine form to Ranji Trophy 2019-20 campaign. However, his return was cut short as he met with a shoulder injury he suffered in the Ranji Trophy match against Karnataka in January.
Maiden ODI Call-Up
Fit-again Prithvi Shaw was named in the India A squad for the New Zealand series. He grabbed the opportunity by scoring a 100-ball 150 for India A against New Zealand XI on January 19. He then broke through the Indian ODI team earning his maiden call-up in place of an injured Shikhar Dhawan who was ruled out of the series with a shoulder injury. Making a comeback to the Indian team again, it is expected that Shaw would learn from his mistakes in the past and concentrates on bettering his game at the highest level.