List of Cricketers Who have Scored 10,000 or More Runs in ODIs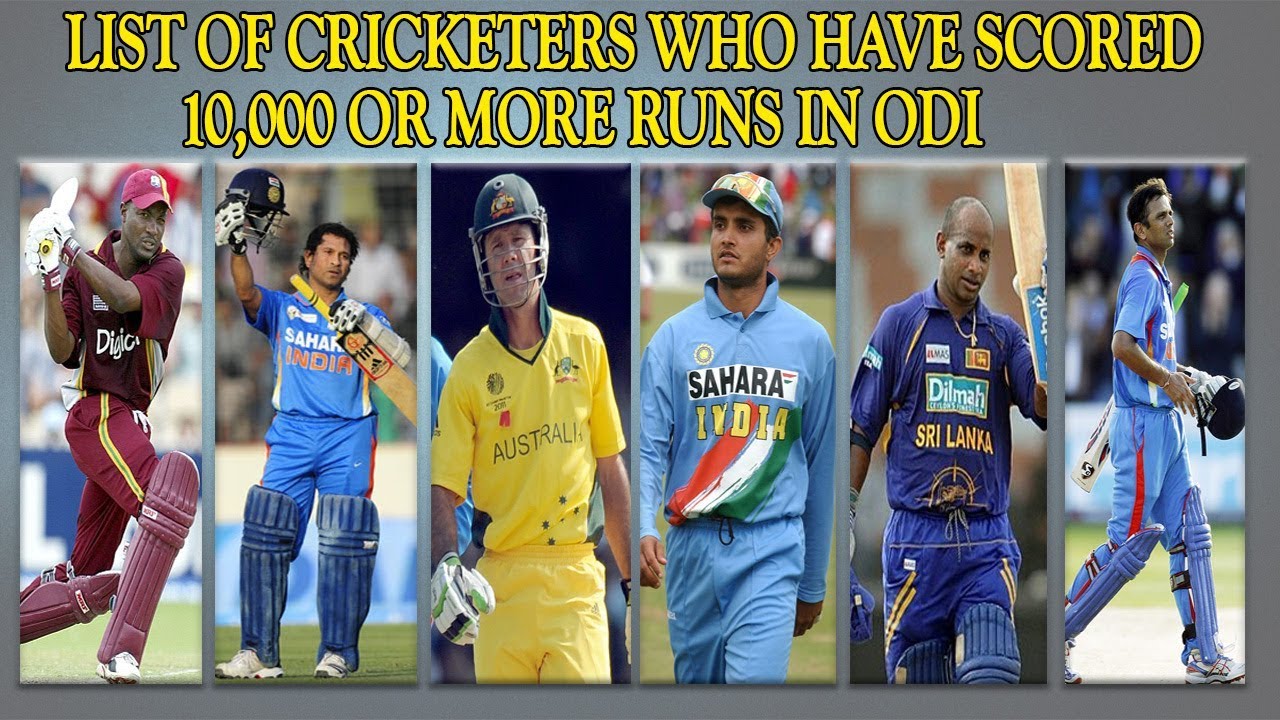 Cricket has been enriched by several spectacular batsmen down the ages. Although it cannot be called a batsman's game, there is ample fodder for the imagination, going by the legendary batting greats who have rallied their way to more than 10,000 runs in one-day international matches or ODIs.
14 players have scored 10,000 or more runs in ODIs globally. Here is a list of these players-
Sachin Tendulkar: The Little Master was the first cricketer to score 10,000 runs in 259 innings in ODIs and also holds the record of scoring the highest runs in both Test and ODI cricket. He has piled up a staggering 18,426 runs in ODIs.
Kumara Sangakkara: With a record of 14,234 runs in ODIs, this Sri Lankan batsman cum wicketkeeper has bagged the second position in the list.
Ricky Ponting: This former Australian captain and right-handed batsman is on the third position in the list with a tally of 13,704 runs in ODIs.
Sanath Jayasuriya: This left-handed batsman from Sri Lanka is at the fourth position in the list with 13,430 ODI runs.
Mahela Jayawardene: On the fifth position in the list is elegant Sri Lankan batsman, Mahela Jayawardene, who scored 12,650 runs in ODIs.
Inzamam-ul-Haq: With a record of 11,739 ODI runs, this right-handed batsman is at sixth place in the list.
Jacques Kallis: Kallis is at the seventh position in the list, with a score of 11,579 runs in ODIs. He has also been a leading wicket-taker for South Africa until he retired.
Virat Kohli: Indian captain Virat Kohli has taken the 8th

position in the list with a tally of 11,406 runs in only 228 games.
Sourav Ganguly: With a haul of 11,363 ODI runs, India's former captain is at 9th

place in the list. He had an ODI career spanning 15 years.
Rahul Dravid: Rahul Dravid is at the tenth place in the list, with 10,889 ODI runs to his name.
Mahendra Singh Dhoni: MS Dhoni, former Indian captain and consummate stumper, has notched up 10,773 runs in ODIs till date.
Chris Gayle: Chris Gayle has surpassed Brian Lara with his tally of 10,349 runs recently to take the 12th

position in this list.
Brian Lara: Who doesn't remember Brian Lara? This dashing West Indies ex-captain and batsman scored 10,405 runs in his ODI career spanning 17 years.
Tillakaratne Dilshan: This Sri Lankan batsman is at the 14th position in the list with 10,290 runs in ODIs.
All of these fantastic batsmen deserve to be called yesteryear or modern day greats. Virat Kohli is currently the only modern-day batsman in this list who can go on further since Chris Gayle and Mahendra Singh Dhoni are due to retire soon as per speculation. Will he be able to better Tendulkar's record? That depends on how long he plays and whether he will be able to maintain his splendid batting consistency with the pressures of captaincy.