IPL 2020 Team Prediction: Possible Playing XI of Mumbai Indians (MI) Team in IPL 13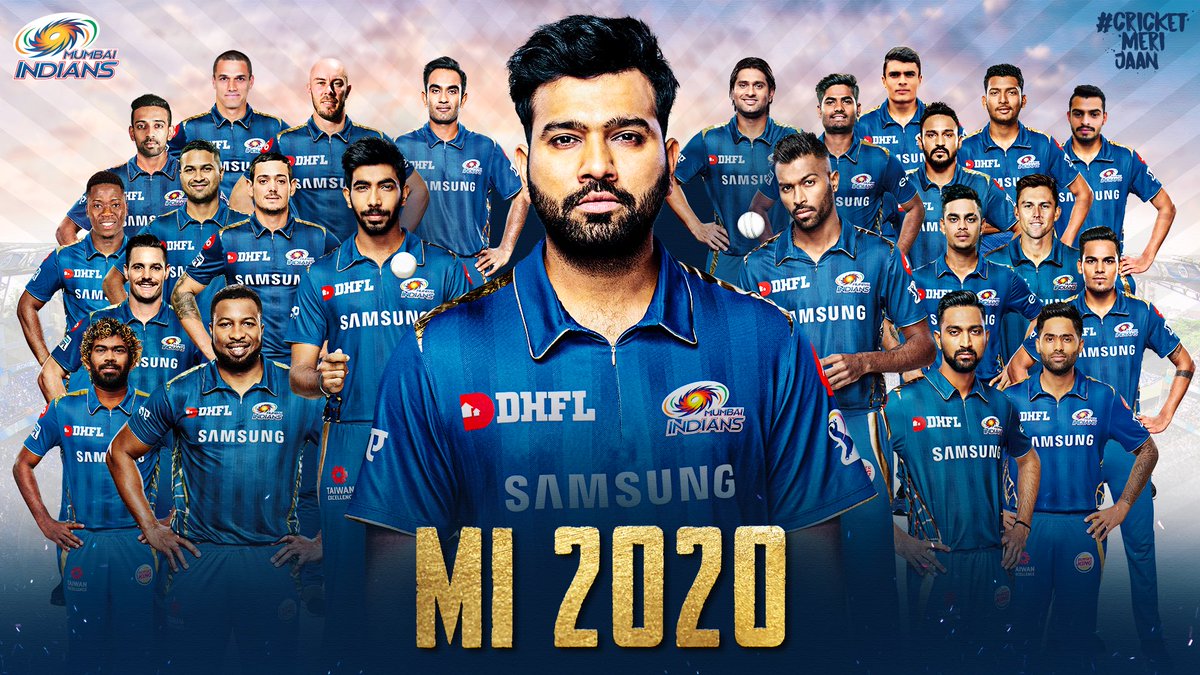 The most successful team in IPL history, Mumbai Indians has been a big name amongst all the teams. Even before the auctions for IPL 2020, the Mumbai Indians (MI) have seemed sorted with a lethal squad at their disposal. They have simply cleared a certain amount of clutter in their squad by releasing a few players and trading off a few others. This team was actually capable of forming a starting XI even without the auction. What they have done in Kolkata is that they made some smart moves and also picked some great talents from the domestic circuit.
The MI management, with their absolutely newest additions, has given the coach more options to choose from. They have also managed to get the hold of some match-winners like Chris Lynn and Nathan Coulter-Nile. MI has always been a well-rounded outfit and these players only add further depth to what is already a very strong squad. With the kind of team they have in place, Mumbai will surely fancy a fifth title in IPL 2020.
Mumbai Indians Probable Playing XI in IPL 2020
Rohit Sharma (Captain)
With Mumbai Indians (MI) purchasing Chris Lynn at the auction, the MI skipper Rohit Sharma has now got a problem of plenty. It seems quite difficult for MI to accommodate Chris Lynn in the line-up unless they decide to slot Rohit Sharma down the order or bat Lynn at three. Rohit Sharma will be one of the openers. He will simply take up the same role at the T20 World Cup 2020 as well and thus will not really want to change things. His leadership has often been quite inspirational and he will be one of the biggest strengths for this side.
Quinton De Kock (wk)
Quinton de Kock is considered as the best wicket-keeping option that the Mumbai Indians have got. They will be able to go ahead with Ishan Kishan with the gloves and maybe try out Chris Lynn at this position in case of a shuffle.
Suryakumar Yadav
At this position, MI could simply give Suryakumar the role of being an anchor in the middle order. Along with so many power-hitters around him, he must look to hold one end tight and he has got all the shots in his book to accelerate. The upcoming season could well be a career-defining one for him.
Ishan Kishan
As the middle order plays an important role, Ishan Kishan can be one of the big names in this IPL. For starters, MI might play Ishan Kishan as a specialist wicket-keeper and get Lynn up to the opening slot in place of Quinton De Kock. In fact, they do not really have many other options and thus the Jharkhand cricketer could get a few games under his belt. But at the same time, there are players in the ranks waiting for opportunities.
Kieron Pollard
As Mumbai Indians is known for their big hitting names, Kieron Pollard leads the list in this case. Kieron Pollard can be extremely smart with the ball and when at his best, he could make a significant difference as he did in the past courtesy his big hitting.
Hardik Pandya
If you count someone as a true all-rounder, then that is Hardik Pandya. He is known for his powerful shots and amazing pace bowling. He will hope to simply replicate his past heroics in the upcoming season and will be a floater in the line-up.
Krunal Pandya
Krunal Pandya is another indispensable part of this MI set-up and is a no-brainer to make it into the starting XI. He adds a terrific balance to the team and that is why the team shelled out a huge price to buy him earlier. Along with his all-round abilities, Krunal adds a whole new level of flexibility to the team.
Rahul Chahar
One year down the line, he is simply expected to be a much-improved bowler. Rahul will have to find his ways to pick more wickets in the middle overs. Jayant Yadav is another good alternative for this slot in the playing eleven.
Lasith Malinga
He is been in the team since a very long time and that is why skipper Rohit Sharma trusts him a lot. He is undoubtedly one of the best IPL bowlers in history. Period.
Mitchell McClenaghan
This pacer has the capability of taking crucial wickets at intervals and is very, very fast indeed. He will look to achieve his full potential this time around with the Mumbai Indians.
Jasprit Bumrah
Jasprit Bumrah will be the last piece of the jigsaw puzzle related to the MI Playing XI. Given that he maintains his fitness, he should play all the games in the season. He is truly an x-factor for the team and makes a huge difference for them. Bumrah has match-winning capabilities and MI actually has a true-gem in their team.
This is the strongest possible XI for the Mumbai Indians and with Chris Lynn and Nathan Coulter Nile on the bench along with other young talents, they will certainly be in the reckoning for their 5th IPL trophy this time around.
Predicted Playing XI of MI in IPL 2020
Rohit Sharma (C), Quinton de Kock (WK), Suryakumar Yadav, Ishan Kishan, Hardik Pandya, Kieron Pollard, Krunal Pandya, Rahul Chahar, Trent Boult, Jasprit Bumrah, and Lasith Malinga.
It is the Probable XI of MI from our side, let's comment down your favorite Probable XI.
About Enakshi
Tags
[wbcr_php_snippet id="21419"]