IPL 2020: Mumbai Indians, KKR upset, will stay locked in hotel rooms for 7 more days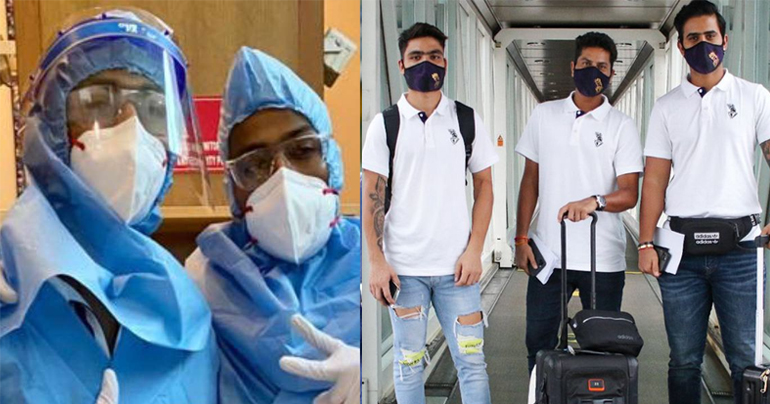 The Indian Premier League (IPL 2020) teams Mumbai Indians and Kolkata Knight Riders are upset.  Reason, they still have to follow quarantine norms for one more week before they can resume practice sessions like the other teams.  Both Mumbai Indians & KKR are based in Abu Dhabi. According to the Covid-19 norms of the emirate of Abu Dhabi, it is mandatory to complete 14 days quarantine before anyone is allowed to move outside.  In comparison 6 teams staying in Dubai are all set to start practice. Dubai only follows 7 days mandatory quarantine period.  These different sets of quarantine rules in the two emirates has pegged the franchises plans by a week.  "We have requested BCCI to intervene. We were told we have to follow 7 days quarantine period but now it has come to our knowledge that as per the local norms we will be in 14 days quarantine", said member of the support staff attached with the Mumbai Indians team.  IPL 2020 Teams arrival date in UAE 
Day
Date
Team
Thursday
20-Aug
KKR
RR
KXIP
Friday
21-Aug
MI
CSK
RCB
Sunday
23-Aug
DC
SRH
KKR was the first team to reach UAE on 20th Aug, while Mumbai Indians reached Abu Dhabi on 21st Aug. At the same time other 6 teams reached Dubai and they have started reaching ICC Academy for practice sessions, but both Rohit Sharma's MI and Dinesh Karthik's will stay put in the hotels for another week. The different Covid-19 norms in the two Emirates are not only upsetting the plans of Knight Riders and Mumbai Indians but even BCCI is in fix and is yet to release the schedule for the event.  
The IPL is just 20 days away and the BCCI has still not finalized the schedule for the IPL that starts form September 19. The reason is the same – Dubai & Abu Dhabi both have separate protocols related to Covid-19. There are travel restrictions as well between the two cities. While entering Abu Dhabi, one has to undergo mandatory rapid tests. Only after a negative test one can cross the border.  Such strict procedures cannot work for the teams on a match-day. That is the reason BCCI is yet to declare the schedule for the IPL 2020.  InsideSport has learnt from the sources, now to overcome the local protocols –  BCCI team in UAE is deliberating with the Emirates Cricket Board to divide the IPL 2020 into two separate legs so that traveling between the cities can be minimized. 
 At this stage out of total 56 Group Games in IPL 2020 –– 21 will be played in Dubai– 21 in Abu Dhabi– 14 in Sharjah Currently there are no restrictions to travel to Sharjah from Dubai. So BCCI may decide to play the entire first leg of IPL 2020 in Dubai & Sharjah.  The second leg may comprise of games only in AbuDhabi which is 130 kms from Dubai.  For the play-offs & finals teams can again return to Dubai.  The final decision in this regard will be taken with-in next 48 hours as IPL GC Chairman Brijesh Patel and Hemang Amin is due to meet various officials in UAE government. Post these meetings on Thursday, final course of action will be decided and IPL 2020 schedules will be released.