5 Overseas Players who could Receive Major bids in IPL Auction 2020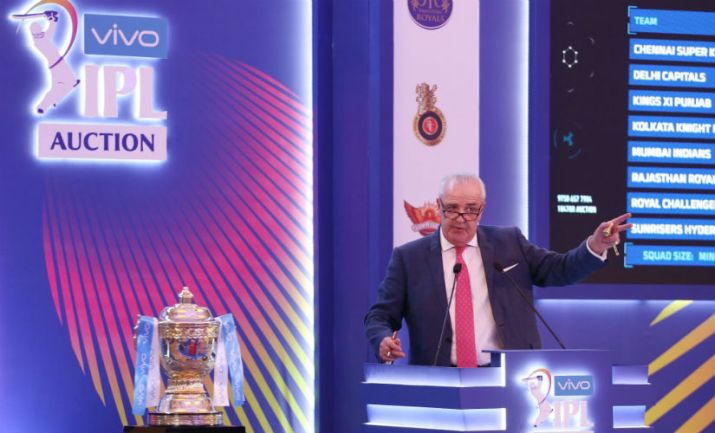 The official BCCI announcement has already revealed that the IPL 2020 auctions will be held in Kolkata on 19 December 2019. The pre-auction trade window will have a deadline of 15 November 2019. IPL fans are usually very thrilled about overseas players since they find it fascinating to see the Indian players teaming up with their international counterparts to deliver smashing performances on the ground.
However, the challenge for the franchises majorly lies in choosing the right combination of foreign players since there are just a few overseas slots allotted to each of them. Ideally, the managements try to ensure that each player that they select has a crucial role to play and can drive the team to victory. It is interesting to note that some overseas players who were not a part of the previous season may be in demand this year, due to their recent form.
Experienced players such as Eoin Morgan, Mitchell Starc and Jason Ray are sure to incite a bidding war. However, there are also some unforeseen overseas players, as mentioned in the following list, who also have strong chances of receiving a contract this year.
5 Foreign Players who could receive Huge bids in IPL Auction 2020
Jason Holder: it has been quite some time since he played an IPL match. In his IPL journey, he has earlier played for Chennai Super Kings, SunRisers Hyderabad, and Kolkata Knight Riders. However, his IPL resume is certainly not brag-worthy. He had no takers in the 2019 IPL auction for his lofty base price of 1.5 crore INR. This does make sense since the franchises did not find it reasonable enough to spend such a huge amount on him, given his average performance. However, when it comes to this year's auction, he has a high chance of bagging a contract, and subsequently, he is also likelyto elevate his career trajectory. The 2019 World Cup witnessed him reaching a milestone of 100 ODI matches for West Indies. Besides all these achievements, Holder emerged as the third leading wicket-taker in CPL 2019 and led the Barbados Tridents to a title victory.
Mushfiqur Rahim: yet to make his debut in the cash-rich league, Rahim was left unsold in last year's auction for his base price of Rs. 50 lakhs. However, thanks to his consistently impressive performances during the 2019 ICC World Cup, this veteran player stands a high chance of attracting some attention. Having scored 367 runs in 8 matches with the average being 52.43 and the strike-rate of 92.68, he also scored a century and two half-centuries in that tournament. No wonder franchises were compelled to sit up and take notice! Besides, this Bangladeshi cricketer has proven his expertise in sub-continental conditions- being the second highest run-scorer in the history of the Bangladesh Premier League with 1783 runs in 67 innings. Taking into account all these factors, one can expect Rahim to get his long-awaited IPL call-up this year.
Cameron Delport: selected by Kolkata Knight Riders in the 2018 IPL auction, Delport could unfortunately, not be accommodated in the playing XI for that season. Hence, the management released him before the onset of the following season. With a base price of just 30 lakh INR, Delport had no buyers in the 2019 auction. However, following his superb stint with Essex in the 2019 Vitality Blast, the South African batsman might get lucky this time. He was in excellent form in the series-winning campaign of Essex Eagles, having scored 409 runs in 14 matches. His 49-ball 129 with a strike of 263.27 against Surrey was the highest individual score of the tournament. In the English summer, Delport had an overwhelming strike rate of 193.7 against spin. His strike rate against pace was no less remarkable, at 161.2. No wonder he received a contract in the 2019 Hundred Draft. He might also have an IPL contract soon.
Lendl Simmons: his stint with the IPL is confined to only Mumbai Indians. Over his three year tenure, he gathered a total of 1079 runs in 29 IPL matches. However, ever since he parted ways with Mumbai after 2017, he has had a hard time trying to secure a contract. Initially, he had set a very high base price of Rs. 1.50 crore in the 2018 auction, which led to him being completely ignored by the franchises. In the next auction, he lowered his starting price to Rs. 75 lakh. However, the franchises still overlooked him, which led to a general speculation that Simmons' IPL career was over. However, after the 2019 CPL, the opener seems to have some prospects left. He became the second leading CPL scorer in the 2019 season, having scored 430 runs in 11 innings at an average of 36.09. In all likelihood, he will get the much-needed attention this time around.
Jean-Paul Duminy: one of the best players to have played in the IPL, this veteran all-rounder was a key part of Delhi Daredevils (now Delhi Capitals) in the 2014 and 2015 seasons. Factually speaking, he scored 410 and 414 runs respectively in those seasons. In the 2018 season, he was selected by Mumbai Indians. However, he failed to make a mark, which led to his release by the franchise before the 2019 auction. Unfortunately, the auction brought no buyer to Duminy for his base price of Rs. 1 crore. Many experts are of the opinion that his IPL career is over. However, there's a fair chance that this South African cricketer will get a chance this year to make his IPL comeback, courtesy his stellar form of recent times. In the 2019 Global T20 League Canada, Duminy was the lead scorer with 332, and part of the series-winning Winnipeg Hawks. He also won the Player of the Series award, and had a rewarding season with the Barbados Tridents, who won CPL 2019. He is expected to be in contention to land a contract in the 2020 auction, having been part of the two series-winning teams.
Also See: 5 Highest Paid Cricketers in IPL History
These are naturally some of the global players who may draw massive bids in the 2020 IPL auctions. They may even spark bidding wars amongst franchises eager to secure their signatures.